Ruby Lake, Nevada, USA
Lake Locations:
USA - West - Nevada - Cowboy Country -
Also known as:  Ruby Marsh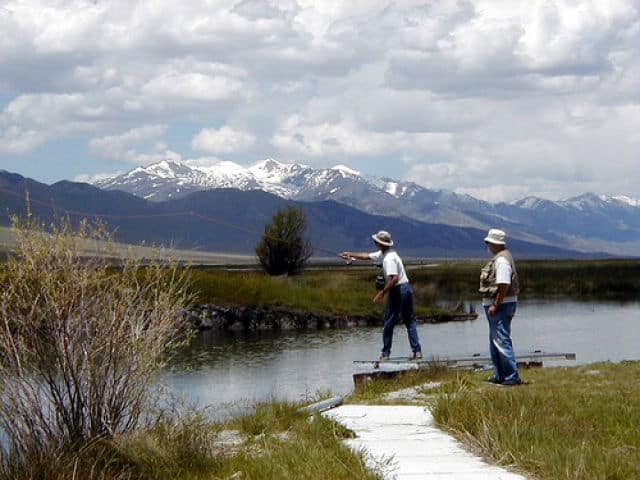 Perhaps the last thing one would expect to find in the deserts of northeastern Nevada is a marsh. But Ruby Lake is just that: a 17,125 acre marsh and national wildlife refuge that is home to hundreds of wetland species. Ruby Lake is a remnant of ancient Franklin Lake, a 300,000 acre lake that was 200 feet deep. Today, the marshy area reaches depths of just 12 feet and is fed by over 150 pure mountain springs from the base of the Ruby Mountains to its west. Ruby Marsh is extremely remote. Visitors must travel 17 to 35 miles of gravel road to reach the marsh, and some of the roads are not accessible in the winter. However, the seclusion of the lake makes it a peaceful location for fishing, hunting, wildlife observation, and photography.
Early explorers to the area thought the red garnet stones they found there were rubies, and they named the mountains the Ruby Mountains. Today these snow-capped peaks rise majestically above the Ruby Lake National Wildlife Refuge. This 37,632 acre area surrounding Ruby Marsh was proclaimed a national wildlife refuge in 1938 due to its importance as a habitat for both waterfowl and shorebirds. Until the 1970s, Ruby Lake was a haven for recreational boating, with as many as 30,000 visitors a year power boating and water skiing the lake. In 1977, however, restrictions were put into place that limited boating access to the lake for the protection of the wildlife that inhabits the refuge. Today, Ruby Lake is once again the wildlife sanctuary it was intended to be.
The most popular activity at the refuge is fishing. Trout and bass are the biggest attractions for anglers at Ruby Lake. State-record catches have been made for rainbow trout, brown trout, brook trout, tiger trout, cutthroat trout, and largemouth bass. Although fishing is allowed at the lake year-round, Ruby Marsh has strict boating regulations to help maintain the purity of the water as well as the integrity of the wildlife habitat. Boating is allowed on the lake only from June 15 to December 31, and only in designated areas. Motor boats are limited to electric motors or 10 horsepower engines depending on the season and the area, so check the regulations carefully before planning your trip. Boat launches are available at the Main Boat Landing and Narciss Boat Landing; cartop boats may also put in at Gravel Pit Pond and Brown Dike. In addition to fishing, hunting for waterfowl is allowed at the refuge seasonally in designated areas.
Wildlife observation and photography are also favorite activities at the refuge. There are over 200 species of birds alone found at the refuge. The marsh has the largest density of nesting canvasback ducks found in North America. Other birds found on Ruby Lake include Canada geese, trumpeter swans, grebes, and great blue herons. Bald eagles, golden eagles, and red-tailed hawks can be spotted seasonally at the lake. Ruby Marsh is also home to mammals such as deer, coyote, and bobcat. Access to the refuge for wildlife observation is available year-round from one hour before dawn until two hours after sunset, and a self-guided tour route has been established to provide visitors with the best opportunity to spot the resident wildlife. Although camping is not allowed on the refuge, many visitors camp at the South Ruby Campground in the mountains just outside the refuge.
Ruby Lake is a paradise for wildlife and nature lovers alike. Come see why a trip to this secluded marsh is well worth the effort.
Things to do at Ruby Lake
Vacation Rentals
Fishing
Boating
Water Skiing
Camping
Campground
Hunting
Wildlife Viewing
Birding
National Wildlife Refuge
Fish species found at Ruby Lake
Bass
Black Bass
Brook Trout
Brown Trout
Cutthroat Trout
Largemouth Bass
Rainbow Trout
Tiger Trout
Trout
---
Ruby Lake Statistics & Helpful Links
Spread the word! Share our Ruby Lake article with your fellow Lake Lubbers!