Reservoir Cabonga, Quebec, Canada
Lake Locations:
Also known as:  Cabonga Reservoir, Cabonga Lake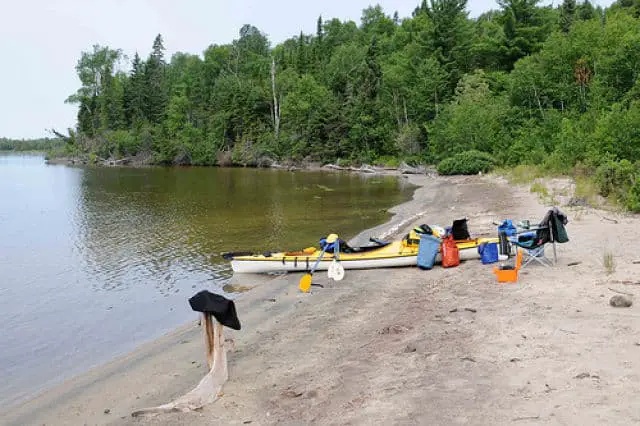 A trip to Cabonga Reservoir in Quebec is the true definition of 'getting away from it all'. The massive reservoir covers 261 square miles, but only 187 square miles are water. Islands, peninsulas, and slivers of land between different pools within the reservoir occupy the remaining area. The entire lake is located within the 4,861 square-mile La Verendrye Wildlife Reserve and is mostly undeveloped except for a couple of fishing resorts and the Rapid Lake First Nations Reserve on the west shore. The tribe has been here since before the reservoir was created, when Rapid Lake existed as a separate water body. A dam built in 1929 to facilitate the floating of logs enlarged the existing Lake Cabonga to join 36 other lakes large and small in the area. Rapid Lake disappeared into the new reservoir, but the lake the Algonquin named Kakibonga took its place. The name means 'blocked by sand', referring to a sand bar along the northern edge. The enlarged lake drains to two river systems, and dams control the water flow to both Gens de Terre River and Barriere Lake on the Ottawa River system.
Cabonga Reservoir's current claim to fame is its notoriety as an excellent walleye and northern pike fishing location-one of North America's top 20 lakes for such a distinction. Outdoor Canada magazine recently included it as "simply the best" for lake trout. The lake also is known for yellow perch, lake whitefish, sauger and lake sturgeon. The fishing resorts stay busy, but most fishermen never see another boat due to the immense size of the lake. No official statistics for depths or shoreline length exist, likely because the lake is many lakes in one. There are no public swimming beaches, but the water does get pleasantly warm in summer and many of the coves have sandy beaches. The fishing resorts rent boats and motors as a part of their lodging packages, or visitors can bring their own boat and the resorts will provide launching and docking facilities. The resorts can supply nearly everything needed for a week's visit to the fishing holes, providing gas, licenses, three meals a day if desired and a variety of lodging options. Guides can be engaged for both fishing trips or other outdoor adventures.
Reservoir Cabonga is 150 miles north of Ottawa off Highway 117. Only one location on the huge reservoir is near the highway; the tiny outpost of Le Domaine offers a restaurant, one gas station, a grocery, a small motel, and the southern Le Domaine Registration Centre for the La Verendrye Wildlife Reserve. Permits and maps can be obtained here from May to September. The location also offers interpretive trails pointing out the advantages of the timber industry, arranges for shuttle service to canoe and kayak trekkers, and informs visitors of the rules, regulations and opportunities within the reserve. The reserve holds over 1200 campsites, and camping is limited to these primitive sites since dispersed camping is prohibited.
Canoe camping trails begin here at Le Domaine on Cabonga Reservoir for short-trip paddle treks. But with more than 4,000 lakes in the reserve and 500 miles of canoe routes, the exploration opportunities are endless. Those with their own boats can enjoy fishing/camping trips. Over 40 native mammal species live in the reserve, including bear, deer and moose. There are over 150 species of birds that either live here or visit seasonally. Hunting, cross-country skiing, dog sledding, horseback riding, snowshoeing and hiking can all be enjoyed in season. And for those who prefer a comfortable motel room, the motel at Le Domaine acts as a small resort, offering group activities for children and adults and plenty of space to explore locally.
Located between the Abitibi-Temiscamingue and Outaouais regions, the original Kakibonga Lake was already the largest lake between the Ottawa and Gatineau Rivers when Hudson Bay Company first built a trading post along the shore in 1851. The name was officially standardized on maps as Cabonga Lake early in the 20th century. Due to the distance and protected status, the reservoir will never face over-development. The fishing resorts are some distance from Highway 117 over gravel roads. A float plane base at Le Domaine allows fly-in fishing, and a location at Le Domaine rents kayaks, canoes and fishing boats. But a trip to Cabonga Reservoir isn't a spur-of-the-moment jaunt. It takes planning and adequate preparation. A first-time fishing trip will be best enjoyed at one of the fishing resorts. Camping visitors can arrange shuttle service to drop-off and pick-up points.
Outside of the reserve, other lodgings are available, usually in the larger towns. A few private rentals can be found in the forested region, often on lakes. Small motels can be found on the main highways nearby, but reservations are likely good insurance. The nearest large cities are Ottawa and Gatineau to the south. Both are contemporary cities with museums, art galleries, shopping and, in the case of Ottawa, the historic seat of Canadian government. Real estate is not available at Cabonga Reservoir or within the reserve, but nearby private lands often are offered for sale. If you like woods and water and walleye, Cabonga Reservoir is the perfect vacation spot.
Things to do at Reservoir Cabonga
Vacation Rentals
Fishing
Boating
Swimming
Beach
Canoeing
Kayaking
Camping
Hiking
Cross-Country Skiing
Dog Sledding
Horseback Riding
Hunting
Wildlife Viewing
Birding
Museum
Shopping
Fish species found at Reservoir Cabonga
Lake Trout
Northern Pike
Perch
Pike
Sauger
Sturgeon
Trout
Walleye
Whitefish
Yellow Perch
---
Reservoir Cabonga Photo Gallery
Reservoir Cabonga Statistics & Helpful Links
Spread the word! Share our Reservoir Cabonga article with your fellow Lake Lubbers!