Gouin Reservoir, Quebec, Canada
Lake Locations:
Also known as:  Reservoir Gouin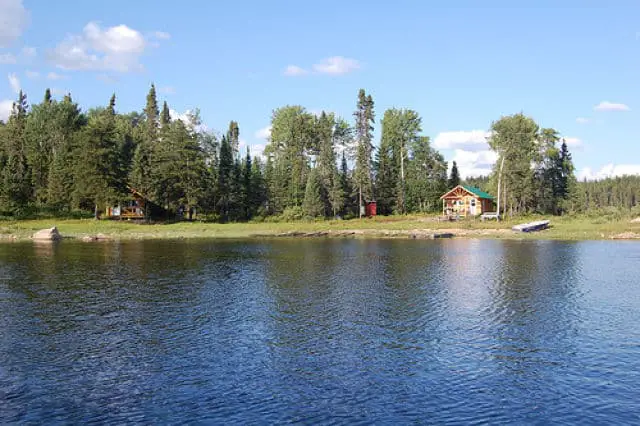 When the directions say 'turn off the paved road', you know you're on your way to Gouin Reservoir. Visitors can drive to the lake, but most opt to fly. Although leisurely driving along gravel roads through forests teeming with wildlife is attractive, most visitors are anxious to arrive at the massive reservoir to start their outdoor adventure. The lake covers 390,400 acres with 3,500 miles of shoreline. The area is called the Mauricie Region, which is criss-crossed by unmarked forest roads and hundreds of lakes and streams. Resorts and outfitters in the area smile when they suggest that those arriving by car not attempt to follow their GPS along the wilderness gravel roads.
Gouin Reservoir was created in 1918 when the Shawinigan Water & Power Company built a dam across the St-Maurice River outflow to control water levels downstream for hydroelectric generation. Named after a former premier of Quebec, Gouin Dam combined an unknown number of smaller lakes that made up the St-Maurice headwaters into one large reservoir containing many islands, peninsulas, bays and coves-a virtual sport-fishing heaven. With an average depth of only 16 feet and an unlimited amount of underwater structure and spawning area, the reservoir contains sauger and other native species. But it is walleye and northern pike that most anglers focus on and one of the main fishing package options the local resorts and outfitters offer. The many anglers who come here usually hope to net a trophy pike, and are usually pleased with their catch.
In order to assure continued excellent fishing, an Aires Fauniques Communautaires or Community Wildlife Area was formed to protect a portion of the Gouin Reservoir and assure the continued good health of the fishery. Special fishing regulations are in place for specified areas during part of the year to assure adequate time for spawning and early growth. Fishing is permitted by lease via the Gouin Reservoir Management Corporation, and all local resorts and outfitters are members of the corporation and leaseholders of fishing rights. Fishing licenses are also required.
Fishing is not the only activity that visitors enjoy at Gouin Reservoir. Canoeing, kayaking, nature hiking and winter sports are all popular. Although the land surrounding the reservoir is private, most of the resorts and fishing lodges have permission for their guests to use large areas of the surrounding forest for ATV trail-riding, cross-country skiing, snowmobiling and hunting. Many of the lodges offer black bear hunting among their specialized packages. The resorts offer a wide variety of lodgings, often with different options to meet different needs. From shoreline cabins to luxury camps with dining halls and WiFi, nearly every possibility has been provided. Some resort packages offer three meals a day, and shore lunch can be provided during fishing trips.
One of the favorite forms of lodging is to rent a houseboat with fishing dinghy in tow to travel the many bays at leisure. Another popular option is to transport visitors to an isolated camp on an island. Most rentals include the use of a boat and motor. Guides are available, and outfitters can help to arrange licensing and fees for fishing on Gouin Reservoir. Due to the difficulties of transportation, many of the resorts and outfitters offer fly-in service from either Clova or Parent. Montreal, Ottawa and Quebec City are all about 200 miles by air from Gouin Reservoir, so the pontoon plane bases are well-used and very convenient to the lodges.
There are a few private cottages on Gouin Reservoir. Obedjiwan, a small First Nation community, is located on the north shore of the reservoir, but no services are available there. Although the Gouin Dam is not technically a hydroelectric generation facility, enough power is produced to provide for the local needs of a few of the nearby fish camps and lodges. The rest generally use generators and propane for heat and light. Because of the distance to obtain supplies, visitors generally plan to bring plenty of food and extra clothing. The lodges and outfitters' base camps usually carry some groceries, ice and fishing tackle.
Although this is the kind of fishing vacation anglers dream of and plan for many weeks or years, the Gouin Reservoir resorts have become increasingly popular with families. The lodges usually offer sandy beaches and shallow coves for swimming. A wide variety of waterbirds and ducks can be seen near the shore, and native mammals small and large inhabit the forests and glades. In fall, the leaves in hardwood areas are spectacular, and on chilly evenings most camps have woodstoves or fireplaces for a little cozy heat. This is a good introduction to children in how their ancestors braved the elements with few modern conveniences.
Although some distances are involved, there are other activities available within a couple of hours driving from Gouin Reservoir. The Mauricie Region is filled with nature and outdoor-oriented locations for wildlife watching, skiing, canoeing and photography. The region offers a welcome respite from city life, providing the perfect escape to refresh the weary soul. So, on your next vacation, head north into the wilderness around Gouin Reservoir. Go native for a week or two; conquer the mighty walleye and brave the many miles of water. Bring a kayak and try for trout in the many incoming streams. Make Gouin Reservoir your special place.
Things to do at Gouin Reservoir
Vacation Rentals
Fishing
Boating
Swimming
Beach
Canoeing
Kayaking
Camping
Cabin Rentals
Hiking
Cross-Country Skiing
Snowmobiling
Hunting
Wildlife Viewing
Fish species found at Gouin Reservoir
Northern Pike
Perch
Pike
Sauger
Trout
Walleye
---
Gouin Reservoir Photo Gallery
Gouin Reservoir Statistics & Helpful Links
Spread the word! Share our Gouin Reservoir article with your fellow Lake Lubbers!