Pyramid Lake, Nevada, USA
Lake Locations:
USA - West - Nevada - Renoe-Tahoe Territory -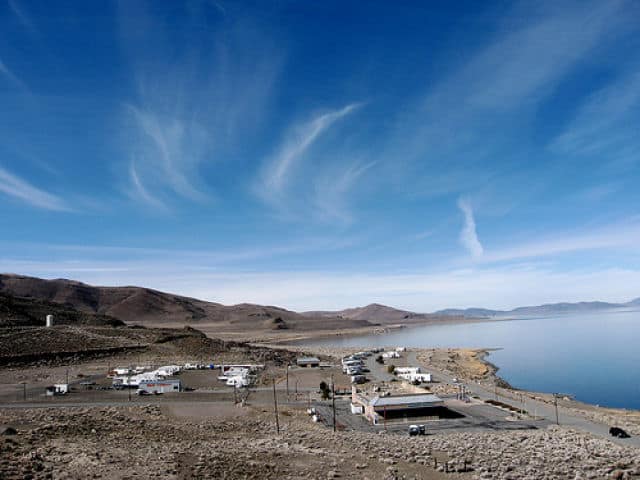 Pyramid Lake is a true natural wonder located in the Pyramid Lake Paiute Indian Reservation in western Nevada. Covering 117,400 acres, it is the third largest of the remaining salt lakes in the United States, after Great Salt Lake, Utah and Salton Sea, California. Pyramid Lake is the last remnant of Lake Lahontan, an ancient lake that covered most of northern Nevada at the end of the last ice age.
Pyramid Lake is a terminal lake, meaning it has no outlet. Water flowing into the lake comes from the Truckee River, the outflow of Lake Tahoe. Water leaves the lake by evaporation, and evaporation rates are high in this desert environment. Mineral salts from the inflowing river are retained without an outlet and become concentrated over time. The lake is about 1/6 the salinity of sea water.
Pyramid Lake gets its name from the interesting tufa rock formations found in the lake and around the shoreline. Tufas are large calcium carbonate rock deposits formed into unusual shapes. One of the most prominent tufas is Pyramid Island along the lake's eastern sore. The largest tufa is Anaho Island, a national wildlife refuge, which is home to a large flock of pelicans.
Stone Mother is another large tufa on the lake's eastern shore. According to Paiute legend, she is the mother of their people and all other Native Americans. Her husband, the father of her children, separated all of them into different tribes when they would not stop bickering. The mother was so sad that she sat and wept, creating Pyramid Lake. She sat so long that she turned to stone, and sits by the lake still.
The local Paiute Indians control the lake, but it is open to the public for fishing and recreation. Camping, fishing, boating and hiking are all allowed, but a permit is required. We encourage you to be respectful of the Paiute and purchase a permit, even if just stopping for an afternoon.
Pyramid Lake is home to several species of fish; one is unique to this lake, and two others are endangered. The Paiute maintain the local fish hatchery which breeds the Lahontan Cutthroat Trout. Unfortunately, the Cutthroat have not spawned naturally in nearly 80 years. The Cui-Cui is an endemic fish, and as such, cannot be kept if caught. Other species include Perch, Cutthroat Trout (not the Lahontan variety), and the Tui Chub. The fishing season lasts from the beginning of October through the end of May every year.
In nearby Black Rock City, the yearly Burning Man Festival is held at the end of summer. Begun in 1986, this annual event attracts more than 50,000 participants. Described as an experiment in community, art, self-expression, and self-reliance, the name derives from the ritual burning of a large wooden effigy. Tent camping is encouraged by the festival, and people camp in and around Pyramid Lake while they are in town. For nearly a month the entire area becomes filled with this experiment in community and resourcefulness. Despite more than 117,000 acres of water, this is desert environment where temperatures soar in summer.
Pyramid Lake is part of the National Scenic Byways Program, a program that recognizes archeological, cultural, historic, natural, recreational, and scenic qualities. The lake is the only byway in the USA located entirely within a tribal reservation. Spend some time at the Pyramid Lake Paiute Tribe Museum and Visitor Center to learn about the history and geology of this ancient lake and why native inhabitants hold it as sacred. Visitors can purchase permits for camping, boating, and fishing at the Center. Visitors should always carry plenty of water when exploring this desert environment.
Things to do at Pyramid Lake
Vacation Rentals
Fishing
Boating
Camping
Hiking
Wildlife Viewing
National Wildlife Refuge
Museum
Fish species found at Pyramid Lake
Carp
Cutthroat Trout
Perch
Trout
---
Pyramid Lake Photo Gallery
Pyramid Lake Statistics & Helpful Links
At LakeLubbers.com, we strive to keep our information as accurate and up-to-date as possible, but if you've found something in this article that needs updating, we'd certainly love to hear from you!
Please let us know about it on our Content Correction form.
Spread the word! Share our Pyramid Lake article with your fellow Lake Lubbers!