Province Lake, Maine & New Hampshire, USA
Lake Locations:
USA - New England - Maine - Lakes & Mountains - New Hampshire - Lakes Region -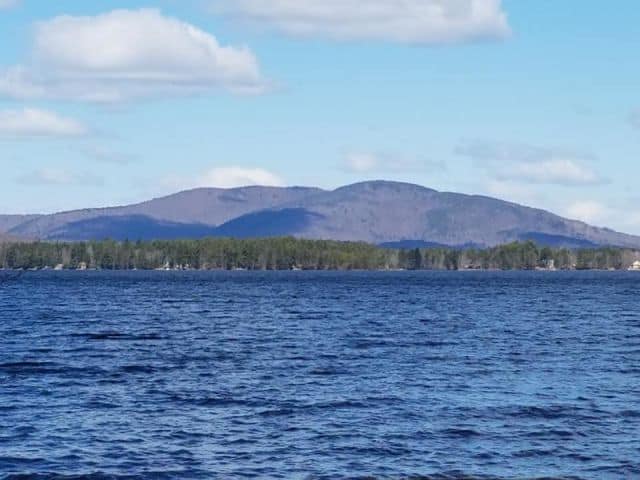 A quick swish and the golf club slices through the air sending the ball down the green along Province Lake. The lake, covering almost a thousand acres, is in the Lakes region of New Hampshire and extends into the Lakes and Mountains region of Maine. People have been coming to play golf on the lake's shore since the early 1900's and to enjoy the fish-filled waters for much longer than that. With its exceptionally clean water and beautiful countryside, the lake has something to please the entire family.
Province Lake extends almost a mile and three quarters long by just under a mile and a half wide and is slightly over five miles around. It is in Carroll County on the New Hampshire side of the lake and covers a small piece of northern York County in Maine. There is a boat ramp and public beach for town residents on the New Hampshire side of the lake. With 968 acres of water, Province Lake is a popular recreation lake with more than enough room for boating, water skiing, paddling and swimming.
With a maximum depth of 17 feet and an average depth of only nine feet, Province Lake is warm water fishery. It is classified as mesotrophic or moderately fertile and has healthy populations of yellow perch, horned pout, largemouth bass and smallmouth bass. The lake has not been invaded by milfoil or other exotic weeds, and the Province Lake Association works to protect and monitor the lake's water quality. Loons, eagles and great blue herons all make their home at the lake.
Province Lake is less than two hours from Boston in the towns of Effingham and Wakefield, New Hampshire and Parsonsfield, Maine. The Leavitts of Hampton settled Effingham in 1749, and the town was called Leavittstown until it was incorporated in 1778. At that point, it is believed that Governor Wentworth changed the name to Effingham to honor his relatives, the Howard family, also the Earls of Effingham. Wakefield was established a few years later in 1774.
Vacation rentals and cottages are scattered on the shores of Province Lake. For visitors who wish to extend their stay, there is real estate available for sale on the lake and in the surrounding communities. All three towns have a variety of accommodations, shops and restaurants including some on the water, and any amenities a visitor might need are easily accessible from the lake. The Pine River State Forest is northwest of Province Lake, providing opportunities for wildlife viewing in a pine and oak forest interspersed with wetlands. Visitors enjoy hiking, cross country skiing, and snowshoeing over trails and roads on relatively easy terrain.
Golf with lakefront views, fish-filled waters and more than enough room for water recreation make Province Lake an unforgettable destination. Tucked away in the Lakes region of New Hampshire and the Lakes and Mountains region of Maine, Province Lake is sure to please the entire family. Its proximity to Boston and the seacoast of Maine makes it an ideal place for an unforgettable vacation to relax and rejuvenate.
Things to do at Province Lake
Vacation Rentals
Fishing
Boating
Swimming
Beach
Canoeing
Kayaking
Water Skiing
Golf
Hiking
Cross-Country Skiing
Wildlife Viewing
Birding
State Forest
Fish species found at Province Lake
Bass
Black Bass
Largemouth Bass
Perch
Smallmouth Bass
Yellow Perch
---
Province Lake Photo Gallery
Province Lake Statistics & Helpful Links
Spread the word! Share our Province Lake article with your fellow Lake Lubbers!