Ponhook Lake, Nova Scotia, Canada
Lake Locations:
Canada - Nova Scotia -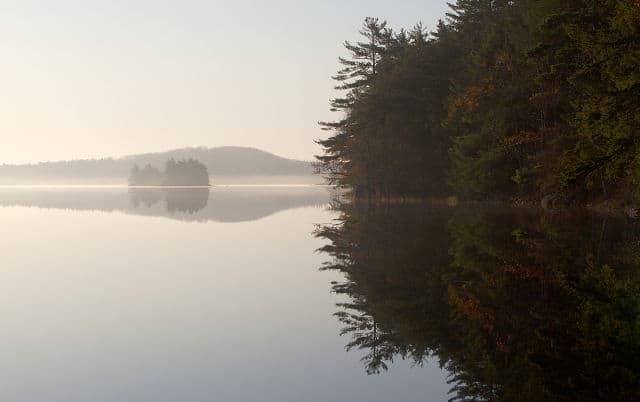 Ponhook Lake is a 106-acre lake located in the Canadian Maritime Province of Nova Scotia. Set within the Ponhook Lake Nature Reserve, the lake is dotted with 39 separate islands and holds precious and rare flora species along its shores. Boaters, kayakers, anglers and hikers all come to the lake to find their own little piece of tranquility.
Ponhook Lake is located in the center of the Medway River system, which flows from Annapolis, to the north of the lake, on through Queens County to the south of the lake. The inflow for Ponhook Lake comes from various sources, as the area of Nova Scotia is filled with streams, lakes, rivers and wetland areas. The Hibernia water system from the northeast flows south into the lake, as does water from Molega Lake, which enters Wildcat River and enters Ponhook Lake at its northern shoreline. Water flows out of the lake into the Medway River.
While small islands dot the waters of Ponhook Lake, vacation rentals, cottages and real estate opportunities speckle its wooded shoreline. Wrap-around porches look out onto the lake's sparkling surface, while other cottages offer up docks to dangle your feet off of while watching the day come to a close. Settle in for the long haul and create your own pocket of paradise, or visit the area throughout all the seasons. Winters are chilly in this portion of the world, but ice fishing or cross country skiing during the day and cozying up to a hot cup of chocolate at night will do wonders for one's well-being.
This quiet area may not have a bustling city life close by, but Ponhook Lake makes up for it with a wide range of outdoor activities. Anglers will discover brook trout, smallmouth bass and yellow perch within the depths of this lake. Ponhook Lake once supported a thriving salmon population which made its way up from the Medway River, though numbers have dropped significantly over the years. When not fishing, explore the shoreline by kayak or canoe, or spend the day lakeside swimming and picnicking.
If you're looking for additional adventures beyond Ponhook Lake, grab your kayak and canoe and put in above or below the lake. Pack some camping gear and make it a weekend trip along the area's waterways, including within Medway River, which flows out from the lake at its southern shore. River enthusiasts flock to this area for a number of amazing routes. Many camp out underneath the canopy of trees at the lake's many tiny islands.
Take care to notice that Ponhook Lake is also a nature reserve which holds critical coastal plant species along its shoreline. A few of the plants have been listed as critically imperiled, making it important to take note of your surroundings while visiting. One such flower is called the Golden-pert, whose flowers bloom pure white with a yellow tinge in its interior. Come during the spring and see the lake blooming with these beauties.
Ponhook Lake is sure to keep its visitors happy during their stay in the area. From hiking during the summer and snowshoeing in the winter, kayaking in the warm sum and ice fishing in the snow, this lake has limitless possibilities all throughout the year. Check into the small towns of LaBelle and Wellington nearby to catch up with a few of the locals and snag a bite of local cuisine. Or pack your camping gear and head an hour east towards Kejimkujik National Park, where miles of hiking terrain await you, along with moose, deer, black bears, beavers and loons. Ponhook Lake is one you won't want to miss.
Things to do at Ponhook Lake
Vacation Rentals
Fishing
Ice Fishing
Boating
Swimming
Canoeing
Kayaking
Camping
Picnicking
Hiking
Cross-Country Skiing
Wildlife Viewing
National Park
Fish species found at Ponhook Lake
Bass
Black Bass
Brook Trout
Perch
Salmon
Smallmouth Bass
Trout
Yellow Perch
---
Ponhook Lake Photo Gallery
Ponhook Lake Statistics & Helpful Links
Spread the word! Share our Ponhook Lake article with your fellow Lake Lubbers!