Dollar Lake, Nova Scotia, Canada
Welcome to the ultimate guide for history, statistics, local fun facts and the best things to do at Dollar Lake.
If you're considering Dollar Lake vacation rentals, we've made it super easy to explore accommodations and nearby hotels using the interactive map below. Simply click on a listing to compare similar properties, best rates and availability for your dates. Or keep scrolling to read our Dollar Lake guide!
Dollar Lake visitor and community guide
Beautiful Dollar Lake is one of Nova Scotia's favorite vacation getaways. With over 500 acres of water set within a lush, wooded landscape, Dollar Lake Provincial Park also gets plenty of day visitors from Halifax only 30 miles away. Only a few miles inland from the Atlantic Coast, Dollar Lake gains the benefit of plentiful rainfall, creating a landscape similar to a temperate rain forest. The deep, pristine lake is nearly void of the signs of human habitation, with only the park facilities and a few other buildings at the northeast end of the lake. The beaches and campground areas are only open during the warmer months, so the lakeshore and surroundings remain undisturbed for much of the year. Those wishing to cross-country ski or snowshoe on the gravel roads and trails within the park can enjoy a winter wonderland that gets a considerable amount of snow.
The name Dollar Lake came about when the owner of the lake and future park sold it to Nova Scotia Province for that sum. Little is written about the history of the lake, or when the dam over the outflow was built. The area has a unique geology, with 500 million year old sedimentary rock formations that were once a part of the ancient African continent. The collision of continents about 380 million years ago created enough heat and pressure to turn most of the rock into granite, slate and quartzite. Glaciers eventually gouged Dollar Lake-the deepest in the region- from the underlying rock, and rainwater run-off caused incoming streams flowing swiftly across rapids created by the rocks. Rushing water has worn rocky stream beds and caves into the gorges in the area. The landscape is softened by the many ferns and low-growing plants, creating a haven for wildlife and birds.
Dollar Lake itself has much to offer. Park management has created 119 campsites around three loops of road in the camping area. Sand was brought in to broaden the natural beach area and a boat ramp installed. A lifeguard is on duty at the main beach, and the safe swimming area is marked. Several walking trails totaling over a mile and a half surround the camping area and beach. A second swimming beach is located near the campgrounds. A picnic area, trailer dump station, multiple vault toilets and water are available, but campsites are not electrified. Flush toilets and showers are available in certain areas. Although boating is permitted and water skiing allowed, the boat launch area isn't particularly well suited to larger boats, so fishing boats, canoes and kayaks are usually the preferred craft. Fishing is popular here; the lake holds speckled trout, eels and the sought-after lake trout. A Nova Scotia fishing license is required.
Dollar Lake Provincial Park encompasses nearly 3,000 acres. An abundance of wildlife can be seen here, including deer, snowshoe hare, mink, muskrat, beaver and river otter. Birds of prey such as red-tailed hawk, the occasional bald eagle, osprey and kestrel, tree-loving hairy and downy woodpeckers, and warblers soar above the forest or flit among the trees. Along the lakeshore, mergansers, black ducks, great blue heron and the occasional loon are seen feeding. Children enjoy searching for frogs, snakes, turtles and salamanders. A stand of hemlocks near the lake is over 100 years old. There are over six miles of gravel roads in the park that the Department of Natural Resources staff keeps groomed all winter long for hiking, cross-country skiing and snowshoeing. The park provides a serene respite from city noise and traffic year round.
Dollar Lake is close to other major hiking trails in the area such as the Musquodoboit Trailways which passes nearby. The system of trails meanders along the Musquodoboit River, with some sections a rail trail along an old railroad bed. A Dollar lake campsite makes a great home base for exploring the trails and many caves in the area. Mastodon Ridge & Showcase Nova Scotia is located only a short drive from Dollar Lake. Children especially love the life-size replica mastodon and indoor fossil sandbox and play area. Older children and adults enjoy miniature golf and the audio-visual presentations of Nova Scotia and the Bay of Fundy. The Shubenacadie Provincial Wildlife Park, less than 5 miles from Dollar Lake, is a 50-acre refuge containing native birds and animals and a few exotic species. Interactive displays at the Creighton Environment Centre feature wildlife and their environment, while the Greenwing Legacy Interpretation Centre features displays on waterfowl and wetlands and offers wetland educational trails. Occasionally Shubenacadie Sam, Nova Scotia's version of Punxsutawney Phil, greets visitors if he can find time in his busy schedule forecasting the start of spring on Groundhog Day.
For the less athletically-inclined, Halifax is a modern city with a wealth of both historic charm and modern entertainment. A casino is located near Halifax, and several public beaches offer saltwater swimming. Charter fishing cruises can be arranged as can charter excursions among the small islands off the coast. This early harbor town holds several historical churches and buildings and a number of special interest museums to suit every member of the family. The Atlantic Canada Aviation Museum depicts Atlantic Canada's aviation history with artifacts, medals, photos, uniforms, weapons and 24 vintage aircraft on display. No Titanic fan will want to miss the Titanic exhibit at the Maritime Museum of the Atlantic or the cemetery where so many of the unclaimed victims of the disaster are buried. Genealogy buffs will want to see the Pier 21 Museum where many European immigrants arrived on the North American continent. Halifax offers serious pub-crawling venues, theaters, the arts and shopping.
If camping isn't in the cards, visitors to Dollar Lake can easily find lodgings in the Halifax vicinity. Hotels, motels, guest cottages, inns and bed-and-breakfasts are plentiful. Real estate may even be available near Dollar Lake. There is plenty to do in this small province surrounded by water with only a million residents. The scenery is amazing, and the fishing is great.
Custom Dollar Lake house decor
Read our full review of these personalized lake house signs.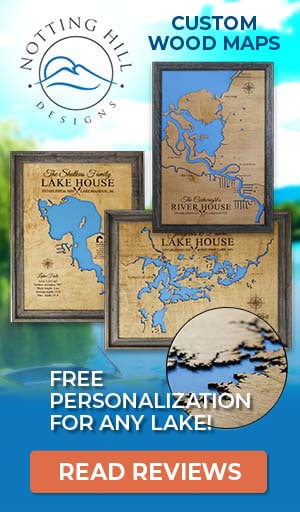 Things to do at Dollar Lake
Vacation Rentals
Fishing
Boating
Swimming
Beach
Canoeing
Kayaking
Water Skiing
Golf
Camping
Campground
Picnicking
Hiking
Cross-Country Skiing
Wildlife Viewing
Birding
Provincial Park
Museum
Miniature Golf
Shopping
Casino Gambling
Fish species found at Dollar Lake
---
Best hotels and vacation rentals at Dollar Lake
The Dollar Lake map shown above is a simple and stress-free way to search for trip accommodations. But if you want to take a deeper dive to find the ideal waterfront home, cabin, condo, hotel or resort, visit our favorite lodging partners by clicking the buttons below.
Note: These are affiliate links so we may earn a small commission if you book through them. While there is no extra cost to you, it helps provide resources to keep our site running (thank you)! You can read our full disclosure policy here.
---
Dollar Lake photo gallery
New photos coming soon!
Dollar Lake statistics & helpful links
We strive to keep the information on LakeLubbers as accurate as possible. However, if you've found something in this article that needs updating, we'd certainly love to hear from you! Please fill out our Content Correction form.
Advertise your Dollar Lake vacation rental
LakeLubbers will soon offer homeowners and property managers the opportunity to to showcase their vacation rentals to the thousands of lake lovers searching our site daily for accommodations. If you'd like additional details, please contact our advertising team here.
Looking for the Dollar Lake forum?
LakeLubbers previously offered visitors the ability to create accounts and participate in lake forums. When we overhauled the site's content management system in 2021 we had to disable those features. We're evaluating options and welcome your comments and feedback here.
We also encourage you to join our lake-lovin' community on Facebook and Instagram!
Spread the word! Share our Dollar Lake article with your fellow Lake Lubbers!