Pickerel Lake, Michigan, USA
Welcome to the ultimate guide for history, statistics, local fun facts and the best things to do at Pickerel Lake MI.
If you're considering Pickerel Lake MI vacation rentals, we've made it super easy to explore accommodations and nearby hotels using the interactive map below. Simply click on a listing to compare similar properties, best rates and availability for your dates. Or keep scrolling to read our Pickerel Lake MI guide!
Pickerel Lake MI visitor and community guide
Pickerel Lake, in Michigan's Northwest Region, is a nature lover's delight. Part of the headwaters of the famed Inland Waterway, Pickerel Lake covers 1,080 acres on the edge of Gaylord State Forest. The Inland Waterway has been famous since before the arrival of European settlers; Native American tribes used the waterway to cross the northern tip of the Lower Peninsula and thus avoid the treacherous waters of the Straits of Mackinac. The chain of lakes and rivers extends from Little Traverse Bay to Lake Huron and was a considerable short-cut for native tribes on their annual seasonal migrations. The entire northern reaches of the Lower Peninsula became important economically due to lumbering interests and, as was common in the 1870s, lumber executives built homes around the local lakes. The natural streams and rivers that connected Pickerel, Crooked, Burt and Mullet Lakes with Lake Huron at Cheboygan were enlarged, straightened and deepened to accommodate steamships. The steamships traveled the lakes as far as Pickerel Lake – the last few miles to Little Traverse Bay was never completed. Lumbering died as an industry and the railways took over transportation. The waterway was left to pleasure boaters, and the lakes settled into their new role as summer hideaways and fishing retreats. The waterway itself is now nearly 40 miles long and contains two locks that transfer boaters to different levels of the waterway.
Pickerel Lake is the smallest of the four main lakes in the waterway. Nestled between the State Forest and Emmet County farmland, the lake has long been known for great walleye and pike fishing. Much of the shoreline is developed, but there are a limited number of year-round residents. Most cottage owners come for the summer, and the cottages have been in the family for generations. The sandy lake bottom is great for swimming, and the lake is large enough to enjoy all types of watersports. Residents here are just as likely to be found fishing from their pontoon boat as water skiing. The wooded shore is a haven for ducks, deer and birds. Occasionally there will be reports of an elk in the area – a rare sight. Porcupines, squirrels, rabbits, foxes and coyotes feel comfortable approaching the shore to drink and pay the residents little mind. Rarely, a bear enters the neighborhood to raid bird feeders and generally make the neighbors nervous. But this is 'up north' – it adds to the charm. The Gaylord State Forest is open for hunting in season, and the many trails offer opportunities for bird watching, wildlife viewing and quietly communing with nature.
Jet skis, canoes, kayaks and powerboats are as common as fishing boats. Anglers fish for smallmouth bass, walleye, northern pike and yellow perch. In winter, ice fishermen venture onto the ice to try to entice the fish to their bait. One of the reasons for Pickerel Lake's popularity is that the entire chain of lakes is at their disposal; anglers can easily take their boat to an adjoining lake or even the Crooked River in search of better fishing. Recent studies show that Pickerel and Crooked Lakes act as 'nursery' lakes for walleye which migrate to the other lakes. Visitors interested in understanding the fascinating aspects of fishery management can take a tour of the Michigan Fisheries Visitor Center located on the north shore of Crooked Lake. Near the Visitor Center the newly-built Oden State Fish Hatchery rears several varieties of trout for planting in Michigan waters.
Mud and Cedar Creeks both empty into Pickerel Lake, and the Pickerel Channel leads boaters to Crooked Lake half a mile away. A public access dock is located at Ellsworth Point on the southwest shore. Pleasure boaters often put in here to cruise the Waterway to Lake Huron; the entire trip takes about six hours. Once off Pickerel Lake, the other large lakes support plenty of marinas along the route, so there is always a 'port of call' for gas or lunch.
South of Pickerel Lake, the Department of Natural Resources maintains two extensive trail systems – one for off-road vehicles and another for motorcycles. The Tomahawk Trails can be accessed near Indian River. In winter, the Petoskey Snowmobile Club grooms a large network of snowmobile trails, many of which are available for cross-country skiing. Within a 15-mile radius, some of northern Michigan's most famous ski resorts and locations await snow sports aficionados.
Just a short cruise up the Crooked River, the little town of Alanson provides small-town shopping and restaurants, some accessible by water. Every year Alanson celebrates Riverfest with boat parades, craft shows, music, food and entertainment. Less than 15 miles to the west, Petoskey provides movie theaters, boutique shopping in the Gaslight Shopping District, golf, hotels, lakefront parks and full-service marina. On the opposite shore of Little Traverse Bay, Harbor Springs is a well-known resort city focused on visitors. Little Traverse Bay is a sail boaters paradise, with world-class marinas, regattas and boating events. Wakeboarding is a popular sport here, and watercraft and equipment rentals are nearby. There is never a shortage of activities to keep everyone in the family busy around Pickerel Lake.
Visitors can book vacation rentals at Pickerel Lake. Private residences are often available for rental by the week, usually on the lakefront. Many include a canoe, kayak or boat for the visitor's use. Because of the lake's close proximity to ski resorts and the resort towns on Little Traverse Bay, all types of vacation lodgings can be found within a short distance of Pickerel Lake. Bed-and-breakfasts, condos, townhouses and timeshares are all located in the area. Real estate agents in the area usually have listings for sale – often on the lake shore or with lovely water views. So, bring the boat, or at least the fishing gear, and come to Pickerel Lake for a visit. You'll wonder what took you so long to get here!
Custom Pickerel Lake MI house decor
Read our full review of these personalized lake house signs.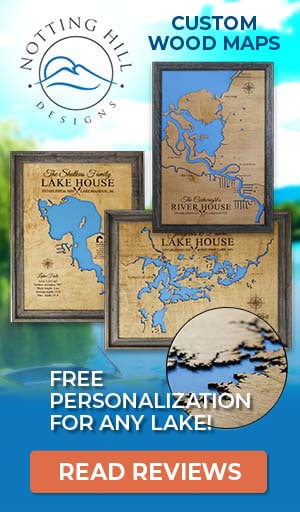 Things to do at Pickerel Lake MI
Vacation Rentals
Fishing
Boating
Sailing
Swimming
Canoeing
Kayaking
Jet Skiing
Water Skiing
Wakeboarding
Golf
Hiking
Cross-Country Skiing
Snowmobiling
Hunting
Wildlife Viewing
Birding
State Forest
Movie Theater
Shopping
Fish species found at Pickerel Lake MI
Bass
Black Bass
Northern Pike
Perch
Pickerel
Pike
Smallmouth Bass
Trout
Walleye
Yellow Perch
---
Best hotels and vacation rentals at Pickerel Lake MI
The Pickerel Lake MI map shown above is a simple and stress-free way to search for trip accommodations. But if you want to take a deeper dive to find the ideal waterfront home, cabin, condo, hotel or resort, visit our favorite lodging partners by clicking the buttons below.
Note: These are affiliate links so we may earn a small commission if you book through them. While there is no extra cost to you, it helps provide resources to keep our site running (thank you)! You can read our full disclosure policy here.
---
Pickerel Lake MI photo gallery
New photos coming soon!
Pickerel Lake MI statistics & helpful links
We strive to keep the information on LakeLubbers as accurate as possible. However, if you've found something in this article that needs updating, we'd certainly love to hear from you! Please fill out our Content Correction form.
Advertise your Pickerel Lake MI vacation rental
LakeLubbers will soon offer homeowners and property managers the opportunity to to showcase their vacation rentals to the thousands of lake lovers searching our site daily for accommodations. If you'd like additional details, please contact our advertising team here.
Looking for the Pickerel Lake MI forum?
LakeLubbers previously offered visitors the ability to create accounts and participate in lake forums. When we overhauled the site's content management system in 2021 we had to disable those features. We're evaluating options and welcome your comments and feedback here.
We also encourage you to join our lake-lovin' community on Facebook and Instagram!
Spread the word! Share our Pickerel Lake MI article with your fellow Lake Lubbers!