Opal Lake, Michigan, USA
Lake Locations:
USA - Midwest - Michigan - Northeast -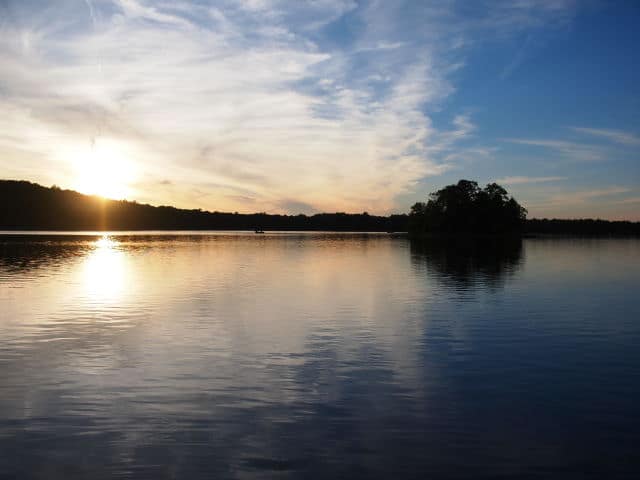 Sitting on the dock watching the colors of the sunset setting the blue lake on fire, it's easy to see why this lake is named Opal Lake. White sand beaches ring the shore providing a perfect setting. The exceptionally clean, clear water shines like a jewel in northeast Michigan. The lake is nestled in the alpine village of Gaylord in Michigan's Snow Belt, ensuring its place as a year round vacation destination.
Opal Lake is a small, natural lake covering 122 acres in Otsego County. Largemouth bass, bluegill, northern pike, rock bass, walleye and yellow perch can all be found in Opal Lake, and the lake has been stocked with rainbow trout and smallmouth bass. Although lakes of this clarity support smaller populations of fish, the fish tend to grow very large. Anglers may have to work a little harder, but they have a chance at catching one of the "big ones."
Access to Opal Lake is from a public car-top boat and canoe launching area managed by the Michigan Department of Natural Resources (DNR). Opal Lake is an all sports lake; boat rentals are available including ski boats. A small wooded island on one side of the lake is a great place to explore by canoe or kayak. There is residential development around the lake, including vacation rentals tucked in the woods. For anyone who falls in love with Opal Lake, real estate is available for sale around the lake and in nearby Gaylord.
Named for Augustine Smith Gaylord, an attorney for the Jackson, Lansing & Saginaw Railroad, Gaylord was established in 1877 as the county seat of Otsego County. Gaylord is an alpine community with year round resorts. It is known for spectacular golf courses, including some on the water, with trails for hiking and biking. As part of Michigan's Snow Belt, the area receives about 180 inches of snow every winter. Visitors to Opal Lake can find skiing nearby as well as trails for snow shoeing, cross country skiing and snowmobiling.
The Pigeon River Country Elk Range is just a few minutes from downtown Gaylord and Opal Lake. The 95,000-acre Pigeon River Country State Forest supports the largest free-roaming elk herd east of the Mississippi River. The Michigan DNR works to maintain the forest and field habitat of the elk. Elk are accustomed to cars, so viewing by automobile is the best way to see these magnificent creatures. The elk live in the area year-round, but September, when the bulls begin competing for mating rights, is the best time to see them. Hunting is allowed in season in some parts of the area.
A tree-lined shore wrapped around white sand beaches holds the clear, clean water of Opal Lake. The lake is as beautiful as its name implies, and with water for fishing and boating, it is a fantastic recreation destination. Add in the amazing golf and abundant snowfall, and Opal Lake becomes the perfect year round northeast Michigan getaway.
Things to do at Opal Lake
Vacation Rentals
Fishing
Boating
Swimming
Beach
Canoeing
Kayaking
Golf
Hiking
Biking
Cross-Country Skiing
Snowmobiling
Hunting
Wildlife Viewing
State Forest
Fish species found at Opal Lake
Bass
Black Bass
Bluegill
Largemouth Bass
Northern Pike
Perch
Pike
Rainbow Trout
Smallmouth Bass
Sunfish
Trout
Walleye
Yellow Perch
---
Opal Lake Statistics & Helpful Links
Spread the word! Share our Opal Lake article with your fellow Lake Lubbers!