Long Lake-Cheboygan County, Michigan, USA
Lake Locations:
USA - Midwest - Michigan - Northeast -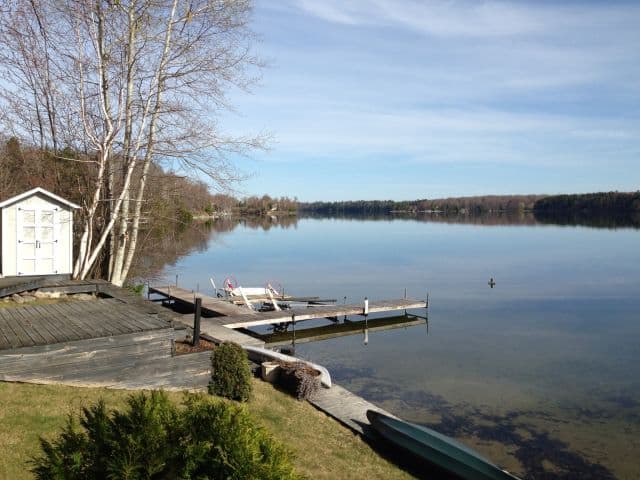 When searching for Long Lake in Michigan, many lakes might fit the bill. More than two dozen lakes in this state bear the same name, scattered among more than 20 counties. For those interested in vacationing around a Michigan lake by that name, Cheboygan County's Long Lake is an excellent choice.
Anglers enjoy a variety of species from Long Lake, including walleye, northern pike, bluegill, smallmouth bass, largemouth bass, perch, yellow perch, sunfish, and rock bass. The fishing is great on this lake, and the state record in Michigan for biggest smallmouth bass caught occurred in Long Lake in 1906, with an impressive 27.3-inch and 9-pound 4-ounce smallmouth bass specimen. Long Lake and its surrounds are home to endless outdoor activities, including camping, hunting, fishing, biking, hiking, bird watching, skiing, and all manner of water activities.
Long Lake is a clear freshwater lake, classified as oligotrophic (little algae and nutrients). The lake is spring fed, so its water is more consistently filtered through the natural spring-feeding process than are waters that flow from one lake to another. It sits at an elevation of 663 feet. Although not definitive, the average depth of Long Lake is about 30 feet with a maximum depth of about 60 feet. The lake is fairly developed on its northern end and somewhat developed on its southwestern shore. Family homes have been built along the lake, as well as some vacation rentals and charming cabin rentals. Alverno, Michigan is the closest town, located to the northeast. Aloha Township is situated to the south, Benton Township to the north, and Grant Township to the east.
Cheboygan County, organized in 1853, has 55 lakes that range in size from very small, at just a few acres, to very large, at more than 17,000 acres. At 402 acres in size, Long Lake is the eighth largest lake in the county. Situated in the northern section of the Lower Peninsula of Michigan, Long Lake is centrally located to many other great recreational and sightseeing opportunities that Michigan has to offer. Vacationers seeking variety can visit at least a half dozen other lakes in the vicinity: Douglas Lake, Lake Paradise, and Munro Lake are all found to its northwest; Burt Lake to the west, the second largest lake in the county at 16,700 acres; Black Lake to the southeast; Crooked Lake to the southwest; and Mullett Lake directly to the west, the largest in the county, at 17,000-plus acres, and the third largest in the state. Lake Huron is to the north and east, and Lake Michigan is to the west. This area is in the center of Great Lakes activity and famed locales.
Cheboygan, the county seat, is the only city in Cheboygan County. Its population is around 5,295, and it's nearly a guarantee that those residents are lake lovers. Situated on Lake Huron, Cheboygan is a great destination for vacationers who love lighthouses, since there are seven in Cheboygan. In warmer months, free concerts, farmers' markets, outdoor festivals, and other fun events take place all around the Cheboygan area, with downtown being a hub of activity. Popular festivals include the annual Wanigan Festival in June, which celebrates the area's history, and Riverfest and the Cheboygan County Fair each August. Washington Park is a great place to settle in for a free outdoor concert, and a wide variety of acts are featured there throughout the warmer months. The downtown area, which is lively and filled with places to shop, eat, relax, and wander at a leisurely pace, has recently been given a facelift and is now a picturesque gathering place. The Opera House is the original structure built in 1877 and renovated several times. Concert series are held there, as are children's workshops, dance classes, and many other culturally stimulating presentations. The Cheboygan County Historical Museum is located close to the Opera House. With artifacts from the county's past and historic exhibits on display, the four-building complex is more than just a museum. The Memorial Rose Garden is also on the premises, and perennial gardens are maintained by a local garden club.
Grass Bay sits close by, to the north; Hammond Bay is to the east. Mackinac Island is also to the north, as is Cheboygan State Park, which has access to Duncan Bay, an excellent fishing spot. Open year round, Cheboygan State Park has amenities for camping, including picnic areas, modern shower facilities, and electrical hookups. Rustic cabins are also available, as are modern teepees. More than 900 acres of land are devoted to this lovely area, which contains beaches on Lake Huron, historic lighthouses and lighthouse ruins, playgrounds, hiking trails, and cross-country ski trails. Visitors might come for the day or for a whole vacation, with swimming, sightseeing, camping, and fishing being some of the most popular outdoor activities. Flower lovers will enjoy the many different species of rare wildflowers that dot the trails in the park, from orchids to pitcher plants.
Vacationers looking for wonderful and unique holiday lodging should consider this lesser-known and less congested area around Long Lake. Replete with quaint cabins, rustic lodging, campgrounds, private motels, cottages, modern resorts, and private home rentals, there is surely something for everyone seeking a wonderful holiday in the Cheboygan County and Lake Huron area.
Things to do at Long Lake Cheboygan County
Vacation Rentals
Fishing
Swimming
Beach
Camping
Campground
Picnicking
Cabin Rentals
Hiking
Biking
Hunting
Wildlife Viewing
Birding
State Park
Museum
Ruins
Playground
Fish species found at Long Lake Cheboygan County
Bass
Black Bass
Bluegill
Largemouth Bass
Northern Pike
Perch
Pike
Smallmouth Bass
Sunfish
Walleye
Yellow Perch
---
Long Lake Cheboygan County Photo Gallery
Long Lake Cheboygan County Statistics & Helpful Links
Spread the word! Share our Long Lake Cheboygan County article with your fellow Lake Lubbers!