Minneapolis Chain of Lakes, Minnesota, USA
Also known as:  Lake Harriet, Lake Calhoun, Lake of the Isles, Cedar Lake, Brownie Lake
Welcome to the ultimate guide for history, statistics, local fun facts and the best things to do at Minneapolis Chain of Lakes.
If you're considering Minneapolis Chain of Lakes vacation rentals, we've made it super easy to explore accommodations and nearby hotels using the interactive map below. Simply click on a listing to compare similar properties, best rates and availability for your dates. Or keep scrolling to read our Minneapolis Chain of Lakes guide!
Minneapolis Chain of Lakes visitor and community guide
The Minneapolis Chain of Lakes is an urban recreation gem of five lakes: Lake Harriet, Lake Calhoun, Lake of the Isles, Cedar Lake, and Brownie Lake. Together, the group of lakes and their associated park land create over 1500 acres of urban park, with nearly 1100 acres of water surface. A 13-mile system of walking and biking trails connects the five lakes. In addition, channels dug between the northernmost four lakes (except Lake Harriet) provide exceptional paddling opportunities.
Gasoline motors are prohibited on all Metropolitan Parks lakes, so electric motors, sailboats, canoes and kayaks rule at the Chain. The system of engineered lakes was begun early in the Twin Cities' history, when the new Parks board first contemplated adding lakes to their expanding city amenity list in 1883. Over 130 years later, the Minneapolis Chain of Lakes is still in development with improvements and additions.
Lake Calhoun is the largest of the five lakes, with 422 acres of water surface and nearly 100 acres of dry park land surrounding it. Three swimming beaches adorned with adjacent picnic grounds and recreational fields complement the shoreline. Boat rentals are a popular concession here, and sailing is a favored activity. Lake Calhoun's water level dropped five feet when the channel to Lake of the Isles was opened. Lake Calhoun was the first of the Minneapolis Chain of Lakes to have its own dedicated police officer-a woman-who was hired in 1913 to enforce the rule that women's bathing costumes must extend four inches below the knee!
Lake Harriet is second in size of the Minneapolis Chain of Lakes. With 344 surface acres, Lake Harriet greets visitors who come to sail, swim at its two beaches, enjoy picnics and concerts at the famed Bandshell, first constructed in 1888. An additional 126 acres of parkland provide walking and cycling trails connected to the other lakes in the chain. The parkland includes Beard's Plaisance Park and Lyndale Park which showcase the Roberts Bird Sanctuary, the Rose Garden and the Peace Garden (also known as the Rock Garden).
Cedar Lake, named for the red cedar trees that used to rim the shoreline, is third in size at the Minneapolis Chain of Lakes. Cedar Lake is 173 acres, and the park includes another 115 acres with three popular swimming beaches. In a thoroughly modern reversal of the 1913 concern over abbreviated swimming costumes at Lake Calhoun, Cedar Lake has Hidden Beach, a popular nude beach that allows night-swimming. Cedar Lake is also popular with fishermen, providing a fishing dock, plenty of shore suitable for fishing, and a good selection of largemouth bass, muskie and northern pike. A canoe launch is provided. Cedar Lake was also larger before the channel was opened to Lake of the Isles. The dropping lake levels caused a former island to become a peninsula attached to the shore.
Lake of the Isles has fewer islands than it did before the water levels were engineered. Two of the islands were converted to dry land due to dredging activities and became part of the shoreline. Lake of the Isles is 118 acres, with an additional 90 acres of parkland. Always popular, an 'off-leash' dog park is located here for the furry friends of residents and visitors. Lake of the Isles is connected to the other lakes in the system by walking, rollerblading and biking paths and is a favorite for quiet hikes and paddling. In winter, the paths are used for cross-country skiing and snowshoeing. The setting is quiet with fewer visitors than the larger lakes.
Smallest and most northerly of the five lakes in the Minneapolis Chain of Lakes, little Brownie Lake covers less than 10 acres. Brownie Lake was larger at one time, but lost some of its size when a railroad was built across the shoreline. Another ten feet of depth was lost when the channel was opened to Cedar Lake in 1917, leaving it even smaller. Only 18 acres of additional park land is left, after a sizable chunk was sold off for development in the last century. The tiny lake is popular among kayakers and canoeists, who can rent storage rack space from the Parks Department beside the lake. It's a quiet spot for fishing and contemplation, with paths for walking and cycling throughout the area.
The Minneapolis Chain of Lakes adds a full 13 miles of trails to the famed 50-mile Grand Rounds Scenic Byway of roads and hiking trails in Minneapolis-St. Paul. Visitors marvel at the 1500 acres of what appears to be natural environment, without realizing that little here is in its original form. The original lakes were shallow; dredging deepened them and provided fill for creating beaches and park space from former wetlands. Water pumped in from the Mississippi River to augment levels added nutrients that degraded water quality and encouraged aquatic growth.
Now, efforts are geared toward undoing what was done in the past in the name of progress. Wetlands are being reconstructed to filter run-off water naturally and to hold that water in the area. Fewer new buildings are being permitted near the lakes, and efforts are being made to return some of the area to a far more natural landscape to encourage wildlife to gravitate here. The Minneapolis Chain of Lakes is changing for a more sustainable future, so they will continue to delight residents and visitors for many generations.
Although there is little housing available on the lakes themselves, the surrounding area offers every possible type of lodging, shopping to meet every taste, and a wide variety of dining and entertainment. A popular annual event is the Aquatennial celebration, begun in 1939, that takes place during the third week in July. And perhaps best of all, the Minneapolis Chain of Lakes welcomes visitors to its trails and beaches and quiet backwaters. So bring your walking shoes when you visit this city .
* Sources disagree as to size statistics of the individual lakes. We have used the figures from the approved Parks publication, "Parks, Lakes, Trails and So Much More" to provide consistency.
Custom Minneapolis Chain of Lakes house decor
Read our full review of these personalized lake house signs.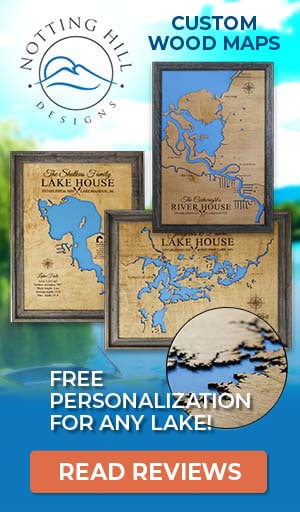 Things to do at Minneapolis Chain of Lakes
Vacation Rentals
Fishing
Boating
Sailing
Swimming
Beach
Canoeing
Kayaking
Picnicking
Hiking
Biking
Cross-Country Skiing
Wildlife Viewing
Shopping
Fish species found at Minneapolis Chain of Lakes
Bass
Black Bass
Largemouth Bass
Muskellunge
Northern Pike
Pike
---
Best hotels and vacation rentals at Minneapolis Chain of Lakes
The Minneapolis Chain of Lakes map shown above is a simple and stress-free way to search for trip accommodations. But if you want to take a deeper dive to find the ideal waterfront home, cabin, condo, hotel or resort, visit our favorite lodging partners by clicking the buttons below.
Note: These are affiliate links so we may earn a small commission if you book through them. While there is no extra cost to you, it helps provide resources to keep our site running (thank you)! You can read our full disclosure policy here.
---
Minneapolis Chain of Lakes photo gallery
New photos coming soon!
Minneapolis Chain of Lakes statistics & helpful links
We strive to keep the information on LakeLubbers as accurate as possible. However, if you've found something in this article that needs updating, we'd certainly love to hear from you! Please fill out our Content Correction form.
Advertise your Minneapolis Chain of Lakes vacation rental
LakeLubbers will soon offer homeowners and property managers the opportunity to to showcase their vacation rentals to the thousands of lake lovers searching our site daily for accommodations. If you'd like additional details, please contact our advertising team here.
Looking for the Minneapolis Chain of Lakes forum?
LakeLubbers previously offered visitors the ability to create accounts and participate in lake forums. When we overhauled the site's content management system in 2021 we had to disable those features. We're evaluating options and welcome your comments and feedback here.
We also encourage you to join our lake-lovin' community on Facebook and Instagram!
Spread the word! Share our Minneapolis Chain of Lakes article with your fellow Lake Lubbers!