Mecklenburg Lakeland, Mecklenburg-Vorpommern, Germany
Also known as:  Mecklenburg Lakes, Mechlenburg Lake Plains
Welcome to the ultimate guide for history, statistics, local fun facts and the best things to do at Mecklenburg Lakeland.
If you're considering Mecklenburg Lakeland vacation rentals, we've made it super easy to explore accommodations and nearby hotels using the interactive map below. Simply click on a listing to compare similar properties, best rates and availability for your dates. Or keep scrolling to read our Mecklenburg Lakeland guide!
Mecklenburg Lakeland visitor and community guide
The Mecklenburg Lakeland covers a large portion of Germany's Mecklenburg-Vorpommern Region. The primarily flat countryside is dotted with over 1000 lakes, rivers and streams, many connected by canals and navigable waterways. Stretching east to the border with Poland and north to the Baltic Coast, this former farming and grazing countryside has benefited from steady growth of tourism. The largest lakes district in Central Europe, the system has become a favored destination for holiday-makers and nature lovers of all types. The larger waterways are favored by yachtsmen and fishing fleets, while the smaller lakes, rivers and streams are utilized by smaller boats, canoeists and kayakers. The most important areas for boaters include Lake Muritz, the Schweriner See (see=lake), Plauer See, the rivers Warnow and Peene, and the Muritz-Elde-Waterway. Here, 75 miles of waterway are made navigable by 17 locks, leveling altitude differences of 161 feet. Lake statistics listed here reflect Lake Muritz as the largest lake in the Mecklenburg Lakeland.
Lake Muritz is a lesser-populated lake in Mecklenburg Lakeland. Located near the border with Poland, the large lake is perfect for a weekend getaway, as it's located not far off the route between Berlin and Hamburg. The eastern shoreline abuts the Lake Muritz National Park. The National Park and the several nearby Nature Parks are excellent spots for hiking, cycling and bird watching. The many small lakes and ponds are lovely for canoeing and kayaking, fishing and exploring. And Lake Lake Muritz is a favorite for house boaters, sailors, water skiers and windsurfers. Houseboats may be rented at Lake Mueritz under special visitor's license to cruise the waterway with a minimum of boating instruction. The eastern shoreline is limited to non-motorized boats due to migratory bird nesting, but much of the main waterway is open to rental motorized boats. The adjacent Muritz-Elde-Waterway is an easy waterway to navigate, even for inexperienced pilots. There are no sharp turns, and the speed limit is only 12 km per hour, making it a comfortable and leisurely float. For those who wish to leave the actual sailing to others, yacht and tour boat cruises are available.
Fishing is historically an important commercial enterprise in the Mecklenburg Lakeland. The most common catches are pike-perch (also known as zander), true perch and carp. Due to the decline of sturgeon, some fishermen have developed an alternative source of caviar from another local, lesser-known fish – the vendace. The waterway holds at least 50 different types of fish, so sport fishermen can always find a ready customer for their bait. The two largest towns on Lake Muritz are the old resort town of Roebel and Waren at the north end of the lake. Both towns hold a variety of holiday lodging choices, but Waren is larger and more modern. Waren hosts the 'House of 1000 Lakes,' a museum dedicated to the history and natural habitat of the Mecklenburg Lakeland. Children especially love the huge aquariums featuring native fish and amphibians. The entire lakes district is a wealth of cycling paths and bike rentals, a perfect way to explore the sights.
Many visitors choose to spend a week or more cruising the Muritz-Elde-Waterway. There are mooring places all along the route in the form of marinas, sports boat harbors, and at water sports clubs and campsites. Any trip along the waterway requires a stop at Muritz Bear Woods near the south end of Lake Plauer. The bears found here are formerly captive bears who are free to live out their lives in this natural setting. Farther west along the waterway, sailors can turn north to Schweriner See and the town of Schwerin with its picture-book castle on an island in the lake. Schwerin is the capital of Mecklenburg-Vorpommern and holds museums and landmarks rich in the history of the Mecklenburg Lakeland. The Cathedral is the town's only medieval architectural monument. The Schwerin State Museum holds a true treasure in art. Rubens, Rembrandt, Hals and Bruegel are represented in the collection entitled "The Golden Age of Dutch Painting." The collection of Meissen porcelain is second only to the collection at Dresden. The Archaeological Museum contains a large collection of Bronze Age artifacts.
After visiting Schwerin, sailors may continue south to Domitz or west as far as Hamburg. But, one can't leave the Mecklenburg Lakeland without a visit to the Baltic Coast. North of Schwerin, 58 spa towns and resorts with magnificent white sandy beaches and the clean, clear water of the Baltic Sea entice many holiday-makers to select this region as the perfect getaway during the summer months. All types of gasthaus facilities, holiday apartments, condos and holiday houses are available as vacation rentals. Here the visitor can engage in all sorts of watersports, cycling, hiking and fishing. Protected areas along the coast provide breeding areas for water birds and opportunities for bird watching and photography.
Visitors could spend the entire summer exploring the Mecklenburg Lakeland and hardly begin to see everything. The area is known for organic foods, and the restaurants alone could keep the visitor sampling local cuisine and specialty fish dishes daily. Water, nature, good food and history make the Mecklenburg Lakeland a special holiday destination. Many visitors find themselves looking for real estate after a visit or two. So come to Mecklenburg Lakeland and cruise the waterways for a lazy summer holiday. You'll be yearning to come back next year!
Custom Mecklenburg Lakeland house decor
Read our full review of these personalized lake house signs.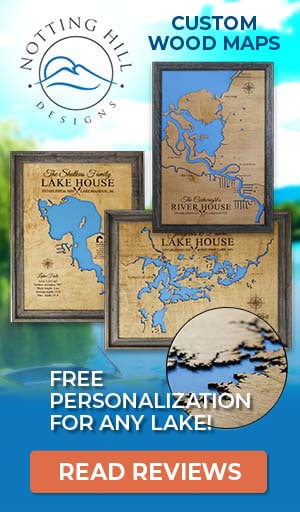 Things to do at Mecklenburg Lakeland
Vacation Rentals
Fishing
Boating
Sailing
Swimming
Beach
Canoeing
Kayaking
Water Skiing
Camping
Hiking
Biking
Wildlife Viewing
Birding
National Park
Museum
Fish species found at Mecklenburg Lakeland
Carp
Perch
Pike
Pike Perch
Sturgeon
Vendace
Zander
---
Best hotels and vacation rentals at Mecklenburg Lakeland
The Mecklenburg Lakeland map shown above is a simple and stress-free way to search for trip accommodations. But if you want to take a deeper dive to find the ideal waterfront home, cabin, condo, hotel or resort, visit our favorite lodging partners by clicking the buttons below.
Note: These are affiliate links so we may earn a small commission if you book through them. While there is no extra cost to you, it helps provide resources to keep our site running (thank you)! You can read our full disclosure policy here.
---
Mecklenburg Lakeland photo gallery
New photos coming soon!
Mecklenburg Lakeland statistics & helpful links
We strive to keep the information on LakeLubbers as accurate as possible. However, if you've found something in this article that needs updating, we'd certainly love to hear from you! Please fill out our Content Correction form.
Advertise your Mecklenburg Lakeland vacation rental
LakeLubbers will soon offer homeowners and property managers the opportunity to to showcase their vacation rentals to the thousands of lake lovers searching our site daily for accommodations. If you'd like additional details, please contact our advertising team here.
Looking for the Mecklenburg Lakeland forum?
LakeLubbers previously offered visitors the ability to create accounts and participate in lake forums. When we overhauled the site's content management system in 2021 we had to disable those features. We're evaluating options and welcome your comments and feedback here.
We also encourage you to join our lake-lovin' community on Facebook and Instagram!
Spread the word! Share our Mecklenburg Lakeland article with your fellow Lake Lubbers!