Lake Muritz, Mecklenburg-Vorpommern, Germany
Also known as:  Muritzsee
Welcome to the ultimate guide for history, statistics, local fun facts and the best things to do at Lake Muritz.
If you're considering Lake Muritz vacation rentals, we've made it super easy to explore accommodations and nearby hotels using the interactive map below. Simply click on a listing to compare similar properties, best rates and availability for your dates. Or keep scrolling to read our Lake Muritz guide!
Lake Muritz visitor and community guide
The jewel of Germany's Mecklenburg Lake District, Muritz is the largest inland lake entirely within the country. The 29,000-acre lake was formed at the same time as the other hundreds of lakes in the area; the last glacier gouged out the many depressions in the flat landscape that became the famed 'Lake District'. Lake Muritz, also known as Muritzsee, formed along the River Elde which both fills and drains the massive lake. The asymmetrical shoreline is made up of many bays and channel-like arms. The lake itself contains several basins, some of which are connected to the main water body only by a narrow neck of water. And some of the basins also give access to other lakes, either by natural channel or man-made canal. For much of Germany's history, the waterways thus formed were used as transportation highways for goods and people. Now, the channels and bays provide many hours of boating and sailing adventure to Lakelubbers from around the world.
Muritz is a favorite among yachting enthusiasts; an entire village has been built and devoted to landlocked seafarers on the southeastern shore. Hafendorf-Muritz has taken advantage of the desire for a water-based resort area and provides over 350 boat slips and all services for boaters. Houseboats can be rented here for those who wish several days to explore the many bays with all the comforts of home. Visitors can also rent canoes, kayaks, rowboats, and powered cruisers.
The small resort area has a waterski course and a sailing school, and also offers lessons in waterskiing and windsurfing. An excellent sandy beach and swimming pier provide plenty of water fun for young and old alike. The harbor area is surrounded with holiday houses and apartments; other forms of lodging also exist in the area. Fishing charters and touring cruises can be arranged here. Pike, carp, burbot, bass, zander and perch are caught in Lake Muritz, while the incoming rivers and streams are noted for excellent fishing for eel and trout. The River Elde is a popular boating waterway and is navigable via a system of locks once the captain leaves Lake Muritz. The Muritz-Elde Waterway is managed by the Lauenburg Waterway and Shipping Authority, as is Lake Muritz.
Lake Muritz attracts a variety of visitors, not all of whom are here to enjoy the big lake's clear waters. Bordering the eastern shoreline, the Muritz National Park encompasses both part of the lake and nearly 80,000 acres of forest, wetlands and natural vistas. A bird-watching paradise, the park holds white-tailed eagle, osprey, crane, great bittern, reed warbler, redshank, greenshank, black stork, teal, garganey and little stint. Camping is allowed within the park in designated areas only.
Muritz National Park holds about 130 small water bodies such as lakes, ponds, and brooks, making it ideal wildlife habitat. Over 400 miles of hiking and biking trails in the park offer plenty of opportunity to enjoy the natural setting. Some of the most popular biking excursions include circling the Muritzsee. The 66-mile Muritz-Radrundweg is the park's most popular bike trail. The trail begins in Waren and passes through Boek, stopping near two of the park's tallest watchtowers. Other recommended trails include the Gelber Vogel (Yellow Bird) near Grunow, the Violette Blume (Purple Flower) south of Waren, and the comprehensive 99-mile Radrundweg Blaues Muritzband. The Havel River that runs through the park is popular for canoeing, kayaking and rowing. Boats and bikes are rented locally within the park.
Towns along the shore of Lake Muritz offer a variety of interesting activities to catch visitors' attention. The small city of Waren on the northern end of Lake Muritz holds a number of festivals and sporting events annually which attract athletes to the region. The Muritz triathlon and duathlon have been a regular event for many years. Many also come to take part in the Muritz Run in August, over 75 kilometers for ultra runners and hand cycles, or the shorter route of 26.5 kilometers along the western shore of the Muritz for individual runners.
There are also boat races, canoe races, parades, water ski shows, dragon boat races, music and dance exhibitions. Two of the most popular festivals are the Muritz Sail in May and the Maritime Festival in Waren and surrounding areas. When there isn't a festival or race going on, the Nature Discovery Center is an educational way to spend a day. This multimedia-based center contains aquariums, exhibits of bird life and forests, and an exhibit of the evolution of the local landscape. A Children's Museum produces nature study events and offers playgrounds and fun activities for the little ones. Information on the Muritz National Park can be obtained here. Waren also holds a fisheries museum, a military maritime museum, and a city history museum.
The entire Mecklenburg Lake District was originally one huge lake that split into several smaller lakes linked to one another when sea levels fell. The water level of Lake Muritz has changed several times over the centuries, primarily due to human engineering. In the 12th century the surface of the lake was still 198 feet above sea level. By 1737 the lake surface had risen to 211 feet as a result of the waterway being impounded to drive mills along the River Elde downstream. The current water level of 203 feet was reached in 1836.
Muritzsee is crossed by the River Elde from south to north and links to the Kolpinsee in the west via the Reeck Canal. The lake also feeds the River Havel to the east via the Mirow Canal, part of the Muritz-Havel Waterway, and the Bolter Canal via the chains of adjoining lakes. This interconnected waterway offers miles of scenic canals for boating and is one of the most popular holiday areas in Germany. Plenty of guest houses, holiday apartments, and condos offer a choice of lodgings to suit every taste. Some of the resort areas even offer real estate for holiday homes. So whether your passion is sailing or caravanning or a spa getaway, Lake Muritz is the perfect place to spend your next Mecklenburg Lake District vacation. Hope to see you there soon!
Custom Lake Muritz house decor
Read our full review of these personalized lake house signs.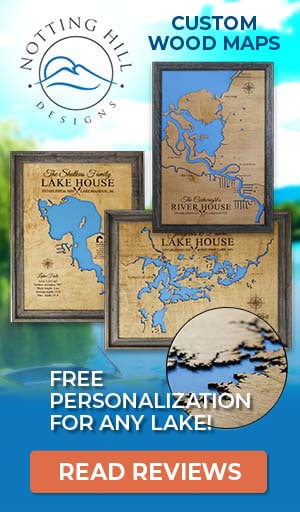 Things to do at Lake Muritz
Vacation Rentals
Fishing
Boating
Sailing
Swimming
Beach
Canoeing
Kayaking
Water Skiing
Camping
Hiking
Biking
Wildlife Viewing
Birding
National Park
Museum
Playground
Fish species found at Lake Muritz
Bass
Burbot
Carp
Eel
Perch
Pike
Trout
Zander
---
Best hotels and vacation rentals at Lake Muritz
The Lake Muritz map shown above is a simple and stress-free way to search for trip accommodations. But if you want to take a deeper dive to find the ideal waterfront home, cabin, condo, hotel or resort, visit our favorite lodging partners by clicking the buttons below.
Note: These are affiliate links so we may earn a small commission if you book through them. While there is no extra cost to you, it helps provide resources to keep our site running (thank you)! You can read our full disclosure policy here.
---
Lake Muritz photo gallery
New photos coming soon!
Lake Muritz statistics & helpful links
We strive to keep the information on LakeLubbers as accurate as possible. However, if you've found something in this article that needs updating, we'd certainly love to hear from you! Please fill out our Content Correction form.
Advertise your Lake Muritz vacation rental
LakeLubbers will soon offer homeowners and property managers the opportunity to to showcase their vacation rentals to the thousands of lake lovers searching our site daily for accommodations. If you'd like additional details, please contact our advertising team here.
Looking for the Lake Muritz forum?
LakeLubbers previously offered visitors the ability to create accounts and participate in lake forums. When we overhauled the site's content management system in 2021 we had to disable those features. We're evaluating options and welcome your comments and feedback here.
We also encourage you to join our lake-lovin' community on Facebook and Instagram!
Spread the word! Share our Lake Muritz article with your fellow Lake Lubbers!