Maligne Lake, Alberta, Canada
Welcome to the ultimate guide for history, statistics, local fun facts and the best things to do at Maligne Lake.
If you're considering Maligne Lake vacation rentals, we've made it super easy to explore accommodations and nearby hotels using the interactive map below. Simply click on a listing to compare similar properties, best rates and availability for your dates. Or keep scrolling to read our Maligne Lake guide!
Maligne Lake visitor and community guide
With a name derived from the French word for wicked or evil, Alberta's Maligne Lake (pronounced muh-leen) offers a contradictory scenic and serene face. Located within Canada's Jasper National Park, remote Maligne Lake shares its name with a nearby mountain range and the Maligne River. So named by Father Pierre-Jean De Smet in the mid 1800s, the title was likely originally bestowed to indicate the sometimes dangerous rapids of the Maligne River during spring flood. Certainly, the millions of visitors who have come to admire the 4,900-acre lake haven't felt it had any malicious intent . . .just beautiful views, towering mountains and plentiful wildlife!
The first European to see the lake was Henry McLeod in 1878 while he was scouting routes for the Canadian Pacific Railway. By the early 1920s, Maligne Lake was a widely-visited attraction for wealthy 'outdoor adventurers' who were treated to rustic but opulent facilities on the lake while they toured the area on horseback. When Jasper Forest Park was granted national park status in 1930, Maligne Lake became the largest lake within the new park and soon one of the most visited. Because much of the water derives from glacial melt, the lake's waters usually have the stunning blue hues created by 'glacial flour' carried from the mountains.
Three ice fields can be seen from the shores of Maligne Lake: Maligne, Unwin and Charlton glaciers provide the stunning backdrop along with the peaks of mountains Charlton, Unwin, Llysfran, Mary Vaux, Mount Paul, Samson and Leah. It was scenery such as this that made the original tourists flock to Jasper National Park. Located 50 miles by car from the Town of Jasper, visitors must make a special effort to get here-an effort eased considerably by the in-park concessionaires who provide services.
There is no swimming beach; the average temperature of the lake is a cool 39 degrees and ice-free only from late May until September. There is also no way to launch large private boats, making it far easier to control the lake's environment and prevent boat-caused pollution. Canoes, kayaks and rowboats may be rented from the historic 1928 Boathouse. The original builder of the Boathouse planted rainbow trout and brook trout in the lake in early years, and the trout now reproduce naturally, growing to large size. Trout fishing has become quite popular, although a Mountain Park fishing license is required. The only motorized boats on the lake are the diesel-powered cruise boats operated by the main concessionaire. A variety of cruises are offered, from a 90-minute cruise to scenic Spirit Island, family cruises for families with children (including snacks, hands-on nature activities and a nature-themed scavenger hunt on Spirit Island), and longer-length photographic cruises especially geared to photography buffs.
The 1927 Maligne Lake Chalet still holds the traditional afternoon tea. The Chalet offers meals and snacks to visitors, provides maps and information, and acts as a visitors center. Several popular trailheads begin near the Chalet at the north end of the lake. Few are considered 'easy' trails, and most require some exertion. The shortest and most level is the two-mile Mary Schaffer Trail that follows the shoreline, then loops back through the forest to the parking area. Another short trail is the Moose Lake Loop, about two miles of relatively flat walking. Others are considerably longer and steeper, culminating in the multi-day 27-mile Skyline Trail above the tree line that eventually ends up in the town of Jasper. For those who aren't inclined to do a lot of hiking, the concessionaire offers a variety of other activities, including some tours by van.
One tour nearly everyone wants to take is the short trip to Medicine Lake-a couple of miles north of Maligne Lake and downstream along the Maligne River. Unusual Medicine Lake's water actually disappears each year. Not a true lake, Medicine Lake is created when spring thaws add too much water to this area of the Maligne Valley, and it can't escape fast enough. As to where the lake goes, that question was answered several years ago when geologists added a bio-degradeable dye to the water to track its course. The dye appeared in several local lakes; water had traveled via underground seepage through the porous karst limestone to show up in the other lakes. During dry periods, there is very little water left in the shallow lake until the next year's spring thaw. The half-day tour includes a stop to enjoy some of the waterfalls at the south end of the lake and walk a few short paths, then watch for the many wildlife the naturalist/guide can point out, such as moose, elk, bear, bighorn sheep, wolves, eagles and osprey.
The Maligne Lake concession handles the shuttle vans that transport visitors to and from Jasper hotels and lodgings, and provides a full complement of activity tours year round. The concession organizes trout fishing trips (gear provided), arranges for whitewater rafting in the area, and offers a full schedule of winter activities for off-season visitors to enjoy. Cross-country skiing excursions, snowshoe treks, and an extremely popular Ice Walk explore the winter landscape under the helpful guidance of experienced tour guides. The Ice Walk isn't recommended for children under age seven and includes ice cleats to safely traverse stretches of slippery slope to view ice caves, frozen waterfalls and glaciers.
Two canoe-access-only camping areas are located along Maligne Lake. Other lodgings are primarily found in the Town of Jasper and along the Icefields Parkway. Jasper has everything a vacationer could desire in amenities and services. The entire town is geared toward accommodating Jasper National Park visitors. Several private campgrounds join the hotels, guest houses and resort-style lodgings in the town, while restaurants are plentiful and varied. Jasper has several walking and hiking trails that can be reached from many of the hotels, and a fully-equipped Visitors Center provides maps, information and recommendations. Truly, Maligne Lake can be enjoyed any time of the year.
Custom Maligne Lake house decor
Read our full review of these personalized lake house signs.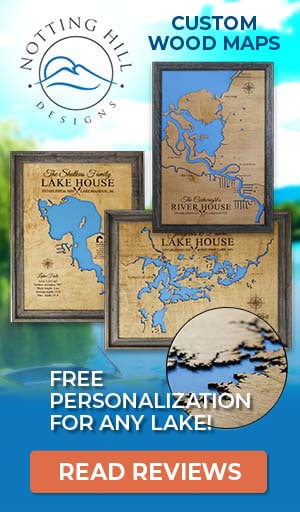 Things to do at Maligne Lake
Vacation Rentals
Fishing
Boating
Swimming
Beach
Canoeing
Kayaking
Whitewater Rafting
Camping
Campground
Hiking
Cross-Country Skiing
Horseback Riding
Hunting
Waterfall
Wildlife Viewing
Birding
National Park
Fish species found at Maligne Lake
Brook Trout
Rainbow Trout
Trout
---
Best hotels and vacation rentals at Maligne Lake
The Maligne Lake map shown above is a simple and stress-free way to search for trip accommodations. But if you want to take a deeper dive to find the ideal waterfront home, cabin, condo, hotel or resort, visit our favorite lodging partners by clicking the buttons below.
Note: These are affiliate links so we may earn a small commission if you book through them. While there is no extra cost to you, it helps provide resources to keep our site running (thank you)! You can read our full disclosure policy here.
---
Maligne Lake photo gallery
New photos coming soon!
Maligne Lake statistics & helpful links
We strive to keep the information on LakeLubbers as accurate as possible. However, if you've found something in this article that needs updating, we'd certainly love to hear from you! Please fill out our Content Correction form.
Advertise your Maligne Lake vacation rental
LakeLubbers will soon offer homeowners and property managers the opportunity to to showcase their vacation rentals to the thousands of lake lovers searching our site daily for accommodations. If you'd like additional details, please contact our advertising team here.
Looking for the Maligne Lake forum?
LakeLubbers previously offered visitors the ability to create accounts and participate in lake forums. When we overhauled the site's content management system in 2021 we had to disable those features. We're evaluating options and welcome your comments and feedback here.
We also encourage you to join our lake-lovin' community on Facebook and Instagram!
Spread the word! Share our Maligne Lake article with your fellow Lake Lubbers!