Lough Beg, Northern Ireland, United Kingdom
Also known as:  Loch Beag
Welcome to the ultimate guide for history, statistics, local fun facts and the best things to do at Lough Beg.
If you're considering Lough Beg vacation rentals, we've made it super easy to explore accommodations and nearby hotels using the interactive map below. Simply click on a listing to compare similar properties, best rates and availability for your dates. Or keep scrolling to read our Lough Beg guide!
Lough Beg visitor and community guide
Lough Beg, a freshwater lake in the northeastern part of Northern Ireland, is located near the center of the province of Ulster and straddles two counties, Londonderry and Antrim. Londonderry has become a Catholic majority county since the 1980s, while Antrim's majority is Protestant. Belfast, the largest city in Northern Ireland and its capital, is located to the southeast of Lough Beg, about 40 miles (64.3 kilometers) away. Lough Beg's proximity to Belfast makes it a destination worth visiting, as does its close relationship to Lough Neagh, the largest lake in the British Isles.
Lough Beg, which means "Little Lake," is a glacial lake about 3 miles (4.8 kilometers) long by 1 mile (1.6 kilometers) wide, running south to north. This natural lake is located to the north of Lough Neagh and is part of the Lower Bann River Basin catchment area. The river enters Lough Neagh from the south, exits it from the north, then enters Lough Beg as its primary water inlet at the south end of the lake. The water again exits from the north end of Lough Beg and continues on as the Lower Bann River. The towns of Castlerock, to the west, and Portstewart, to the east, bookend the river's exit point into the Atlantic Ocean at the northern coastline of Northern Ireland.
Portglenone is a market center and traffic junction just to the north of Lough Beg. With a population of 2,900, the town, located in County Antrim in the Ballymena district, is known for the Portglenone Forest Park. Nature trails meander through the undisturbed wooded lands here, and the Lower Bann River courses through the park, which is designated an ancient woodland.
Although it is designated a lake unto itself, Lough Beg, in topographical terms, is an area of the Lower Bann River that widens out after the river exits Lough Neagh. Lough Beg is a shallow lake, averaging between 3.3 and 6.6 feet (1 and 2 meters). This shallow depth, in combination with the wide and fairly flat and level valley floor, has allowed the lake to regularly flood the grasslands that exist near the western shore of the lake. This 300-acre unmodified area, which is known as "The Strand," has been designated the Lough Beg National Nature Reserve and is an Area of Special Scientific Interest (deemed so in 1965) for its diversity of plant and animal life. In 1985, the Ramsar Convention fortified the protected status of the Lough Neagh/Lough Beg wetlands by addressing some of the finer points of the area's protection that the original 1965 document only touched on or did not discuss at all.
Within the nature reserve is Church Island, also called Inish Toide, the prominent and popular ruins of a pre-Viking monastery. Although the area is often flooded, careful and prepared visitors who are interested often try to reach Church Island on foot in the summer. The wealth of history there makes the often-treacherous journey worthwhile: Besides the remains of the medieval church, an ancient graveyard and a spire built in the 18th century are wonderful architectural and historical glimpses that few people get to see up close due to their fairly inaccessible location.
Over the years, the Rivers Agency of Northern Ireland has put into place several drainage schemes that have consequently lowered the overall water levels of Lough Beg. Because it is low-lying grassland in a seasonal state of flooding, the area has evolved into an important wetlands area–the second largest wetlands in the United Kingdom, specifically, and boasts the highest number of birds ever recorded in one location in the U.K.–more than 60,000–in the winter seasons over five consecutive years during the mid-1980s.
Outdoor activities in the area near Lough Beg are popular, including canoeing, water skiing, and cruising on the lake. Travelers also enjoy walking and biking, both of which allow a leisurely pace to take in the scenery and engage in bird watching. An incredible array of bird species is present in the local habitat and during migration. Gulls, terns, waders, swans, diving ducks, geese, grebes, dabbling ducks, pochard, and other species make their homes here.
In summer, snipe, lapwing, and redshank settle in for the season. In the fall and spring, migratory species such as the black-tailed godwit, greenshank, knot, green sandpiper, and wood sandpiper are very common sights on Lough Beg. Being an important stop on these migrating birds' seasonal journeys has contributed to the recognition that this lake and its environs are ecologically important. The many rare species of invertebrates and insects that live in the area also make the protection of these wetlands important.
Fishing on Lough Beg is popular year round, including fly-fishing, with perch, roach, dollaghan, rudd, trench, bream, gray mullet, salmon, brown trout, and sea trout as the popular catches. Pike are plentiful and are known to grow especially large, possibly due to the lake's slow-moving waters and numerous shallow bays. Much of the land surrounding the lake is used for grazing and agricultural purposes. Plant species like northern reed grass, pennyroyal, Irish lady's tresses, and orchids are relatively rare and grow natively here.
The area around Lough Beg is undeveloped and, being a wetland, makes human access by car or on foot problematic. The best way to access this lake is through boating. Safe boating on this lake means sticking to the navigation channel that runs through it; the channel is deeper and allows a wider variety of watercraft to enjoy the waters without worry of grounding. Because the lake's shore is difficult for revelers to access, most other outdoor activity, on the water and off, does not conflict with anglers' need for undisturbed waters. The areas for each type of water-based recreation are distinct, for the most part, with each pastime holding its own favored and most logical areas for use.
Vacationers who crave a trip to Northern Ireland will enjoy the options available for vacation rentals and self-catering holiday cottages. Many choices of accommodations are available, from renovated historic stone cottages to large and luxurious rental properties. Anyone can find the perfect site for a holiday–from singles to small families to a dozen people traveling together. Self-catering rental apartments and cabins are plentiful, as are fully staffed and catered hotels, bed and breakfasts, and lodges. Real estate on offer is also filled with options. Lakeside cottages compete with apartments and single-family homes for buyers' attention. For those looking to start from scratch, undeveloped land is also available for building a dream vacation home.
Custom Lough Beg house decor
Read our full review of these personalized lake house signs.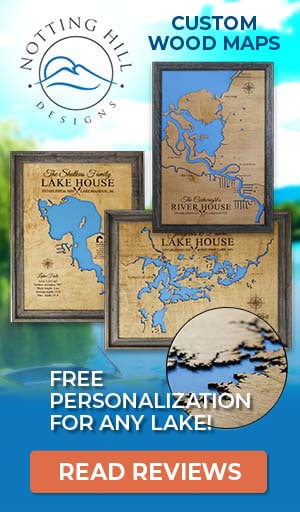 Things to do at Lough Beg
Vacation Rentals
Fishing
Boating
Canoeing
Water Skiing
Cabin Rentals
Hiking
Biking
Birding
Ruins
Fish species found at Lough Beg
Brown Trout
Perch
Pike
Roach
Salmon
Trout
---
Best hotels and vacation rentals at Lough Beg
The Lough Beg map shown above is a simple and stress-free way to search for trip accommodations. But if you want to take a deeper dive to find the ideal waterfront home, cabin, condo, hotel or resort, visit our favorite lodging partners by clicking the buttons below.
Note: These are affiliate links so we may earn a small commission if you book through them. While there is no extra cost to you, it helps provide resources to keep our site running (thank you)! You can read our full disclosure policy here.
---
Lough Beg photo gallery
New photos coming soon!
Lough Beg statistics & helpful links
We strive to keep the information on LakeLubbers as accurate as possible. However, if you've found something in this article that needs updating, we'd certainly love to hear from you! Please fill out our Content Correction form.
Advertise your Lough Beg vacation rental
LakeLubbers will soon offer homeowners and property managers the opportunity to to showcase their vacation rentals to the thousands of lake lovers searching our site daily for accommodations. If you'd like additional details, please contact our advertising team here.
Looking for the Lough Beg forum?
LakeLubbers previously offered visitors the ability to create accounts and participate in lake forums. When we overhauled the site's content management system in 2021 we had to disable those features. We're evaluating options and welcome your comments and feedback here.
We also encourage you to join our lake-lovin' community on Facebook and Instagram!
Spread the word! Share our Lough Beg article with your fellow Lake Lubbers!