Long Pond, Massachusetts, USA
Welcome to the ultimate guide for history, statistics, local fun facts and the best things to do at Long Pond MA.
If you're considering Long Pond MA vacation rentals, we've made it super easy to explore accommodations and nearby hotels using the interactive map below. Simply click on a listing to compare similar properties, best rates and availability for your dates. Or keep scrolling to read our Long Pond MA guide!
Long Pond MA visitor and community guide
A large dose of nature's best medicine awaits visitors to Long Pond in Massachusetts' southeastern region. Located only a few miles west of Plymouth Bay, 211-acre Long Pond is a picture of solitude, wooded shoreline and pristine sand beaches. Much of the shoreline is private, although only about 50 permanent dwellings overlook the lake through the trees. Long Pond is one of the deepest natural lakes in this part of Massachusetts and holds a very productive cold water fishery. Located in an area with several other small lakes, the general atmosphere of the residents is toward nature preservation and enjoyment. Most visitors who come here are looking for the same sense of wilderness.
Sailing has long been a favored form of boating on Long Pond. Sailboat races occur nearly every summer weekend, often featuring antique sailboats. Long Pond is known as one of the best swimming lakes in the area, as many shoreline areas are sandy and shallow. There is no publicly-advertised beach, however; most homes bordering the lake have their own swimming areas and docks. A public boat ramp with parking is provided by the state for outside boat access. A 50 horsepower limit is in force on boat motors. Long Pond lends itself well to electric motors, canoes and kayaks, all of which are good for observing wildlife along the shore and in the shallows. The lake is only about 20 minutes by car from the Town of Plymouth, so many city residents bring their canoes and kayaks to spend the day paddling.
Long Pond's reputation as an excellent trout and salmon fishery has been well-known for many years. Many reports call it the best fishery in the state. Massachusetts Division of Fisheries and Wildlife has been stocking Long Pond for at least 80 years with cold water fish: sockeye salmon, landlocked salmon, chinook salmon, brown trout, brook trout, rainbow trout and tiger trout, along with warm-water favorites such as largemouth bass, smallmouth bass, chain pickerel, rainbow smelt and white bass. In recent years, the stocking emphasis has been on trout and salmon. Brown trout weighing over 14 pounds have been taken here. In winter the fishing hardly slows down, with anglers just as eager to fish through the ice.
Long Pond is one of six ponds in the area included under the watchful eye of the Six Ponds Improvement Association. The association is tasked with monitoring water quality and educating residents about lake issues. Of the six ponds within their group, Long Pond is one of the cleanest. Other nearby ponds include Little Long Pond to the north, Gallows Pond off the northwest shore, Round Pond near the southwestern side, Bloody Pond to the southeast, and Halfway Pond to the west. Although a residential area, the six-pond region is well-supplied with outdoor activities for nearly all types of visitors. Sharing the lakeshores of both Long Pond and Round Pond, a former Girl Scout Camp houses Pinewood Camp dedicated to education in traditional dance and music. Bloody Pond Conservation Area, owned by the Town of Plymouth, provides the only assess to Bloody Pond for fishing via carry-in boats and from shore. The Conservation Area also holds several walking trails.
Although much of Long Pond's water comes from groundwater, it gains some inflow from Little Long Pond with the excess flowing out to Halfway Pond. A large piece of Wildlands Trust property occupies a triangle between Gallows Pond, Halfway Pond and Long Pond, extending on the west side of Halfway Pond to the edge of Myles Standish State Forest. Many miles of nature trails are available in these conserved lands, where the area's wealth of amphibians, fish, native plants and birds can be seen and enjoyed. The Halfway Pond area is excellent habitat for the endangered Northern Redbelly Cooter (turtle) and a fine place to sight prairie warblers, rufous towhees, common yellow-throats and bald eagles. Myles Standish State Forest offers a number of kettle lakes, several campgrounds, hiking trails and hunting in season. Along the west edge of Long Pond, Long Pond Road is a part of the Saltonstall Bikeway, often used for cycling outings and by casual riders. With all of these outdoor opportunities, it is no wonder that Long Pond has been a desirable destination for many years.
Several of the properties along the Long Pond shoreline rent vacation cottages or seasonal homes for short vacation stays. Most provide a canoe and dock along with beautiful views and a sandy beach. Its proximity to the Town of Plymouth makes Long Pond an excellent choice for a family vacation. Plymouth holds numerous hotels, inns and bed & breakfasts, many in historic settings. Whether the family beds down at Long Pond and does their sightseeing at Plymouth or vice versa, there are plenty of restaurants, shops and services available to fulfill every immediate need. And a few days exploring the many historic sites around Plymouth can provide an authentic history adventure into early colonial settlement.
The first stop in any history itinerary when leaving from Long Pond is usually Plymouth Rock. Housed in the smallest state park in Massachusetts, what remains of the famed rock after several moves, souvenir hunters and well-intentioned mishaps is located here. Pilgrim Memorial State Park is located on the waterfront near the State Pier where the Mayflower II is docked. This faithful reproduction of the original Mayflower was built in Devon, England and sailed to Plymouth in 1957. Plimoth Plantation, the non-profit living history museum in charge of the Mayflower II, has facilities located about three miles south and contains several sections: a 17th century English Village with villagers dressed in period costumes; the Wampanoag Homesite (interpretive displays by local Native Americans); the Craft Center where local crafters create their furnishings, clothing and utilitarian objects used to furnish the museum using the same tools, materials and skills the original settlers would have used in the 1600s; the reproduced Plimoth Grist Mill; and the Visitor Centers, housing gift shops and information. Nearby the Plimoth Plantation's Rare and Heritage Breeds Program breeds and raises the now-rare types of livestock originally used to sustain the early settles. If staying at Long Pond, this could easily fill two or more days to see everything.
Not everything in Plymouth consists of history , although there are historic walking tours, 'ghost' tours in old local cemeteries, and plenty of historic homes open for visitation. Those who want more strenuous activity can take a deep sea fishing tour, wander the Atlantic beaches, go sea kayaking, take a whale watching tour or a cruise on the bay. Plymouth also holds the Plymouth Philharmonic Orchestra, Americana Theatre and Pilgrim Hall Museum among its many cultural and arts offerings. Evenings can be filled with rousing nightlife, soothing music, hilarious comedic plays or simply sitting on the beach in front of a roaring campfire. Life is good at Long Pond, and nature is never far away. You will be amazed that so much natural beauty still exists amid 400 years of colonial habitation.
Custom Long Pond MA house decor
Read our full review of these personalized lake house signs.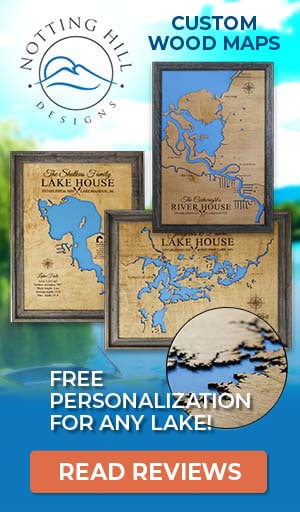 Things to do at Long Pond MA
Vacation Rentals
Fishing
Boating
Sailing
Swimming
Beach
Canoeing
Kayaking
Camping
Campground
Hiking
Biking
Hunting
Wildlife Viewing
Birding
State Park
State Forest
Museum
Antiquing
Fish species found at Long Pond MA
Bass
Black Bass
Brook Trout
Brown Trout
Chain Pickerel
Chinook Salmon
Largemouth Bass
Pickerel
Pike
Rainbow Trout
Salmon
Smallmouth Bass
Smelt
Sockeye Salmon
Tiger Trout
Trout
White Bass
---
Best hotels and vacation rentals at Long Pond MA
The Long Pond MA map shown above is a simple and stress-free way to search for trip accommodations. But if you want to take a deeper dive to find the ideal waterfront home, cabin, condo, hotel or resort, visit our favorite lodging partners by clicking the buttons below.
Note: These are affiliate links so we may earn a small commission if you book through them. While there is no extra cost to you, it helps provide resources to keep our site running (thank you)! You can read our full disclosure policy here.
---
Long Pond MA photo gallery
New photos coming soon!
Long Pond MA statistics & helpful links
We strive to keep the information on LakeLubbers as accurate as possible. However, if you've found something in this article that needs updating, we'd certainly love to hear from you! Please fill out our Content Correction form.
Advertise your Long Pond MA vacation rental
LakeLubbers will soon offer homeowners and property managers the opportunity to to showcase their vacation rentals to the thousands of lake lovers searching our site daily for accommodations. If you'd like additional details, please contact our advertising team here.
Looking for the Long Pond MA forum?
LakeLubbers previously offered visitors the ability to create accounts and participate in lake forums. When we overhauled the site's content management system in 2021 we had to disable those features. We're evaluating options and welcome your comments and feedback here.
We also encourage you to join our lake-lovin' community on Facebook and Instagram!
Spread the word! Share our Long Pond MA article with your fellow Lake Lubbers!