Loch Shin, Scotland, United Kingdom
Lake Locations:
United Kingdom - Scotland - Highlands & Moray -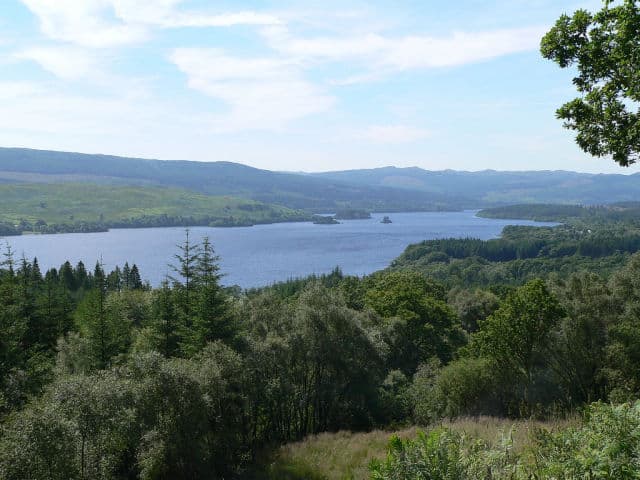 Loch Shin is a long and narrow glacial lake located in County Sutherland, part of the Scottish Highlands. This freshwater loch measures about 17.5 miles (28.2-kilometers) long with a maximum width of only one mile (2.2 kilometers). Loch Shin is oriented in a general northwest to southeast direction, with the head of the loch among the hills and the foot of the loch leading to the more populous area of Lairg, located at the eastern end. Although depths plunge to a maximum of 162 feet (49.3 meters), with an average depth of 51 feet (15.5 meters), Loch Shin is considered relatively shallow for a Scottish glacial lake.
Beauty and serenity envelop Loch Shin. The vibrant woodlands extend fully to the edge of the water in many areas, and the loch is surrounded by breathtaking natural views. Ben More Assynt is a Munro (a term for a mountain that exceeds 3,000 feet [914.4 meters] in height) just to the west of Loch Shin, its height an impressive 3,273 feet (997.6 meters). The north side of the loch is more accessible due to its proximity to the main road in the area, which follows along much of the shoreline, gracing visitors with placid views of the lake and local wildlife, including otters, pine martens, wildcats and waterfowl.
The Falls of Shin are a very popular natural attraction, featuring a rocky gorge with a 20-foot (6-meter) drop to a very deep pool. After the waterfalls, the water becomes calm once again. The Falls of Shin are situated 4 miles (6.4 kilometers) from Lairg to the southeast on the River Shin. The falls can be reached via wooden walkways, and parking is available nearby on the southern shore area. Viewing platforms have been erected to give visitors an excellent opportunity to watch powerful salmon of all sizes leap against the falls in spawning season. For the patient and the lucky, photo opportunities can be one of a kind.
It should go without saying, then, that this loch is popular for salmon fishing. There is also a plentiful population of wild brown trout and char. Swimming, boating, rafting, water skiing and other assorted water sports are always at the ready in the mild seasons. The Lairg Dam, located at the foot of the loch in Ross-shire, was constructed in the 1950s and began functioning in 1957; the impact on Loch Shin was an increase of more than 30 feet (9.1 meters) in depth. Little Loch Shin, the small regulating reservoir that Loch Shin flows into, is especially popular for water activities. About 6 miles (9.7 kilometers) south of the town of Lairg is the Shin power station at Invernan, which receives the water from the reservoir through 5 miles (8 kilometers) of tunnels. After Little Loch Shin, the water forms the River Shin, a small river only 7 miles (11.3 kilometers) in length. This river feeds into the Dornoch Firth and then drains to the North Sea.
Lairg is a traditionally popular vacation destination, as its central location leaves trips to other points in Scotland a moderate distance away. Lairg is only an hour from Inverness by car. Although Lairg is a small town with a population of around 1,200, it is a hub of activity for locations north of Inverness. Roads from every direction converge on this town, which is located on the southeast shore of Loch Shin. With the rail station found only a mile south of Lairg, the town is accessible to locals and travelers alike, and all modern needs can be found in this little mountain village. The climate and geography of this area has made it central to Scotland's sheep farming industry. The rail station is part of the Far North Line, and its location has made Lairg a convenient area for auctioning of sheep, which typically occurs in August. In fact, the Lairg area is one of the largest sheep auctioning centers in the British Isles.
In Lairg, a variety of restaurants and shops sit ready to charm holiday-makers, as do the local pubs and other small establishments. Lodges, guesthouses and bed and breakfasts provide overnight accommodations in the area. Vacations rentals are available in the form of isolated cabins, holiday bungalows and self-catering accommodations, including campsites and caravans, beyond the traditional cottages and holiday lodge rentals. Real estate is available for those wishing to purchase a holiday home or create a dream retirement lodge in the Scottish Highlands.
If there is one area of County Sutherland to visit, the area around Loch Shin is a wonderful choice–for its natural beauty, diverse surroundings and proximity to other popular and renowned vacation destinations in Scotland.
Things to do at Loch Shin
Vacation Rentals
Fishing
Boating
Swimming
Water Skiing
Camping
Cabin Rentals
Waterfall
Wildlife Viewing
Fish species found at Loch Shin
Brown Trout
Char
Salmon
Trout
---
Loch Shin Statistics & Helpful Links
Spread the word! Share our Loch Shin article with your fellow Lake Lubbers!