Loch Shiel, Scotland, United Kingdom
Lake Locations:
United Kingdom - Scotland - Highlands & Moray -
Also known as:  Loch Seile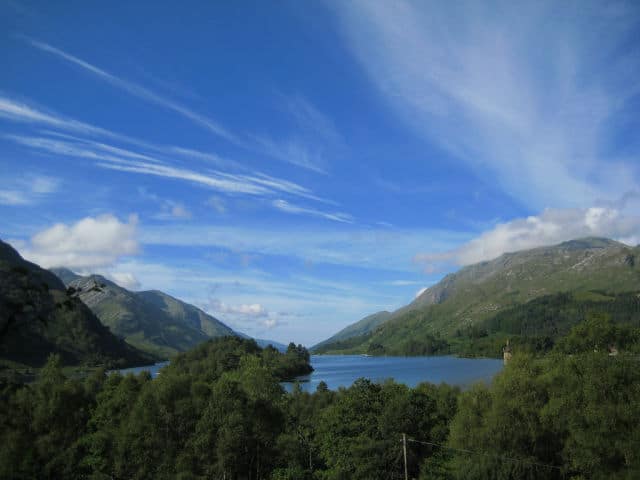 Surrounded by one of the few remaining areas of true wilderness in Scotland, the picturesque scenery around Scotland's Loch Shiel has been featured in movies such as Harry Potter and Highlander. Loch Shiel is a natural freshwater lake formed from a retreating glacier at the end of the last ice age nearly 10,000 years ago. At a length of 17 miles, this lake is one of the longest in Scotland. Its unregulated water levels are fed by the Rivers Finnan, Amhainn Shlatach, Callop, Glenaladale, and Polloch; River Shiel is the primary outlet. The area is a remote and unspoiled part of the Scottish Highlands that you won't want to miss.
The fluctuating scenery along Loch Shiel's 4,942-acre surface area attracts many wildlife enthusiasts. Enclosed by mountains to the northwest and surrounded by bog and rough pasture to the southwest, the lake hosts a variety of species. Wildlife such as red deer, black-throated divers, and 10 species of dragonflies and damselflies inhabit the area. Woodlands of oak and birch are also home to rare insects and mammals like the chequered skipper butterfly, wildcat, and red squirrel. Near the lake is an estate where the rare Diapensia Lapponica, a plant that survived the ice age, can be found; however, the location is kept a secret to preserve it. You are guaranteed to see nature at its purest since Loch Shiel has a remarkable concentration of national and international designations for nature conservation.
Visitors to Loch Shiel will find self-catering holiday cottage accommodations and vacation rentals at the northern and southern tips of the lake. Eagle-watch cruises showcase the golden eagle and capture the magnificent and historic scenery of Loch Shiel. With isolated beaches perfect for romantic picnics and family barbecues, this lake provides peaceful privacy on your getaway.
The town of Glenfinnan is located at the north end of Loch Shiel. The town's train station, most famous for its appearance in the Harry Potter films as the Hogwarts Express, takes you to a railway museum. Acharacle is a town at the southern end of the lake that offers a magnitude of activity ideas. In the summer you can expect water sports, canoeing, kayaking, and a game of golf on some of the most beautiful golf courses in the world. If you visit in the winter you can enjoy the warmth of a cozy cottage with a spectacular view.
Loch Shiel also provides plenty of trout fishing. Trolling, dapping, and fly fishing are permitted along the lake between April and September. Salmon numbers are on the rise, but Loch Shiel is famous for its late runs of sea trout. You will find a plentiful amount of brown trout that in recent years have reached over 13 pounds. A favorite method of fishing is trolling, and later in the season these fish rise eagerly to the fly.
History buffs know that Loch Shiel was once used as a communications route through the mountains during the 1140 battle where Somerled defeated the Norse to found the ruling dynasty of Lord of the Isles. The River Shiel was easily navigated during that time period, but today the depth drops to less than a foot in some areas. There are also historical structures such as St. Finnan's Church, located on one of Loch Shiel's islands, and the Glenfinnan Monument in commemoration of Bonnie Prince Charlie (18th century Prince Charles Edward Stuart).
These days it's hard to find a piece of nature that is unblemished by society, but Loch Shiel is just that with a quaint population of around 350. If you are seeking a trip with exquisite views and ample privacy, Loch Shiel is the perfect place to settle down with plentiful real estate and vacation resorts.
Things to do at Loch Shiel
Vacation Rentals
Fishing
Swimming
Beach
Canoeing
Kayaking
Golf
Picnicking
Wildlife Viewing
Birding
Museum
Fish species found at Loch Shiel
---
Loch Shiel Statistics & Helpful Links
Spread the word! Share our Loch Shiel article with your fellow Lake Lubbers!