Loch Ness, Scotland, United Kingdom
Lake Locations:
United Kingdom - Scotland - Highlands & Moray -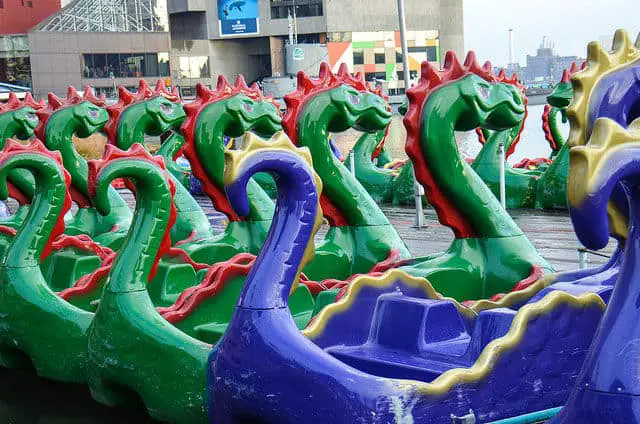 In the Scottish Highlands, the air is clear. The mountains roll on and on, like large lumbering animals. Breathtaking glens, left by the cutting passage of glacial ice, lie open under a sky picturesque with sun rays piercing through parting clouds; you can almost touch it. Natural freshwater lochs fill deep, gorged basins and the most famous one of them all continues to captivate the imaginations of people world wide.
Loch Ness — "loch" is the Scottish name for a typically natural freshwater lake — lies in the Great Glen of the Scottish Highlands, overlooked by the loch's highest mountain, Mealfuarvonie. The Great Glen, also called Glen Albyn or Glen More, is made up of a sequence of glens that follow along an ancient geological fault, vivisecting the Scottish Highlands. The 10,000-year old Loch Ness is characteristically deep, and by volume, it is the largest loch of Scotland. Long and narrow, about only a mile wide in most parts, it stretches some 23 scenic miles from the charming village of Fort Augustus to the city of Inverness, cradled on either side by gentle mountain slopes and shoreline roads. It also forms part of the man-made Caledonian Canal, which connects Loch Ness to three other lochs and creates a waterway. On any given day, you will see dozens of pleasure crafts sailing up and down the canal, many of them cruise boats with visitors who have come to experience the great Loch Ness.
Quiet, deep, dark, murky and mysterious are the waters of Loch Ness, plunging down to 754 feet at its deepest and measuring an average depth of 430 feet. It is probably the mystifying nature of the water that has helped to keep one of Scotland's greatest mysteries alive: the Loch Ness monster. Loch Ness's international fame is credited to "Nessie," who made a claimed appearance in 1933. The large, long-necked, dinosaur-looking sea-serpent, as it was described, has been pursued ever since with a string of eye witness accounts, photographs, film, and a throng of ardent and curious scientists. The Loch Ness monster is certainly alive in the imaginations of many, but its actual existence is yet to be proven. In fact, the Scottish Highlands are full of stories, legends and myths that bring the likes of ghosts, mermaids and sea monsters to life.
Despite the wonderment and uncertainties surrounding the Loch Ness monster, there is certainly something alive in the water: fish! European eel, pike, three-spined stickleback, brook lamprey, Eurasian minnow, sturgeon, Atlantic salmon, sea trout, brown trout, and Arctic char. If finding Nessie doesn't seem hopeful, then perhaps you will take to the water with a small fishing boat to find some salmon. There are friendly anglers in the area who are willing to serve as fishing guides. With the extreme depth and murkiness of the water, swimming is uncommon in Loch Ness, but you will find many eager boaters.
The Loch Ness area is ripe with natural diversity and you can get some splendid wildlife views on a leisure walk around the loch, or a more extensive walk along the 70-mile Great Glen Way. Fox, deer, squirrels, badgers, hare, and weasel live in the variety of woodland, moorland, and forest in the area; high on the mountains, goats roam freely. A diversity of birds includes wrens, woodpeckers, buzzards, osprey, pheasants, partridges and falcons.
The communities scattered around Loch Ness and the highland mountains are steeped in rich and sometimes violent history. You can spend weeks exploring, and whether you're staying for a few days or a month, it would be worthwhile to take advantage of one of the many vacation rentals located in Loch Ness's charming villages. Imagine what a tranquil (and romantic) experience you will have in a highland cottage, surrounded by what looks like a landscape from a Scottish painting. If the highland life is your cup of tea, think of making your stay permanent with some truly unique real estate options.
On the shores of Loch Ness, you have access to a wealth of Scottish culture, history and beauty. On the South Loch Ness, visit the tumbling Foyers Falls after hiking up some invigoratingly steep trails. Stop into one of the village cafes or restaurants for a taste of Scottish cuisine, or check out a local artist's studio. At about mid-point of the loch, the Urquhart Castle ruins loom over Loch Ness. The medieval fortress is a repository of remarkable Scottish history, of battles and of royalty. The Loch Ness Exhibition Centre, nearby in Drumnadrochit, will allay and heighten your curiosities about the Loch Ness monster but will also fill you with insight about the geology, culture and history of the Loch Ness area.
Loch Ness's wild and rich natural resources are beyond perfection, and besides fishing and boating, perfect for meditation, horseback riding or cycling. Loch Ness, the gravitational center of it all, will pull you into its awesome waters and captivate something in your soul.
Things to do at Loch Ness
Vacation Rentals
Fishing
Boating
Sailing
Swimming
Hiking
Biking
Horseback Riding
Wildlife Viewing
Birding
Ruins
Fish species found at Loch Ness
Brown Trout
Char
Eel
Lamprey
Pike
Salmon
Stickleback
Sturgeon
Trout
---
Loch Ness Statistics & Helpful Links
Spread the word! Share our Loch Ness article with your fellow Lake Lubbers!