Lewis and Clark Lake, Nebraska & South Dakota, USA
Welcome to the ultimate guide for history, statistics, local fun facts and the best things to do at Lewis and Clark Lake.
If you're considering Lewis and Clark Lake vacation rentals, we've made it super easy to explore accommodations and nearby hotels using the interactive map below. Simply click on a listing to compare similar properties, best rates and availability for your dates. Or keep scrolling to read our Lewis and Clark Lake guide!
Lewis and Clark Lake visitor and community guide
Stretching 25 miles long and straddling the Nebraska and South Dakota border, 28,000-acre Lewis and Clark Lake is the smallest of the Missouri River reservoirs. Lewis and Clark Lake has become one of the most popular recreational spots in the Great Plains. It is located along Highway 121, near the town of Crofton, on the Nebraska side, and a few miles west of Yankton on Highway 52 on the South Dakota side. The area is rich in Native American history and made famous by the Lewis and Clark Expedition. Originally designed to provide steady outflow of water to assist navigation, the Missouri River was dammed to provide flood control, hydroelectric power, irrigation, improved water supply, fish and wildlife management, and recreation.
Lewis and Clark Lake was created as a project of the U.S. Army Corps of Engineers by impounding the Missouri River. The Gavins Point Dam was authorized by the Flood Control Act of 1944, also known as the Pick – Sloan Plan to recognize the leaders of the Corps of Engineers and Bureau of Reclamation, Lt. General Lewis Pick and William G. Sloan. Ground breaking for Gavins Point Dam began in 1952; it is 74 feet high and 8,700 feet long. Completed in 1957, Lewis and Clark Lake currently covers 28,000 acres at full pool and 31,400 acres at maximum pool. On September 1956, Gavins Point generators began producing electricity for customers, and currently provide enough electricity to meet the annual needs of 68,000 homes.
Lewis and Clark Lake features lush, rolling hills, sandy beaches, and golden chalkstone bluffs. The Eastern end of the lake is dominated by the Gavins Point Dam and the Lewis and Clark Visitor Center. The Visitor Center, operated by the U.S. Army Corps of Engineers, is located at the historic site of Calumet Bluff, where the famous meeting between the Yankton Sioux Tribe and Lewis and Clark took place. The Center provides information concerning the history and development of the Missouri River, along with hands-on displays of the geology, exploration, early navigation, settlement, and natural history of the river. Some of the exhibits include Native Americans, steamboats, and the history of the Corps of Engineers. The Center also features the Lewis and Clark Interpretive Walk, the Calumet Bluff Theater, and the Dorian Prairie Garden. Traveling to the western end of the lake on the Nebraska side, you will find the Santee Indian Reservation. You are welcome to visit the Indian Reservation; each year they hold an annual tribal pow-wow.
Lewis and Clark Lake is a naturalist's delight, and is best known for its nature trails. South Dakota's Lewis and Clark Recreation Area is one of the most popular campgrounds, hosting about 1 million visitors annually. It has over 400 boat slips and three trail systems, the Gavins Point Nature Trail, Chalk Bluffs Multi-Use Trail, and the Bicycle and Pedestrian Trail. Whether you are a walker, hiker, biker, or equestrian rider, you will find a trail to suit your needs. Another popular recreation area on the South Dakota side is Chief White Crane Recreation Area. It was named after Chief White Crane who was one of the members of the Yankton Sioux Tribe who met with the Lewis and Clark Expedition. Chief White Crane Recreation Area also has trails, as well camping and accommodations for overnight guests.
Nebraska Game and Parks Commission State Recreation Area (SRA) includes five areas on the south side of the lake: Weigand- Burbach, Miller Creek, Bloomfield, South Shore, and Deep Water. South Shore and Deep Water are access-only areas with parking. A park entry permit is required for all areas. Close by is the Niobrara State Park and the Brazile Creek Wildlife Management Area. There is a checklist of birds that was prepared for the Niobrara State Park, which can be used while visiting the lake. Check with the Nebraska Game and Parks Commission SRA to acquire this checklist. Lewis and Clark Lake is a prime area for bird watchers. Depending on the time of the year, geese, great blue herons, and bald eagles can be spotted while visiting the lake.
In addition to bird watching, hunting and fishing are popular recreations at Lewis and Clark Lake. Weigand – Burbach area is closed to hunting, but the other State Recreation Areas are open when in season. Some of the animals that are hunted are white-tailed deer, mourning dove, waterfowl, and wild turkey. Lewis and Clark Lake is great for channel catfish. According to South Dakota Game, Fish, and Park Services, the average size channel catfish are nearly 20 inches long. The largest fish sampled in 2006 was 10 pounds. Other fish of interest are the largemouth and smallmouth bass, walleye, and sauger. Spawning of walleye and sauger can overlap, causing them to sometimes spawn together forming hybrids. Lewis and Clark Lake has one of the highest percentages of walleye/sauger hybrids. Jetties were installed in the Weigand – Burbach area to improve habitat, therefore making it a great place to catch fish.
The Lewis and Clark Lake is a great spot to learn about our nation's history, as well as enjoying many types of recreations all year long. Whether you like to fish, hunt, boat, bird watch, ice fish, or cross country ski, there is something there for everyone.
Custom Lewis and Clark Lake house decor
Read our full review of these personalized lake house signs.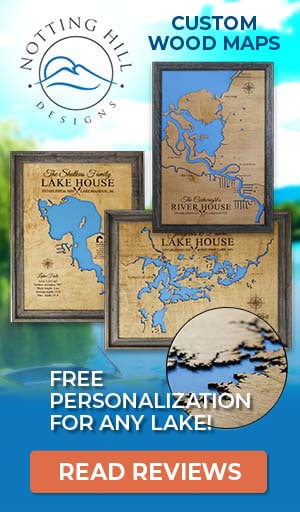 Things to do at Lewis and Clark Lake
Vacation Rentals
Fishing
Boating
Swimming
Beach
Camping
Campground
Hiking
Biking
Horseback Riding
Hunting
Wildlife Viewing
Birding
State Park
Fish species found at Lewis and Clark Lake
Bass
Black Bass
Catfish
Channel Catfish
Largemouth Bass
Perch
Sauger
Smallmouth Bass
Walleye
---
Best hotels and vacation rentals at Lewis and Clark Lake
The Lewis and Clark Lake map shown above is a simple and stress-free way to search for trip accommodations. But if you want to take a deeper dive to find the ideal waterfront home, cabin, condo, hotel or resort, visit our favorite lodging partners by clicking the buttons below.
Note: These are affiliate links so we may earn a small commission if you book through them. While there is no extra cost to you, it helps provide resources to keep our site running (thank you)! You can read our full disclosure policy here.
---
Lewis and Clark Lake photo gallery
New photos coming soon!
Lewis and Clark Lake statistics & helpful links
We strive to keep the information on LakeLubbers as accurate as possible. However, if you've found something in this article that needs updating, we'd certainly love to hear from you! Please fill out our Content Correction form.
Advertise your Lewis and Clark Lake vacation rental
LakeLubbers will soon offer homeowners and property managers the opportunity to to showcase their vacation rentals to the thousands of lake lovers searching our site daily for accommodations. If you'd like additional details, please contact our advertising team here.
Looking for the Lewis and Clark Lake forum?
LakeLubbers previously offered visitors the ability to create accounts and participate in lake forums. When we overhauled the site's content management system in 2021 we had to disable those features. We're evaluating options and welcome your comments and feedback here.
We also encourage you to join our lake-lovin' community on Facebook and Instagram!
Spread the word! Share our Lewis and Clark Lake article with your fellow Lake Lubbers!