Lake Zoar, Connecticut, USA
Lake Locations:
USA - New England - Connecticut - Litchfield Hills -
Also known as:  Zoar Lake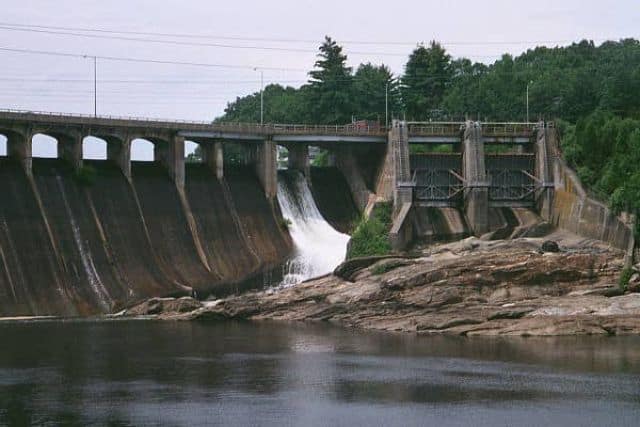 With more than 900 acres of boating and fishing waters bordered by shoreline vistas, southwestern Connecticut's Lake Zoar is a great outdoor destination. Lake Zoar provides recreation areas with boat ramps, kayaking, swimming, canoeing, wildlife viewing, hiking trails, and picnic areas. The lake is long and narrow, stretching some 10 river-like miles with steep forested banks along most of its length. Rocky Glen is located at the northern end, and the Stevenson Dam defines the southern end. The roadbed across the top of the dam was originally used by horse and buggy, Model T's, and now by 18 wheelers – a long lasting testament to the construction.
Connecticut Light and Power created Lake Zoar by building Stevenson Dam to impound the Housatonic River below Shepaug Dam. The resulting reservoir was designed to generate hydroelectric power; FirstLight Power Resources now operates the dam. Construction of the dam and powerhouse was completed in 1919. At that point in time the dam was the epitome of the utility's construction and, even today, it is a Connecticut marvel. The four units produce an output of 28,900 kilowatts for the operator. In 1919, Lake Zoar was Connecticut's largest lake.
Anglers enjoy Lake Zoar's populations of largemouth bass, smallmouth bass, black crappie, yellow perch, chain pickerel, sunfish, and large bullhead catfish. Four boat launch ramps provide access. The State of Connecticut operates the Southbury boat launch ramp. The towns of Monroe, Newtown, and Oxford maintain fee-operated boat ramps. Two parks, Kettletown State Park and Jackson Cove Park, provide camping,fishing, hiking and picnicking. Jackson Cove Park offers a sandy swim beach.
Lake Zoar is a popular destination for paddling, kayaking, and canoeing. The Housatonic Valley River Trail has been established to capitalize on that popularity (see link below). The area has an abundance of birdlife. For the geocachers among us, there are more than 200 caches within reach. Combine your birding, hiking and paddling with your geocaching for a great outing. The picturesque lake environs make for ideal conditions for nature enthusiasts and camera bugs.
The Zoar Trail is a 7-mile Blue-Blazed hiking trail in Paugussett State Forest that follows the shore of Lake Zoar. One of four side trails follows Prydden Brook to Prydden Falls which cascades over moss-covered rocks into Lake Zoar.
For those interested in touring the area in their auto, there is the Valley Heritage Driving Tour (see the link below). With pictures and descriptions of historical landmarks, the Tour makes for a very interesting and educational trip.
Visitors to southwestern Connecticut should make Lake Zoar one of the top places to stop, relax and enjoy the outdoors.
Reference: A Fisheries Guide to Lakes and Ponds of Connecticut, published by the Department of Environmental Protection, Hartford, Connecticut, 2002
Things to do at Lake Zoar
Vacation Rentals
Fishing
Boating
Swimming
Beach
Canoeing
Kayaking
Camping
Picnicking
Hiking
Horseback Riding
Wildlife Viewing
Birding
State Park
State Forest
Fish species found at Lake Zoar
Bass
Black Bass
Black Crappie
Bullhead Catfish
Catfish
Chain Pickerel
Crappie
Largemouth Bass
Perch
Pickerel
Pike
Smallmouth Bass
Sunfish
Yellow Perch
---
Lake Zoar Statistics & Helpful Links
Spread the word! Share our Lake Zoar article with your fellow Lake Lubbers!