Lake Washington, Minnesota, USA
Lake Locations:
USA - Midwest - Minnesota - Southern -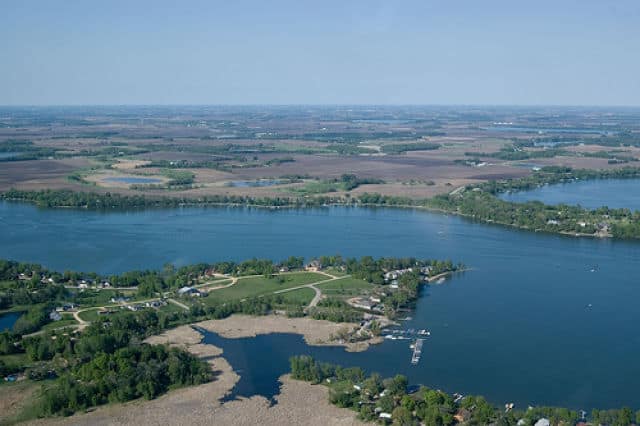 Lake Washington is a uniquely-shaped body of water situated just northeast of the Mankato Regional Airport, in Minnesota's Southern tourism region. While most of the lake's 1,487 acres fall within Le Sueur County, a small portion is considered a part of Blue Earth County. Featuring a maximum depth of 51 feet and a shoreline length of 13 miles, Lake Washington is ideal for water sports like swimming, boating and water skiing. Tubing, windsurfing and wake boarding are also popular pastimes.
Anglers look forward to exciting Lake Washington ice fishing during the winter, and adrenaline junkies will jump at the opportunity for sky diving nearby. Special events like snowmobile radar runs, fishing contests, and softball tournaments on ice are held at the lake, depending upon the time of year. A boys and girls club known as Camp Patterson has been providing wholesome recreational opportunities for young lake lovers since 1923.
Fishing is successful around Lake Washington's buoys, particularly in Baker's Bay, Squirrels Point, and Crystal Bay. First, Second and Third Points are other recommended places to drop anchor. These inviting waters are teeming with freshwater drum, black crappie, and white crappie; and you can reasonably expect to hook a few decent bluegills and walleye. Northern pike are known to reach lengths of up to 39 inches, while largemouth bass normally hit 11 inches. Lucky anglers might walk away with one of nineteen other species present in these waters, like bigmouth buffalo, white sucker, yellow bullhead and bowfin.
Facilities at Lake Washington include DNR boat launches, picnic areas and a restaurant with lakeside patio. In response to its many draws, nearby real estate properties and vacation rentals around the lake are available and in great demand.
Lake Washington features only 450 residences, with over 80% of homeowners living there year-round. Countless visitors spend their holidays on Lake Washington's peaceful banks, and even more come from Mankato and St. Peter for picnics and day outings.
Minneopa State Park is a terrific jaunt from Lake Washington, boasting 4.5 miles of hiking and 4 miles of cross-country skiing trails. Dog sledding (only at Seppman Mill) and snowshoeing are allowed anywhere in the park, along non-designated ski trails only. Camping is available year round, with amenities like showers, flush toilets and a seasonal dump station. Other attractions include picnic shelters, volleyball and horseshoe courts and a nearby golf course. Bird watching yields fantastic chances to spot Louisiana water thrush, loggerhead shrikes, and elusive Bell's vireo. Numerous species of Kentucky warbler, flycatcher, and sparrow are also prevalent, particularly around the magnificent Minneopa Creek waterfalls.
Just 10 miles south of Lake Washington, the city of Mankato offers a wide range of urban entertainment like bowling alleys, mini-golf courses and ski areas. Two local theaters and the Blue Earth County Heritage Center are the area's main cultural attractions. Every year during the month of July, the unforgettable North Mankato Fun Days are held. This carnival features food tents, bingo, mini dance clubs and even a parade.
Bring your friends and family to Lake Washington's irresistible shores for a picnic or a barbecue, and you are sure to fall in love with the area's overwhelming beauty and astounding simplicity. Clean, shimmering waters make it the ideal place for summer swimming and year-round relaxation. Come bathe yourself in Lake Washington's alluring water, and you'll wonder how you ever lived without it.
Things to do at Lake Washington MN
Vacation Rentals
Fishing
Ice Fishing
Boating
Swimming
Water Skiing
Wakeboarding
Tubing
Golf
Camping
Picnicking
Hiking
Cross-Country Skiing
Snowmobiling
Dog Sledding
Waterfall
Wildlife Viewing
Birding
State Park
Fish species found at Lake Washington MN
Bass
Bigmouth Buffalo
Black Bass
Black Crappie
Bluegill
Bowfin
Crappie
Freshwater Drum
Largemouth Bass
Northern Pike
Perch
Pike
Sucker
Walleye
White Crappie
Yellow Bullhead
---
Lake Washington MN Photo Gallery
Lake Washington MN Statistics & Helpful Links
Spread the word! Share our Lake Washington MN article with your fellow Lake Lubbers!