Lake Pepin, Minnesota & Wisconsin, USA
Lake Locations:
USA - Midwest - Minnesota - Southern - Wisconsin - Mississippi-Chippewa Rivers Region -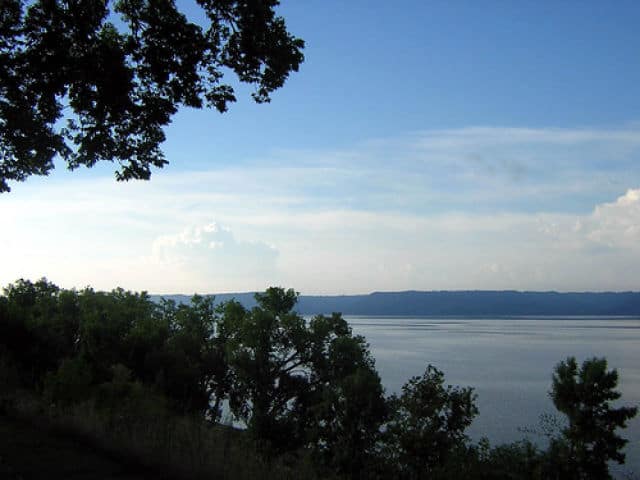 Lake Pepin is the largest lake on the Mississippi River, formed about 9,500 years ago by the backup of water behind sediments where the Chippewa River empties into the Mighty Mississippi. Lake Pepin occupies a 28-mile portion of the border between Minnesota and Wisconsin. This glacial lake once extended up the Mississippi River to St. Paul, but sediment gradually shaped the lake to its current size of 25,000-29,000 acres.
Lake Pepin was originally named Lac de Pleurs – Lake of Tears – by Father Louis Hennepin in 1680, after observing his Sioux captors grieving over the death of a chief's son. Lake Pepin and the Village of Pepin, Wisconsin are named after the Pepin brothers, two of the first French trappers to the area. (There are at least 2 other Lake Pepins in Minnesota; this Lake Pepin has the largest surface area.)
Shorelines along the 1 to 3 mile-wide Lake Pepin range from serene to untamed. There are 400-foot bluffs and rocky outcroppings in some areas. Lake Pepin's meandering shoreline along Highway 61 in Minnesota and Highway 35 in Wisconsin offers many overlooks that are popular inspiration points for painters and poets.
With frequent good breezes that are ideal for sailing, Lake Pepin attracts serious sailors. Houseboats dot the lake and its shores on summer days. Mississippi River barge traffic is common in the main channel. Boaters of all kinds respect Lake Pepin for its swift currents and sudden storms.
Walleye, white bass, and sauger are the most sought-after fish species at Lake Pepin; northern pike, crappie, rock bass, and largemouth bass are less prevalent. The lake freezes over in mid-December and is used for ice fishing, cross-country skiing, skating and iceboating throughout the winter season.
Lake City, Minnesota is the largest waterfront city on Lake Pepin, and is where Ralph Samuelson invented water skiing in 1922. The town of Red Wing, Minnesota – with its vintage downtown centered on the newly-refurbished St. James Hotel – is a popular tourist destination for Minnesotans. Several restored Victorian homes with turrets, verandas and painted gingerbread accents occupy the hills behind Main Street. B&B's are plentiful. The town of Pepin, Wisconsin celebrates famous author Laura Ingalls Wilder's birthday in mid-September.
Frontenac State Park, a birdwatcher's paradise, occupies 2,270 acres of the Minnesota side of the lake. Its centerpiece is a 3-mile sandstone bluff that is 450 feet tall at one point and is capped by a natural arch, In-Yan-Teopa (Dakota for "Rock with Opening") at another. More than 260 bird species have been recorded in the park.
The 70-mile drive around Lake Pepin is a perfect day trip. Highway 61 in Minnesota and Highway 35 in Wisconsin play hide-and-seek with the lake's shoreline. The historic steamboat town of Wabasha, Minnesota, at the lake's southern end, is home of the National Eagle Center. Reads Landing is a prime location for eagle observation with viewing stops along the road.
Maiden Rock, a 400-foot limestone bluff above the town of Stockholm, Wisconsin, provides panoramic views of the lake. Rare wildflowers grow at Maiden Rock, and peregrine falcons nest in the trees. Legend tells of a Chippewa maiden who leaped to her death rather than marry a brave chosen by her chieftain father.
Motorboats, sailboats, or houseboats can be rented or launched at one of the three marinas on the lake. While cruising the lake, keep a look-out for Pepie, a serpentine creature that reportedly lives in the shadowy depths between Maiden Rock. The Lake City Tourism Bureau is offering a $50,000 reward for the person who proves that Pepie exists!
Things to do at Lake Pepin
Vacation Rentals
Fishing
Ice Fishing
Boating
Sailing
Water Skiing
Cross-Country Skiing
Birding
State Park
Fish species found at Lake Pepin
Bass
Black Bass
Crappie
Largemouth Bass
Northern Pike
Perch
Pike
Sauger
Sunfish
Walleye
White Bass
---
Lake Pepin Statistics & Helpful Links
Spread the word! Share our Lake Pepin article with your fellow Lake Lubbers!