Lake Wanahoo, Nebraska, USA
Lake Locations:
USA - Midwest - Nebraska - Metro -
Also known as:  Wanahoo Reservoir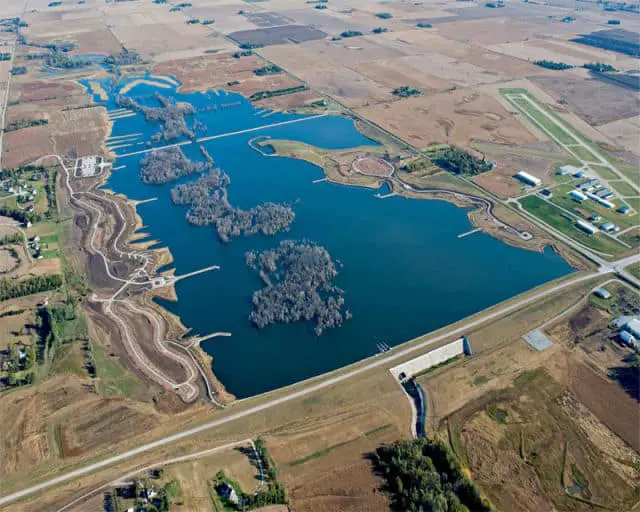 The newest lake in Nebraska's Metro Region, Lake Wanahoo will officially greet visitors on April 28, 2012. This attractive gem is eagerly anticipated as one of the best fishing and recreation lakes in this part of Nebraska. And, although not publicly seen yet, the Lake Wanahoo Dam has been hard at work behind the scenes. Already it has prevented what would have predictably been catastrophic flooding had the dam not held back flood-stage waters on Sand Creek during 2011.
Although touted for the benefits of wetland restoration, great fishing, camping opportunities and nature observation, Lake Wanahoo is part of a much larger project along Sand Creek. A series of seven proposed dams upstream will maintain more equitable water levels to prevent flooding and stabilize water flow. The Lake Wanahoo reservoir forms the 662-acre lake and a large new wetland to promte wildlife habitat and filter sediments. The nearby City of Wahoo, just a mile to the south, has often suffered flooding due to the confluence of Sand Creek, Wahoo Creek and Cottonwood Creek just south of the town. Containing the excess water during spring thaw and periods of heavy rainfall will benefit not only Wahoo, but the nearby towns of Ithaca and Ashland. Because the new lake is only 30 miles from the large population centers of both Omaha and Lincoln, Lake Wanahoo expects plenty of visitors.
A collaborative project of the Lower Platte North Nebraska Resources District, City of Wahoo, Saunders County, U.S. Army Corps of Engineers (USACE), Nebraska Game and Parks Commission and several other agencies and interested parties, the construction of the massive project was undertaken by the USACE to prepare the reservoir base and build the dam. The project was carefully planned to include lake bottom structure that would support fish habitat. It includes a mid-lake breakwater structure below a 110-foot pedestrian bridge to prevent shoreline erosion.
Although a major highway alteration project is planned to cross the Lake Wanahoo Dam, a temporary road is already in place. The USACE is completing work on a campground facility that will include space for both tent and RV camping and boat launch facilities. A day use area will be developed with picnic shelters, volleyball courts and hiking/biking trails. Under discussion is the possibility of constructing a shooting range and youth education center at the site. A wildlife management area is planned for the northeast side of the lake, which may be open for upland game and waterfowl hunting in season. Current plans call for any hunting program to be an adult/youth mentoring program only. When completed, the site will encompass 1600 acres, much of which will become natural habitat for wildlife.
Lake Wanahoo has recently filled completely. Black crappie, blue catfish, largemouth bass, bluegill, walleye and northern pike already have been stocked. Live bait fish will not be permitted to prevent the introduction of invasive species. The entire lake will be a no-wake zone, and no powerboats or personal watercraft will be permitted. Representatives from the Lower Platte North Nebraska Resources District have been quoted as saying, "The Nebraska Game and Parks Commission has spent $1.4 million to enhance the fishery, creating deep water areas, rock mounds and other structures. Many trees were left to create underwater habitat. From the top of the dam, they look like a submerged forest." Is it any wonder anglers are so anxious to try out the new lake? Fishing experts warn that the northern pike fishery probably will not last a great many years as area lakes don't have the environment that is most conducive to pike. Still, it will be great fun trying to catch them as long as it lasts. The other species will grow over a period of years to replace them.
Even before officially opening, bird watching groups in the area are getting reports of sightings of migratory songbirds at Lake Wanahoo. The northern part of the lake is already home to deer, herons and swallows which have built mud nests under the pedestrian bridge. Cottonwoods and other trees are being left standing to enhance the fishery. The additional wetlands will help to replace those lost in the Todd Valley over the years, welcoming back wildlife that have left the area due to lost habitat. The City of Wahoo is looking forward to the addition of Lake Wanahoo to their already extensive system of local trails and may untimately operate the campground areas.
Wahoo plans to have everything visiting campers will need in the way of supplies, shopping and services. The city already holds a community pool and several parks. The Saunders County Museum and Park, as part of the Saunders County Historical Society, sponsors the 1860-70's Wauhoo Plowboy Vintage Base Ball Club, with a 'traveling team' that plays other towns locally. Dressed in period dress, the Wauhoo Plowboy Vintage Base Ball team calls their games 80% historical & 20% performance. The City of Wahoo offers a full schedule of activites, to the delight of residents and visitors alike. Some are the Wahoo Rodeo, Saunders County Fair, Polka Fests, 3-on-3 Basketball Jam, Wahoo Country Music Show, Coin Show, Swap Meet, Wahoops, downtown Holiday Lighting & Parade, and Christmas on the Prairie.
If visitors to Lake Wanahoo should ever run out of activities in Wahoo, both Omaha and Lincoln offer a variety of cultural and sports venues to suit everyone in the family. Art galleries, museums, performance theaters and zoos are all located within the 30-mile radius. Wahoo has several hotels located within a mile of Lake Wanahoo. Towns in the area offer a number of small motels, campgrounds and the occasional bed-and-breakfast. Real estate is available but not directly on the lake. As all planning is not yet finalized, it is unclear whether any development will be permitted close to the shoreline, but there is property in the vicinity available for sale. All that is missing are the lakelubbers. And after April 1st, they'll be here, too. Won't you be one of them?
* All statistics are estimates as lake mapping is not yet complete and may change.
Things to do at Lake Wanahoo
Vacation Rentals
Fishing
Boating
Camping
Campground
Picnicking
Hiking
Biking
Hunting
Wildlife Viewing
Birding
Museum
Shopping
Fish species found at Lake Wanahoo
Bass
Black Bass
Black Crappie
Blue Catfish
Bluegill
Catfish
Crappie
Largemouth Bass
Northern Pike
Perch
Pike
Sunfish
Walleye
---
Lake Wanahoo Photo Gallery
Lake Wanahoo Statistics & Helpful Links
Spread the word! Share our Lake Wanahoo article with your fellow Lake Lubbers!