Lake Vattern, Sweden
Also known as:  Vatternsee
Welcome to the ultimate guide for history, statistics, local fun facts and the best things to do at Lake Vattern.
If you're considering Lake Vattern vacation rentals, we've made it super easy to explore accommodations and nearby hotels using the interactive map below. Simply click on a listing to compare similar properties, best rates and availability for your dates. Or keep scrolling to read our Lake Vattern guide!
Lake Vattern visitor and community guide
Lake Vattern in Sweden's Southern Region plays a vital part in recreational boating among Swedish holiday-makers. The second-largest lake in Sweden and straddling the Smaland, Vastergotland, Ostergotland and Narke provinces, Lake Vattern is overshadowed only by nearby Lake Vanern. Both are connected to the North Sea and the Baltic by the Gota Canal system. Both were part of the Baltic Sea for much of pre-history and were isolated when the last glaciers receded. Evidence of this past is reflected in fish species still existing in the lake that originated in the Baltic Sea. Early man apparently found the vast lake's abundant fish inviting, as evidence of pre-historic settlement has been found along the shore. And Sweden's early kings built their fortresses and royal refuges on the island of Vistingo beginning in the 12th century.
Lake Vattern attracts hundreds of thousands of visitors over the course of a year. The city of Jonkoping at the south end of the vast lake possesses one of the best beaches in Sweden. Visitors come here to swim, play volleyball and attend the many summer and cultural festivals occurring at the beach. The lake holds many bays with picture-perfect sand beaches and an archipelago at the northern end that is a canoeist or kayaker's dream. Water-skiing and windsurfing are favorites at Lake Vattern, although the lake can be surprisingly cold due to its depth. Sailing is a revered pastime with racing, regattas and sailing clubs scheduling planned activities and pleasure boating. Lake Vattern lies northeast to southwest in its boat-shaped basin and is thus prone to develop surprisingly strong gales due to wind patterns. Visitors who are less experienced sailors often arrange for sailing cruises and leave the tricky navigation to the experts. Those more familiar with the lake's behavior can rent sailboats at several places along the shore. Several historic cruise boats operate passenger service between villages and among the archipelago islands at the north end of the lake. Because so many visitors arrive by boat from the Gota Canal, several guest harbors provide docking, berths and boaters' services.
Lake Vattern has a long history as a fishing lake. Commercial fishing still occurs here, although not a prevalent as in years past. Twenty-eight different fish species are known to thrive in the lake, including the famous Vattern alpine char landlocked here since the Ice Age. The most sought-after sport fish are pike, perch, grayling, salmon, brown trout and pikeperch. Visitors are free to fish in the lake as long as they do not use nets; fishing charters can be arranged readily in the villages along the shoreline. Known as one of the cleanest lakes in the world, the water from Lake Vattern is used for drinking water in numerous local towns with little or no filtration.
The Gota Canal, completed in 1832, created a much needed waterway for early transportation of goods between the Baltic and the North Seas. Until recently, many tons of timber, paper products and agricultural goods traveled the waterway which offered a direct water route to Stockholm. Now, "Sweden's blue ribbon" as it is called has given over to recreational boating. The Gota Canal Company maintains the canal system and its 58 locks, and coordinates cruises, special events and activities along the adjacent towpath. The towpath is a favored location for hikers, cyclists and bird watchers, providing plenty of rustic camping areas, fishing and myriad ever-changing water views. Two canal-related museums are maintained; the Gota Canal Exhibition Museum is located in Motala on the eastern shore of Lake Vattern.
The lake is a favorite place for boaters to stop-off for a day or two and see the sights. The Karlsborg Fortress on the western shoreline is a favorite tourist stop, as are Vadstena Castle and Vadstena Abbey. The castle was built by King Gustav Vasa in 1545 as a fortress, and the abbey dates to even earlier. Visingso island holds the ruins of the castles of Sweden's first kings, many bicycling trails, herb gardens, horse-drawn carriages, a harbor, campground and ferry service from the mainland. A variety of annual sports and cultural events bring holiday-makers to Lake Vattern, including the Vatternrundan, a 300 km bicycle ride around Lake Vattern in mid June. The event attracts about 17,000 cyclists from all over.
Several campgrounds along Lake Vattern offer visitors plenty of opportunities to stay in close proximity to nature. The towns along the lakeshore offer a variety of holiday apartments, guest houses, hotels, hostels and farm-stays for the holiday renter. Outdoor enthusiasts find opportunities for paragliding and hot air ballooning around the lake along with Tiveden National Park and several nature reserves. The national park offers a variety of locations for canoeing, fishing and hiking. In winter, cross-country skiing and snowshoeing claim many of the trails, while ice skating takes place among the archipelago islands. Those desiring more social and cultural experiences can take advantage of the many nightclubs, small art museums and local craft shops and fairs.
A visit to Lake Vattern is must during any Swedish holiday. The entire area is uniquely geared toward vacationers and every amenity provided to make your stay a pleasant one. Vacation rentals are plentiful but reservations should be made well in advance. Real estate in the area is sometimes available but much of the land is now held within the national park and reserves. The towns themselves offer many holiday flats and guest houses. Restaurants are excellent and a beach never more than a few yards away. Come to Lake Vattern and enjoy the crystal-clear waters, the varied terrain and the friendly local inhabitants. There's plenty to enjoy at Lake Vattern. Make your first visit soon!
Custom Lake Vattern house decor
Read our full review of these personalized lake house signs.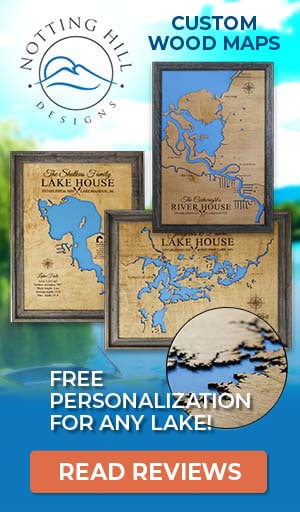 Things to do at Lake Vattern
Vacation Rentals
Fishing
Boating
Sailing
Swimming
Beach
Canoeing
Kayaking
Water Skiing
Camping
Campground
Hiking
Ice Skating
Biking
Cross-Country Skiing
Horseback Riding
National Park
Museum
Ruins
Fish species found at Lake Vattern
Brown Trout
Char
Grayling
Perch
Pike
Pike Perch
Salmon
Trout
---
Best hotels and vacation rentals at Lake Vattern
The Lake Vattern map shown above is a simple and stress-free way to search for trip accommodations. But if you want to take a deeper dive to find the ideal waterfront home, cabin, condo, hotel or resort, visit our favorite lodging partners by clicking the buttons below.
Note: These are affiliate links so we may earn a small commission if you book through them. While there is no extra cost to you, it helps provide resources to keep our site running (thank you)! You can read our full disclosure policy here.
---
Lake Vattern photo gallery
New photos coming soon!
Lake Vattern statistics & helpful links
We strive to keep the information on LakeLubbers as accurate as possible. However, if you've found something in this article that needs updating, we'd certainly love to hear from you! Please fill out our Content Correction form.
Advertise your Lake Vattern vacation rental
LakeLubbers will soon offer homeowners and property managers the opportunity to to showcase their vacation rentals to the thousands of lake lovers searching our site daily for accommodations. If you'd like additional details, please contact our advertising team here.
Looking for the Lake Vattern forum?
LakeLubbers previously offered visitors the ability to create accounts and participate in lake forums. When we overhauled the site's content management system in 2021 we had to disable those features. We're evaluating options and welcome your comments and feedback here.
We also encourage you to join our lake-lovin' community on Facebook and Instagram!
Spread the word! Share our Lake Vattern article with your fellow Lake Lubbers!