Lake Trasimeno, Umbria, Italy
Lake Locations:
Also known as:  Lago di Trasimeno, Lake Trasimene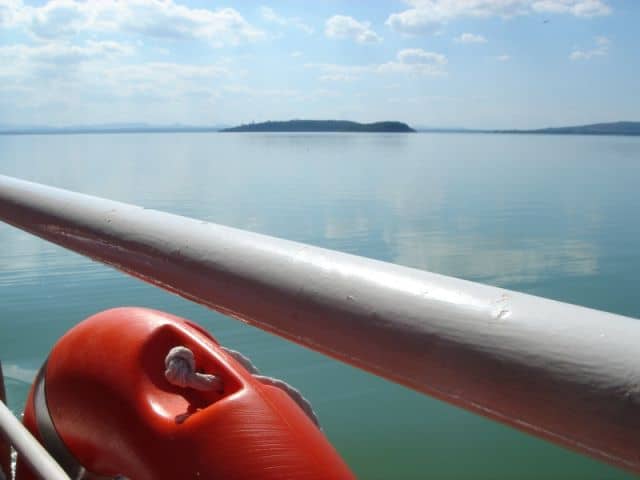 Situated in the heart of Italy, Lake Trasimeno sits almost exactly at the midpoint of the Italian peninsula halfway both north to south and east to west. The clear water reflects the rolling hills on the southern and western shores and rugged mountains on northern and eastern shores. With a rich history and great panoramic views, the area is great vacation destination.
Three islands are on Lake Trasimeno and can be visited by a ferry ride. Isola Minore is uninhabited. Isola Polvese is a nature reserve with the ruins of an old monastery. But the third, Isola Maggiore is home to fishermen, lace knitters and a great legend. In 1211, according to the story, a fisherman gave Saint Francis a pike from his fresh catch. Saint Francis threw the pike back to the water and the grateful fish followed him around the lake until the saint dispensed a special blessing to the fish. This legend is commemorated at the island's church as a reminder of Saint Francis and "Brother Fish."
Lake Trasimeno is a rather shallow lake with its deepest point no more than 20 feet. With no major rivers flowing into or out of the lake, the water level fluctuates significantly depending on rainfall and the seasonal demands from the towns, villages, and farms near the shore. Because of the shallowness of the lake, the water becomes quite warm in the summer.
With its well tended beaches and variety of water activities, Lago di Trasimeno or Lake Trasimene as the Italians call it, is favorite holiday destination for tourists and locals. Sunning on the beaches is a favored activity but for the more adventurous, swimming, boating, sailing, kayaking and canoeing are also quite popular. Fishing for pike, carp and tench is a way of life for many locals and are used in local dishes creating culinary delights when cooked with local olive oil, wines, and herbs over a wood fire.
Among the small towns and villages surrounding Lake Trasimeno, there are many castles, ruins, and historic churches to explore. Shopping venues and restaurants all offer a taste of the local way of life including a vibrant nightlife. There are many trails around the lake that offer great hiking opportunities to discover the beauty of the area that makes up part of the Lake Trasimeno Regional Park. Vacation rentals are plentiful and include motels, hotels, and bread and breakfast inns.
Lake Trasimene is located in Umbria tourist region which is in the center of Italy and is often called the green heart of Italy. Assisi, home of Saint Francis is Umbria's most famous and most often visited town, but the area is full of adventure and history just waiting for you to explore and enjoy. In the town of Deruta, you can design your own original china pattern and have it made here in the capital of the Italian ceramics industry. Nature lovers will want to stroll through the Oasis of Alviano which is renowned for its bird watching opportunities. The Dunarobba Fossil Forest contains fossils that are 1.5 million years old and is one of the most important paleontological sites in Europe. Marmore Waterfalls are the highest waterfalls in Europe and were created by the early Romans. Umbria also is home to the Sibilline Mountains National Park, Monte Cucco Regional Park, and Mount Subasio Regional Park. Visitors can enjoy hiking, horseback riding, mountain biking, rock climbing, golfing, canoeing, kayaking, rafting, skiing, and cross-country skiing at many areas throughout Umbria. Vacation rentals are plentiful and varied from the typical motels and hotels to rentals on picturesque farms, estates, apartments, vacation homes or a room in a refurbished castle.
Sitting at a lakeside restaurant, sipping local wines, gazing at the majestic mountains mirrored in Lake Trasimeno can be dream vacation. So stop dreaming and start planning -visit Lago di Trasimeno soon.
Things to do at Lake Trasimeno
Vacation Rentals
Fishing
Boating
Sailing
Swimming
Beach
Canoeing
Kayaking
Golf
Hiking
Rock Climbing
Biking
Cross-Country Skiing
Horseback Riding
Waterfall
Birding
National Park
Ruins
Shopping
Fish species found at Lake Trasimeno
---
Lake Trasimeno Photo Gallery
Lake Trasimeno Statistics & Helpful Links
At LakeLubbers.com, we strive to keep our information as accurate and up-to-date as possible, but if you've found something in this article that needs updating, we'd certainly love to hear from you!
Please let us know about it on our Content Correction form.
Spread the word! Share our Lake Trasimeno article with your fellow Lake Lubbers!