Lake Piediluco, Umbria, Italy
Lake Locations:
Also known as:  Lago di Piediluco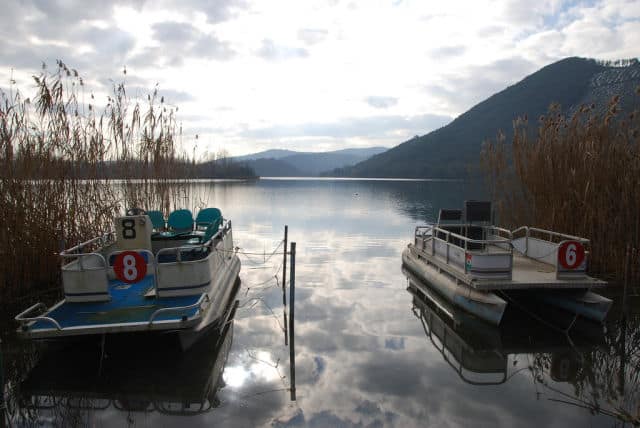 A quick peek at the shoreline of Lake Piediluco, also known as Lago di Piediluco, reveals wide, seemingly-unending curves around towering mountains in central Italy. The views suggest a quiet retreat away from it all, with sunny beaches and a quaint town. The area does offer this type of relaxing getaway, but also allows for much more. Visitors are able to explore caves, fish for freshwater eels, try their hand at rock climbing, or visit a spectacular three-tiered waterfall.
Located in the mountainous region of Umbria, Lake Piediluco's eight-mile shoreline turns and twists into odd shapes across the land. The village of Piediluco sits in the center of the lake's northern shoreline, serenely taking in the lake's surface area of 390 acres. The word "piediluco" means "at the foot of the mountain," which is where the village rests in muted, natural colors, nestled between lush mountains and the softly-lapping shores of the lake.
One major attraction luring visitors to Lake Piediluco is Marmore Falls (Cascata della Marmore), one of the tallest man-made waterfalls in Europe. Marmore Falls, divided into three cascades, drops a total of 541 feet. The ancient Romans created the falls in 271 B.C. by building a canal to divert stagnant waters from the Velino River into the natural cliff at Marmore, cascading into the Nera River gorge below. More recently, Lake Piediluco has been used to generate hydropower since the early 1900's. The lake receives water from both the Velino and Nera Rivers through artificial channels, where it is stored until released over the falls, generating electricity through the Galleto power plant. Tourists wait each afternoon for the gates to open, to see and hear the powerful rush of water over the falls into the gorge below.
Because the river valley below Marmore Falls goes from a trickling stream to a gushing river, water sport enthusiasts also anticipate water releases from Lake Piediluco. White-water rafting, kayaking and hydrospeeding, a type of high-adrenaline rafting using only a body-board, are just a few of the sports people partake in during their visit. Every year, Italy's national rowing team comes to train at Lake Piediluco. Sitting outside a lakeside villa or weekend vacation rental during a summer day may reveal these athletes gearing up for the year's upcoming races.
Other athletic enthusiasts enjoy Lake Piediluco for its outdoor scene. Echo Mountain is one of the larger mountains surrounding the lake, named for its ability to echo back any words shouted towards it. Mountain bikers find their way over rough and rugged terrain, while hikers find themselves looking out across wide open vistas atop the smaller mountains. Back down at the lake, tourists sun themselves on the beach during the hotter months, finding respite from the summer's heat in the lake's cooling waters.
Anglers, too, enjoy Lake Piediluco in their attempts to snag a fresh catch for the evening dinner. With a maximum depth of 62 feet, the lake's waters teem with trout, carp, freshwater eels, perch and coregone. Restaurants snag lake whitefish to make "carbonaretti," a local dish where the filet of this whitefish is grilled to perfection.
Whether you're looking for a romantic honeymoon getaway or a weekend getaway from the city, Lake Piediluco offers year round enjoyment with vacation rentals and holiday villas. Trek through the surrounding wilderness in the winter and capture the snow falling on the city. Brush up on your ancient history and visit archaeological sites and monuments still standing and representing the area's past. Or simply take a hike up Marmore Falls and enjoy its chilly spray. Either way, you're sure to enjoy your stay.
Things to do at Lake Piediluco
Vacation Rentals
Fishing
Swimming
Beach
Kayaking
Hiking
Rock Climbing
Waterfall
Fish species found at Lake Piediluco
Carp
Eel
Perch
Trout
Whitefish
---
Lake Piediluco Photo Gallery
Lake Piediluco Statistics & Helpful Links
Spread the word! Share our Lake Piediluco article with your fellow Lake Lubbers!