Sabaudia Lake, Lazio, Italy
Lake Locations:
Also known as:  Paola Lake, Lago di Sabaudia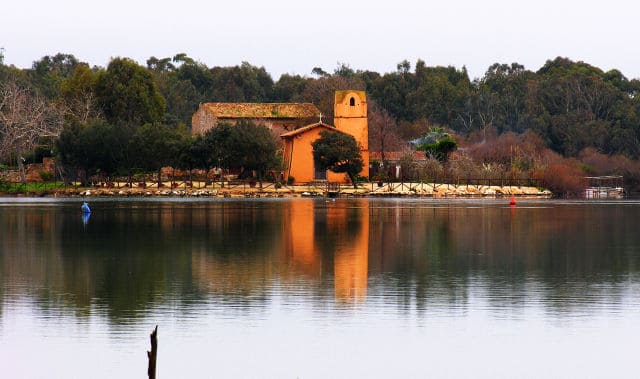 Italy's Sabaudia Lake has plenty of friendly neighbors, from a city to the north, a national park to the south and the cool, coastal breeze from the sea, a mere 200 yards to the west. Also known as Paola Lake or Lago di Sabaudia, this 964-acre body of water is set along the coast of middle Italy, in the Lazio region. The lake is a popular destination spot, both for its warm climate in the summer months and for the multitude of activities keeping locals and visitors happy throughout the year.
Sabaudia Lake is a brackish body of water, where freshwater and seawater combine in an area known for its wetland-type habitat. Three other coastal lakes, known as Caprolace Lake, Lake of Monks and Lake Fogliano, reside nearby along this stretch of Tyrrhenian Sea coastline. Sabaudia Lake wraps two of its fingers around the city of Sabaudia and then extends southward, the southern portion of the lake bordering Circeo National Park.
With 12 miles of developed and undeveloped shoreline, Sabaudia Lake offers holiday cottage and villa rentals in the city and along the less crowded portions of the lake. Peek out your porch and watch as lake goers take part in anything from rowing and sailing to wakeboarding and waterskiing. Keep the adrenaline pumping by learning how to kitesurf in the southern stretches of this lake, where the coastal breezes reach under your sail to propel you across the salty waters.
The southern portions of Sabaudia Lake sit under the watchful eye of Mount Circeo, located within the 20,000 acres of Circeo National Park. The park was created in 1934 to protect an array of wildlife and plant species, along with the varying environmental habitats. Forests, dunes and wetland biomes make up this wildlife haven, where wild boars, bats and badgers roam. Birders visit the area for the rich diversity in migratory and stationary species, including the nightingale, cormorants, cuckoo and rare species such as the greater flamingo, spoonbill, peregrine falcon and the white-tailed eagle.
While some visitors and locals spread out their beach towels along Sabaudia Lake's sandy shoreline, others take to the water for the plentiful fishing opportunities. Anglers out on the lake for a day will find the lake's depths, which have an average of 15 feet and a maximum of 33 feet, filled with fish species. Sea bream, golden mullet, cuttlefish and grouper are some of the common fish species; octopus, anchovy and eel are some of the more unique finds in the lake. Mussels are farmed during the fall months and can be found at local restaurants atop a bowl of fresh pasta.
After a dip in Sabaudia Lake's cooling waters, towel off before hitting the city of Sabaudia to the north. Drop into the downtown cafes or simply stroll the streets and take in the historical architecture adorning many of the buildings. The city continues beating through the night, as bars and restaurants stay open late to entice visitors into their doorways. For a larger city scene, Rome resides a little over 60 miles to the north of the lake.
Whether you're an avid naturalist looking to scope out beautifully diverse landscapes, or you're simply eager for an interesting vacation, look no further than Sabaudia Lake. It's lengthy shoreline supplies opportunities for those who love the city or those who wish to escape from it. Lakeside vacation rentals and holiday cottages abound, as do real estate opportunities within the area. Sabaudia Lake's proximity to the Tyrrhenian Sea makes for an exciting, multipurpose destination vacation.
Things to do at Sabaudia Lake
Vacation Rentals
Fishing
Sailing
Swimming
Beach
Water Skiing
Wakeboarding
Wildlife Viewing
Birding
National Park
Fish species found at Sabaudia Lake
---
Sabaudia Lake Photo Gallery
Sabaudia Lake Statistics & Helpful Links
At LakeLubbers.com, we strive to keep our information as accurate and up-to-date as possible, but if you've found something in this article that needs updating, we'd certainly love to hear from you!
Please let us know about it on our Content Correction form.
Spread the word! Share our Sabaudia Lake article with your fellow Lake Lubbers!