Lake Texoma, Oklahoma & Texas, USA
Lake Locations:
USA - Southwest - Oklahoma - Arbuckle Country - Texas - Prairies and Lakes -
Also known as:  Texoma Lake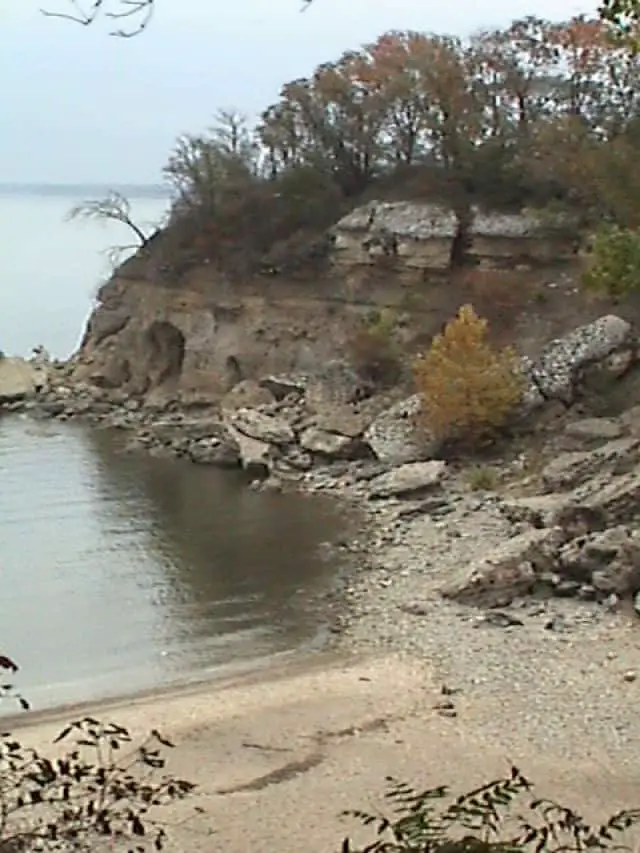 An 89,000-acre jewel set into the landscape of Texas and Oklahoma, Lake Texoma is a sparkling wonder of deep blue water and beautiful green shores. With more than 6 million annual visitors, the lake offers everything from water skiing to scenic nature hikes. Two-thirds of Lake Texoma lies in Oklahoma.
Before the creation of Lake Texoma by the U.S. Army Corps of Engineers, the area was a rural slice of American wilderness, with historic sites such as Fort Washita and home of future United States president Dwight D. Eisenhower. In 1938, the Flood Control Act authorized construction of the Denison Dam on the Red River and therefore the formation of Lake Texoma, forever altering the future of the area. At the time, the Denison Dam was the largest rolled, earth-filled dam and is now the 12th largest in volume in the U.S. In 1944, the dam began its job of flood control, and in 1945, the first hydroelectric turbine was put into operation. Today, the lake provides flood control and hydroelectric power generation, in addition to being a premier Texas-Oklahoma recreation destination.
Oklahoma's Lake Texoma State Park is a great starting point for your lake vacation. Offering bicycle rentals, boat rentals, horseback riding, houseboat rentals, campsites, fishing, picnic areas, and a swim beach, the State Park is a one-stop shop for many of your lake needs. Drop a line into the lake and hope for the next record-setting catfish or smallmouth bass, take a dip in the refreshing lake waters, or use the park as your starting point for a day out on the lake waters. And if camping tickles your fancy, stay overnight and enjoy all 24 hours at Lake Texoma, watching as the stars come out and the woods come alive with nocturnal animals.
The Texas side offers Eisenhower State Park, about an hour north of Dallas. Hike or bike more than four miles of trails along high bluffs, take a dip at the sandy swimming cove, explore backcountry woodland by ATV or dirt bike, and fish for striped bass, catfish, and crappie. Campsites and RV sites are available for longer stays. Join ranger programs, such as stargazing, and kids can become a Junior Ranger.
Another ideal introduction to the lake is to hike along the Cross Timbers Hiking Trail, a 14-mile stretch of scenic overlooks, dense woodlands, and vast prairie land along the lake's southern shore in Texas. As you walk, you'll pass through prairies and catch glimpses of the Southern Plains, wondrous in their flat, tree-free landscapes. Traverse the lake's ridge and bask in the beauty of startling vistas and lake panoramas. As you walk the trail, you'll find yourself closer to nature and the beautiful manmade Lake Texoma.
Lake Texoma's vast acreage and 580 miles of shoreline are best explored by boat. There are many marinas around the lake that rent power boats, jet skis, and pontoon boats, as well as slower-paced canoes and kayaks for your peaceful pleasure. If you're a true lakelubber, consider renting one of the lake's signature houseboats. Drifting along the peaceful waters at night, dining under the stars, and awaking to the gentle rocking of the waves will convince you that lake living is best done right on the water. Regardless of your boating preference, get out on the lake and start your investigations. Though it's impossible to see the entire reservoir in one trip, Lake Texoma is home to vast beauty and shoreline secrets that will entertain you all day long.
Adrenaline junkies and speed demons will not be disappointed with the lake's offerings: water skiing, tubing, wakeboarding, and windsurfing are all popular summer activities. Depending on your skill level, rent a boat or take a class on your chosen water sport, and prepare to spend a day drinking in the warm sun and testing your skills at one of the country's most popular reservoirs.
One of the lake's favorite and most popular activities is fishing, and anglers make annual pilgrimages to these shores. Swimming beneath the sparkling surface are black crappie, bluegill, blue catfish, channel catfish, largemouth bass, smallmouth bass, spotted bass, white crappie, and white bass. Crappie bite best during warming trends. Lake Texoma is one of the few reservoirs in the nation where striped bass reproduce naturally. Your best bets are with the lake's large populations of blue catfish, smallmouth bass, and striped bass, so get your rods ready and prepare to make another Lake Texoma fishing record. Before you do, you must buy a Lake Texoma fishing license.
Though Lake Texoma's aquatic offerings are great, the lake also offers off-water pleasures such as fine dining. You can find any type of restaurant here, from family-style to reservation-only, but you'll find that no matter the type, southern charm is always in full swing. With a healthy mix of on and off the lake fun, a day at Lake Texoma will leave you tired, full, and ready for tomorrow's adventures.
Things to do at Lake Texoma
Vacation Rentals
Fishing
Boating
Swimming
Beach
Canoeing
Kayaking
Jet Skiing
Water Skiing
Wakeboarding
Tubing
Camping
Picnicking
Hiking
Biking
Horseback Riding
State Park
Fish species found at Lake Texoma
Bass
Black Bass
Black Crappie
Blue Catfish
Bluegill
Catfish
Channel Catfish
Crappie
Largemouth Bass
Smallmouth Bass
Spotted Bass
Striped Bass
Sunfish
White Bass
White Crappie
---
Lake Texoma Photo Gallery
Lake Texoma Statistics & Helpful Links
Spread the word! Share our Lake Texoma article with your fellow Lake Lubbers!