Lake Murray, Oklahoma, USA
Lake Locations:
USA - Southwest - Oklahoma - Arbuckle Country -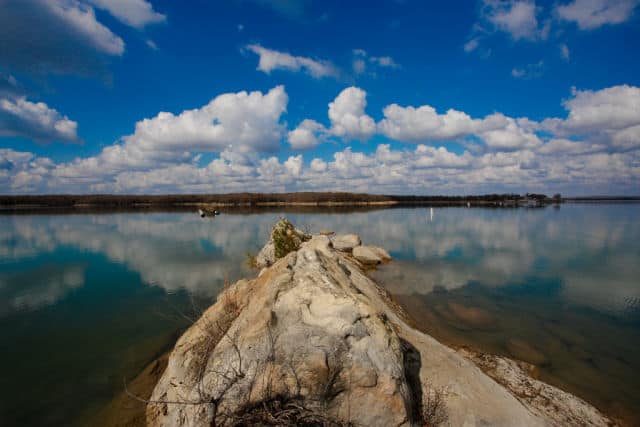 Lake Murray, in southcentral Oklahoma's Arbuckle Country, is a 5,728-acre reservoir completely surrounded by the pristine beauty of Lake Murray State Park, Oklahoma's oldest and largest state park. Near the city of Ardmore, Lake Murray is a very popular lake for both fishing and recreational activities with its 150 miles of shoreline. The lake was named for Oklahoma Governor William H. Murray and features a unique tower on the south side of the lake which was a summer retreat for Governor Murray. Today, Tucker Tower is a nature center and museum featuring displays of area wildlife.
Visitors to Lake Murray will find great fishing and outdoor activities including SCUBA Diving. The lake is partially spring fed so the water is clean, cool and clear. The lake can easily be reached via Interstate 35, Exit 24, then east two miles on OK-77S. OK-77S completely encircles the lake and provides excellent access to all parts of the lake.
Oklahoma lakes are well known for big bass and fat crappies, and Lake Murray is no exception. Anglers will not be disappointed with the fish population in the lake which includes largemouth bass, smallmouth bass, striped bass, drum, catfish, walleye and sunfish. There are a number of fish attractors in the lake which make finding a good fishing spot a bit easier. Marinas on the lake will be glad to tell you where the best fishing is, but sometimes finding the fish is half the fun.
Because Lake Murray is part of Lake Murray State Park, encompassing over 12,500 acres of relative wilderness, activities on and around the lake are endless. Rentals include motor boats, sailboats, paddle boats, water bikes, jet skis, canoes, and cruise boats. You can also rent horses from stables near the lake. A state-operated lodge and resort located on the west shore of the lake offers cabins of all sizes and campground facilities. Off-water activities include golfing, horseback riding, hayrides, biking, roller blading, and miniature golf. Sports facilities include an 18 hole golf course with a pro shop, a driving range, tennis courts, softball fields, a baseball diamond, horseshoe pits, a remote control air field for hobbyists, a badminton net, and a volleyball net. There is also an airstrip, a bait and tackle shop, a restaurant, and grocery stores. For those who don't want to swim in the lake, there is a swimming pool. Lake Murray Marina even has Wi-Fi wireless internet service for visitors who need to check their email and keep in touch with friends and family. And for hunters, Hickory Creek public hunting area is located adjacent to the southern border of the park.
Picnickers will find hundreds of picnic tables throughout the park, covered shelters, and a picnic gazebo. For campers, there are modern RV sites with water and electric, regular campsites with cement tent pads, and unlimited primitive camping in the surrounding woods. For non-campers, there are cabins and vacation rentals around Lake Murray and in the woods.
Hikers, bikers and riders will enjoy the trails around the lake. There are separate trails for hiking, bicycling, roller blading, dirt bikes and 3 or 4 wheelers, and horses.
Scuba diving activities are conducted on the southeast corner of Lake Murray in an area called Marietta Landing. This section of the lake is designated as a "no wake" zone where boaters must proceed slowly. Divers will find a sunken platform with ropes that lead to several sunken attractions. Native American artifacts, foundations of early settlement buildings, and prehistoric fossils can also be found under the lake's surface. Lake Murray is one of the few dive sites in the region deep enough to allow diver training beyond 60 feet. Typical visibility is from 6 to 20 feet, depending upon the season and conditions.
A unique feature on Lake Murray is The Tucker Tower Nature Center, which sits prominently on the south shore of the lake. The tower is made of stone and resembles a cross between a lighthouse and a castle. The Tucker Tower features local artifacts, nature programs and activities conducted by the state park.
Besides all the incredible attractions of Lake Murray, the area around the park is worth checking out as well. A short drive north of Ardmore is Turner Falls Park which features the state's tallest waterfall. Nearby is the Arbuckle Wilderness drive-through, an exotic animal theme park. East of Turner Falls is the Chickasaw National Recreation Area, and south of Lake Murray is Lake Texoma State Park, both of which offer more outdoor activities.
With all there is to see and do, it's no wonder Lake Murray is one of Oklahoma's largest outdoor resort destinations.
Things to do at Lake Murray OK
Vacation Rentals
Fishing
Boating
Sailing
Swimming
Swimming Pool
Canoeing
Jet Skiing
Scuba Diving
Golf
Tennis
Camping
Campground
Picnicking
Cabin Rentals
Hiking
Biking
Horseback Riding
Hunting
Waterfall
Wildlife Viewing
State Park
Museum
Miniature Golf
Fish species found at Lake Murray OK
Bass
Black Bass
Catfish
Crappie
Largemouth Bass
Perch
Smallmouth Bass
Striped Bass
Sunfish
Walleye
---
Lake Murray OK Photo Gallery
Lake Murray OK Statistics & Helpful Links
At LakeLubbers.com, we strive to keep our information as accurate and up-to-date as possible, but if you've found something in this article that needs updating, we'd certainly love to hear from you!
Please let us know about it on our Content Correction form.
Spread the word! Share our Lake Murray OK article with your fellow Lake Lubbers!