Lake St. Joseph, Ontario, Canada
Welcome to the ultimate guide for history, statistics, local fun facts and the best things to do at Lake St. Joseph.
If you're considering Lake St. Joseph vacation rentals, we've made it super easy to explore accommodations and nearby hotels using the interactive map below. Simply click on a listing to compare similar properties, best rates and availability for your dates. Or keep scrolling to read our Lake St. Joseph guide!
Lake St. Joseph visitor and community guide
Lake St. Joseph in northwestern Ontario is the kind of lake a fisherman's dreams are made of. Famous all over North America as a prime fishery for northern pike and walleye, the large lake has a limited number of permits for visiting anglers. Fishermen who have fished the lake are amazed to find they've caught their limit in less than an hour. The several fishing camps located along the shoreline also provide guides to assure that newcomers fill their creel. The lake was 90,000 acres until a dam was built across the outlet in 1936 to provide hydroelectric power. The additional impoundment increased the lake's size to what most locals report is over 150,000 acres, although official Canadian figures sometimes state the size as 121,882 acres. The difference is likely because the water levels fluctuate according to water diversion for hydro purposes.
When Lake St. Joseph was 90,000 acres, it was an important part of the Albany River water route that fur traders used to access fur trading areas from James Bay. As early as 1730, fur traders were regularly meeting with local tribes here at an impromptu trading post. By the 1780s, Hudson Bay Company found it necessary to build inland posts to assure their dominance over the fur trade. The post at Lake St. Joseph, called Osnaburgh House, was one of the first when built in 1788.
In business until the 1960s, the post saw many historical events occur between the local First Nations tribes and the English. It was here that Treaty #9, one of the largest treaties made with the First Nations, was signed. This treaty is in some ways considered responsible for the unusual non-resident angler quota imposed. As a designated wilderness lake, Lake St. Joseph has its own set of fishing regulations including the requirement that only one barbless hook is allowed per lure, and a slot limit assures the really big trophy walleye and pike are returned to the water to swim another day.
The eastern end of Lake St. Joseph is within two different First Nations reserves. A community of about 800 people has grown up around the site of the old Hudson Bay Company (HBC) Trading Post. Called New Osnaburgh, the area benefits from the restoration by a private owner of the old abandoned post and adjacent church. The new fishing camp has taken care to observe the customs of the local peoples and has assured that the graves of their ancestors in the old church graveyard are protected.
Recent amateur 'treasure hunters' have turned up numerous bits and pieces of old trade beads and goods, along with musket balls, official HBC uniform buttons and bottles. All are carefully displayed in the refurbished Post Store, an unofficial museum of the area. Of the several camps on the lake, this camp is likely the one with the most amenities, including WiFi; this destination requires reservations far in advance to assure a spot. All are popular, however, as the limited number of non-resident permits are only available from the camps themselves. Only 1786 fishermen are allowed per year, assuring that walleye and pike remain abundant and grow to large size. This is likely one of the reasons Lake St. Joseph has been repeatedly named one of the 'Top Ten Walleye Lakes in North America' by In Fisherman magazine.
Fishing is the main water sport at Lake St. Joseph, although some people swim along some of the sandy stretches of beaches in sheltered coves. There are no marinas and, although some camps allow guest to bring their own boats, these are usually provided by the camp as part of the package. Besides pike and walleye, the lake holds sauger, whitefish, largemouth bass, smallmouth bass, muskellunge, yellow perch and lake trout. A limited amount of commercial fishing occurs under treaty rights by local residents. Fishermen must have both a regular Ontario fishing license and the special Lake St. Joseph permit. Most of the camps at the lake are only open during the spring, summer and fall, although other camps in the immediate area are open for hunting and winter fishing.
The area around Lake St. Joseph is a haven for birds and wildlife, with over 300 species of birds in residence at least part of the year. Some of the more noteworthy are eagles, hawks, owls, snow geese, great blue heron, pelicans, snowbirds and three types of grouse. Woodland caribou, black bear, moose, wolverine, fisher, lynx, fox, muskrat, beaver, mink and martin all frequent the area. Wabakimi Provincial Park, the home of Ontario's largest number of woodland caribou, is only a few miles to the south east of Lake St. Joseph. Farther downstream, the Albany River flows through Albany River Provincial Park, a favorite destination for backpacking, camping and canoeing.
The nearest town of any size is Pickle Lake, about 20 miles to the north. Pickle Lake proudly calls itself 'the end of the road', although the road does continue on as gravel for a few miles. Otherwise, there isn't much ahead other than wilderness lakes and rivers all the way to James Bay. Pickle Lake's slogan is "The Last Frontier" and the small town is well-equipped to provide outdoor recreation and adventure to residents and visitors alike. The township maintains several primitive municipal campgrounds and a tiny RV park on the shore of Pickle Lake. The small town has an ice arena with naturally maintained ice when the weather is cooperative, where they host hockey tournaments. A separate curling rink has a busy schedule of events for locals and visiting teams. The township is developing residential lots along Pickle Lake and Kapkichi Lake and is expecting to see a growing seasonal population. Several bed-and-breakfast establishments and at least one hotel provide lodgings for those not staying at a camp. Nearly a dozen lodge camps are headquartered in the area, including those at Lake St. Joseph.
Getting to Lake St. Joseph or to Pickle Lake can be accomplished a couple of different ways. Many people drive from Thunder Bay, a trip of about 330 miles by road. The route is much shorter if one flies in. Depending on where visitors are coming from, there are a number of flight services that handle flights to the Pickle Lake area, or visitors can even take a float plane directly to one of the camp's front door. Those living and working in the area are always glad to see visitors and will do their utmost to make your stay an enjoyable one. Although much of the surrounding land is either Crown land or First Nations Reserve, there is still real estate available for purchase. For the true getaway vacation. Lake St. Joseph is the perfect choice, particularly if you live to angle for walleye or pike.
Custom Lake St. Joseph house decor
Read our full review of these personalized lake house signs.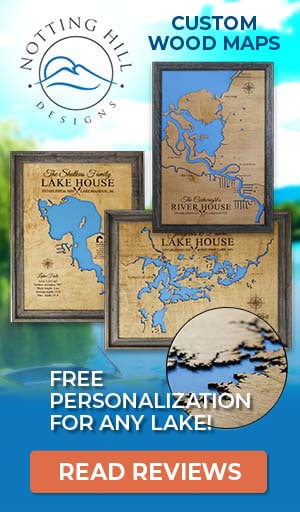 Things to do at Lake St. Joseph
Vacation Rentals
Fishing
Boating
Swimming
Beach
Canoeing
Camping
Campground
Hiking
Hunting
Wildlife Viewing
Birding
Provincial Park
Museum
Fish species found at Lake St. Joseph
Bass
Black Bass
Lake Trout
Largemouth Bass
Muskellunge
Northern Pike
Perch
Pike
Sauger
Smallmouth Bass
Trout
Walleye
Whitefish
Yellow Perch
---
Best hotels and vacation rentals at Lake St. Joseph
The Lake St. Joseph map shown above is a simple and stress-free way to search for trip accommodations. But if you want to take a deeper dive to find the ideal waterfront home, cabin, condo, hotel or resort, visit our favorite lodging partners by clicking the buttons below.
Note: These are affiliate links so we may earn a small commission if you book through them. While there is no extra cost to you, it helps provide resources to keep our site running (thank you)! You can read our full disclosure policy here.
---
Lake St. Joseph photo gallery
New photos coming soon!
Lake St. Joseph statistics & helpful links
We strive to keep the information on LakeLubbers as accurate as possible. However, if you've found something in this article that needs updating, we'd certainly love to hear from you! Please fill out our Content Correction form.
Advertise your Lake St. Joseph vacation rental
LakeLubbers will soon offer homeowners and property managers the opportunity to to showcase their vacation rentals to the thousands of lake lovers searching our site daily for accommodations. If you'd like additional details, please contact our advertising team here.
Looking for the Lake St. Joseph forum?
LakeLubbers previously offered visitors the ability to create accounts and participate in lake forums. When we overhauled the site's content management system in 2021 we had to disable those features. We're evaluating options and welcome your comments and feedback here.
We also encourage you to join our lake-lovin' community on Facebook and Instagram!
Spread the word! Share our Lake St. Joseph article with your fellow Lake Lubbers!