Lake Seymour, Vermont, USA
Lake Locations:
USA - New England - Vermont - Northeast Kingdom -
Also known as:  Seymour Lake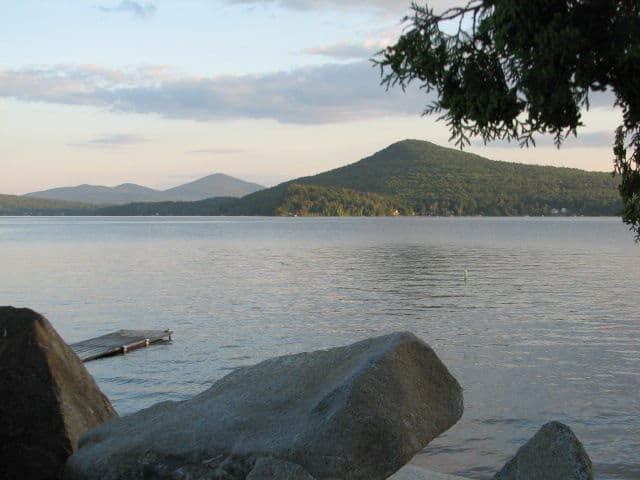 Breathtaking autumns and vibrant springs await visitors and residents of Lake Seymour, also known as Seymour Lake. Located in Vermont's Northeast Kingdom, with 1,769 surface acres of water, Lake Seymour is the second largest lake entirely within the borders of Vermont. Seymour Lake is nestled in Orleans County in the town of Morgan, original home to the beautiful Morgan Horses. The Town of Morgan was chartered in 1780 by the Republic of Vermont to 64 Grantees under the name Caldersburgh. In 1801, it was changed to Morgan in honor of John Morgan who was one of the original owners of the land. When the Town of Morgan was surveyed by General Whitelaw, he gave Seymour Lake its name after Israel Seymour, one of Morgan's grantees. A dam was built on the natural lake in 1928 to provide hydroelectric power, and is owned by Citizens Utilities Company. Lake Seymour is fed by two streams, outflows of Mud Pond and Sucker Brook. It drains into Echo Pond, which then empties into the Clyde River.
Recreational activities are abundant any time of the year at Lake Seymour, making it a residential paradise as well as a premier vacation destination. Visitors and residents can take a dip in the cool refreshing waters in the summer months or experience the thrill of snowmobiling in the winter. Spectacular fall colors encircle Seymour Lake in the autumn and can be viewed in comfort while sitting on lakeside decks. When the sap is flowing in the spring, residents and visitors can satisfy their palate with the taste of fresh maple syrup. Real estate is abundant along the shores of Seymour Lake, and homeowners are encouraged to be members of Seymour Lake Association, which was founded in 1945 for the purpose of protecting the shoreline and natural resources. Vacation rentals, inns and private campgrounds bordering Lake Seymour offer a charming retreat for those who need a weekend getaway or a longer stay away from the hustle and bustle of everyday life.
Lake Seymour is well known among anglers to be an excellent fishing hole. In 2002, Seymour Lake held the record for the largest lake trout caught in the state of Vermont. In addition to lake trout, the lake is also well known for brook trout and brown trout. Seymour Lake is sometimes called Namagonic, which is a Native American word for "salmon trout spearing place". This may be due to the fact that landlocked salmon make their homes in the waters of Seymour Lake. Winter in Vermont can be very cold, which causes the lake to freeze enough to support ice fishing in the winter months. Lake Seymour connects to nearby Echo Lake by an out-flowing stream; Echo Lake provides additional fishing spots for anglers. Due to the size of Seymour Lake, boating is another favorite pastime, and with prevailing westerly winds it is also the perfect lake for sailing and windsurfing.
Lake Seymour is nestled in Vermont's beautiful Northeast Kingdom. This region is well known for its wildlife. With an abundance of moose, deer, and beaver, hunters will find this part of Vermont a fantastic place to hunt. In addition to the extraordinary beauty of the Northeast Kingdom, visitors may enjoy a trip to nearby museums, ski resorts and bike trails. Shopping and additional overnight accommodations can be found in Morgan, Derby, Island Pond and Newport. Other nearby attractions include a Morgan Horse Farm and maple syrup factory.
Vermont was the 14th state added to the union, and with a history dated that far back it is not a surprise to find some enchanting old homes and buildings on the shores of Lake Seymour. Some of the old farm houses date back to the early 1800s. Residents and visitors can take pleasure in the remarkable beauty surrounding Seymour Lake as they sit on lakeside decks watching solitary loons glide across the cool refreshing waters. Peace and tranquility are close at hand to those who vacation or reside at Seymour Lake.
Things to do at Lake Seymour
Vacation Rentals
Fishing
Ice Fishing
Boating
Sailing
Camping
Campground
Hiking
Snowmobiling
Horseback Riding
Hunting
Wildlife Viewing
Museum
Shopping
Fish species found at Lake Seymour
Brook Trout
Brown Trout
Lake Trout
Salmon
Sucker
Trout
---
Lake Seymour Photo Gallery
Lake Seymour Statistics & Helpful Links
Spread the word! Share our Lake Seymour article with your fellow Lake Lubbers!