Lake Seminole, Florida & Georgia, USA
Lake Locations:
USA - South - Florida - Panhandle West - Georgia - Plantation Trace -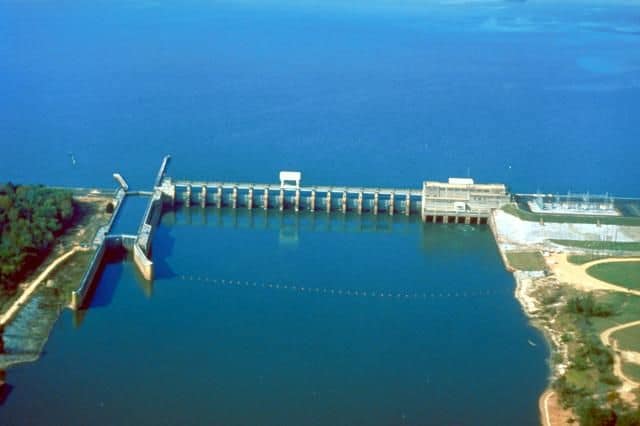 Lake Seminole divides its 37,500 watery acres between Georgia and Florida. The lake is conveniently located about 40 miles northwest of Tallahassee, Florida and 20 miles from Bainbridge, Georgia. The U.S. Army Corps of Engineers created the reservoir between 1947 and 1957 by damming the Chattahoochee and Flint Rivers. Water from the lake's Jim Woodruff Dam flows into Florida via the Apalachicola River. Though originally built for navigation and hydroelectric power, Lake Seminole is also a premier vacation destination in northern Florida and southern Georgia and Alabama.
The Jim Woodruff Lock and Dam was the first of three locks and dams constructed by the Corps to provide a waterway from the Gulf Intracoastal Waterway in Florida to Columbus, Georgia via the Apalachicola and Chattahoochee Rivers, and to Bainbridge, Georgia via the Flint River. The Corps operates Lake Seminole at a relatively constant level of 77.5 feet above sea level for navigation, hydropower production, and recreation. The lake does not provide storage for flood control. About 60 percent of the 376 shoreline miles are designated protected shoreline, about 19 percent for public recreation, and about 20 percent for limited development, including residential.
Lake Seminole is a haven for wildlife, providing a friendly environment all year. Lake Seminole Park, located in Seminole, Florida, is a 250-acre sanctuary for the local fauna. Lazy alligators sun themselves along the lake's shores, a lone open eye following any movement. Hawks call to each other in the sky, an unforgettable sound to all of its prey. Wintering birds and waterfowl decorate the sky and lake surface. And the shy and environmentally-threatened gopher tortoise, Georgia's state reptile, also makes its home at the lake, finding some much-needed safety.
Nature hikers and photographers love Lake Seminole Park's walking trails, as they afford a unique look at flora and fauna you might otherwise not see. Share the 2-mile multi-use trail with bikers, joggers, and rollerbladers as you weave your way through pine flatwoods and identify colorful blossoms and elusive animals. Traverse a one-mile trail, less vigorous than the 2-mile, but no less diverse in its natural offering. Be sure to take your camera on this outing, however, as you are sure to see some truly unique trees, plants, and Florida fauna. The park also provides a boat ramp, grills and picnic tables, playground, and restrooms.
604-acre Seminole State Park in Donalsonville, Georgia provides convenient access to Lake Seminole with 5 boat ramps. Park facilities include a swimming beach, three fishing docks, a 2.2 mile Gopher Tortoise Nature Trail, canoe rentals, picnic shelters, and geocaching opportunities. Choose from a variety of overnight accommodations, including cottages, tent, trailer and RV campsites, and primitive treehouse camping.
Although Lake Seminole covers 37,500 surface acres, it averages only 10 feet in depth. These unique conditions have created an aquatic habitat conducive to lake life. Lake Seminole holds the enviable title of the fifth best bass fishing lake in the country, a fact which attracts thousands of anglers to its shores. Tree stumps, grass beds, and marshy areas dot the lake's bottom, creating natural homes for the lake's generous year-round population of hybrid bass, largemouth bass, striped bass, and white bass. Lake Seminole is also known for excellent catfish, crappie, and bluegill. In total, anglers have reeled in over 79 different species of fish from beneath the lake's surface.
Though the lake is shallow, it is still a watery playground for children and adults alike. Boating is a favorite activity and waterskiers love to jump the wake of their patron powerboats. Jet skiers zip around the lake, at a distinct exploration advantage, their quick speed allowing them to discover many of the lake's secret coves and hidden treasures. Canoeists and kayakers enjoy a slower pace, investigating the shoreline and watching lake life happen at its own pace.
Lake Seminole is large and beautiful, giving you and your family the opportunity to see and do almost anything your heart desires. So pack your bags, prepare for some fun, and head on down to Lake Seminole for your next family vacation.
Things to do at Lake Seminole
Vacation Rentals
Fishing
Boating
Swimming
Beach
Canoeing
Kayaking
Jet Skiing
Water Skiing
Camping
Picnicking
Hiking
Wildlife Viewing
Birding
State Park
Playground
Fish species found at Lake Seminole
Bass
Black Bass
Bluegill
Catfish
Crappie
Largemouth Bass
Striped Bass
Sunfish
White Bass
---
Lake Seminole Photo Gallery
Lake Seminole Statistics & Helpful Links
Spread the word! Share our Lake Seminole article with your fellow Lake Lubbers!