Compass Lake, Florida, USA
Welcome to the ultimate guide for history, statistics, local fun facts and the best things to do at Compass Lake. If you're considering Compass Lake vacation rentals and hotels, we've made it super easy to compare and book using the interactive map below. Or keep scrolling to read our Compass Lake Guide!
Compass Lake Visitor and Community Guide
Often overlooked as a Florida vacation destination, crystal-clear Compass Lake in the Panhandle-West region is far removed from the hectic recreational activities of the better-known peninsula. One of a number of natural sinkhole lakes, 581-acre Compass lake sits atop a limestone ridge, one of several underlying the Florida landscape. The ridges provide the only real hills in the state, giving these areas an elevation of up to 300 feet above sea level. At the 180-foot level, spring-fed Compass Lake offers a pleasantly temperate climate, free of oppressive humidity and makes it the perfect year-round spot for relaxation and lakefront living. This is no doubt the reason Compass Lake has been 're-discovered' yet again. For Compass Lake has been discovered anew several times over its history.
Compass Lake is an all-sports lake, offering water skiing, tubing, jet skiing, pontooning, power boating, sailing, wakeboarding, canoeing, kayaking and swimming. In keeping with its reputation as a boating lake, a restaurant along the shore is accessible by boat. Most of the shoreline provides a natural sand beach. Nearly all homes have private docks, but the State maintains two boat launch sites on the lake to accommodate visitors. Although bream, crappie, bass and shellcracker (also known as red-eared sunfish) are caught, mostly in the near-shore shallows and the bay created by the former cypress swamp, the majority of the lake is too deep to support many fish. The lake is oligotrophic, as is common with limestone karst lakes, and produces so few water plants that fish have little habitat for spawning or feeding. The majority of the main lake averages 35-40 feet in depth, with a few deep springs reaching 70 feet.
As with much of the Panhandle, the Compass Lake area was first utilized for its timber resources. At the time, the lake was almost perfectly round, leading to the name Compass Lake (there was already a Round Lake nearby). In 1906, a small dam was built to power a grist mill across the outlet. The dam raised the water level several feet, flooding a portion of adjacent cypress swamp, drowning the lakeshore road and creating a shallow bay to the lake. A settlement grew up around Compass Lake containing, at one time, a post office, stores and a bank. Because much of the surrounding pine forests were owned by the German-American Lumber Company, the property was confiscated during WWI, and the US Government cut most of the timber. Next, farming interests planted Satsuma orange groves and branched out into Tung Oil nut trees. Business boomed and the settlement at Compass Lake attracted workers who built modest homes. The lake regularly attracted fishermen and boaters from as far away as Dothan, AL. The Dothan Boat Club still exists at the lake and provides a clubhouse, beach and boating activities to its members. A few seasons of early frost killed off both the Satsuma groves and the Tung Oil nut industry, and Compass Lake slid quietly back into hill-country anonymity.
Although once surrounded by the seasonal cottages of working-class residents, Compass Lake residents have seen a major increase in the remodeling or outright replacement of those modest cottages with more expensive housing. The lakefront is still mostly residential single-family homes, but a very few apartment complexes now exist in the neighborhood. In recent years, a large upscale development has taken root on the eastern side of the lake. Boasting 10,000 acres, the development offers luxury homes, community boat dock, a lodge and guest cabin facilities for property owners and their guests. The guest cabins are the only camp facilities on the lake at present. The development is an equestrian-friendly facility, with stables, horse boarding, riding lessons and miles of riding trails.
Located about half-way between Panama City, FL and Dothan, AL, Compass Lake is only 10 miles from Marianna and Interstate 10. The area is rich in historical significance, with many restored antebellum plantation homes open for tours or as bed-and-breakfasts. Nearby Alford holds a grocery story and some basic services, while Marianna contains nearly everything a resident would need. About 30 miles south, Panama City offers public Gulf beaches and marinas for 'big water' boating plus big-city amenities and attractions. The entire area around Compass lake is filled with unique geological treasures, some of which are state parks. Two well-known attractions near Chipley, Falling Waters State Park and Caverns State Park, both display in spectacular fashion the effect of eons of water flowing across the ancient limestone.
A number of underwater caves attract divers to the area near Compass Lake. At Merritt's Mill Pond in Marianna, divers regularly explore underwater caverns; more caverns are found along the Chipola River and Holmes Creek – both favorites of kayakers. Diving these caverns is not for amateurs; all divers venturing into them should be cave-certified. Both watercourses are popular for lazy day floats and provide an excellent way to observe local wildlife. The massive springs that form these waterways provide a major amount of fresh water to the local area. Many of the small towns in the vicinity annually produce quaint, unique and sometimes hilarious annual festivals, such as the Possum Festival in nearby Wausau. Farmers markets, antique shops and local craftsmen can all be located close by.
Visiting Compass Lake is easier than one might think: several local property owners regularly rent vacation lodgings by the week or month. Many are directly on the lakefront. Although there are no campgrounds directly on the lake, several are located just a short distance away. Most large chain hotels have a facility at the exits along I-10. Real estate is available, both in the new development and among existing properties on the west side of the lake. Easily accessed via I-10, Compass Lake is within an afternoon's drive of Jacksonville, Atlanta, Birmingham and New Orleans, ideal for a long weekend or an annual vacation. So bring the canoe and the kids. Come and enjoy this unique area that is Compass Lake.
Custom Compass Lake House Decor
Read our full review of these personalized lake house signs.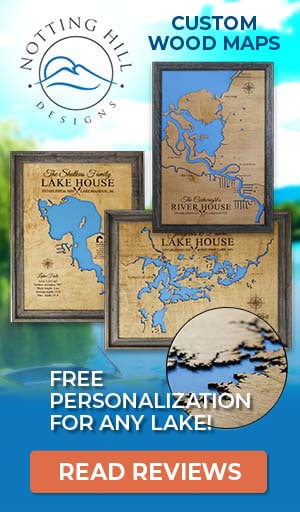 Things to Do at Compass Lake
Vacation Rentals
Fishing
Boating
Sailing
Swimming
Beach
Canoeing
Kayaking
Jet Skiing
Water Skiing
Wakeboarding
Tubing
Camping
Campground
Cabin Rentals
Hiking
Horseback Riding
Wildlife Viewing
State Park
Antiquing
Fish Species Found at Compass Lake
Bass
Crappie
Redear Sunfish (Shellcracker)
Sunfish
---
Best Hotels and Vacation Rentals at Compass Lake
The Compass Lake map shown above is a simple and stress-free way to search for trip accommodations. But if you want to take a deeper dive to find the ideal waterfront home, cabin, cottage, condo, hotel or resort, visit our favorite lodging partners by clicking the buttons below.
Note: These are affiliate links so we may earn a small commission if you book through them. While there is no extra cost to you, it helps provide resources to keep our site running (thank you)! You can read our full disclosure policy here.
---
Compass Lake Statistics & Helpful Links
We strive to keep the information on LakeLubbers as accurate as possible. However, if you've found something in this article that needs updating, we'd certainly love to hear from you! Please fill out our Content Correction form.
Advertise Your Compass Lake Vacation Rental
LakeLubbers will soon offer homeowners and property managers the opportunity to to showcase their vacation rentals to the thousands of lake lovers searching our site daily for accommodations. If you'd like additional details, please contact our advertising team here.
Looking for the Compass Lake Forum?
LakeLubbers previously offered visitors the ability to create accounts and participate in lake forums. When we overhauled the site's content management system in 2021 we had to disable those features. We're evaluating options and welcome your comments and feedback here. We also encourage you to join our lake-lovin' community on Facebook, Instagram and Pinterest!
Compass Lake Photo Gallery
New photos coming soon!
Spread the word! Share our Compass Lake article with your fellow Lake Lubbers!