Lake Powell, Arizona & Utah, USA
Lake Locations:
USA - Southwest - Arizona - North Central - West - Utah - Canyonlands - Color Country -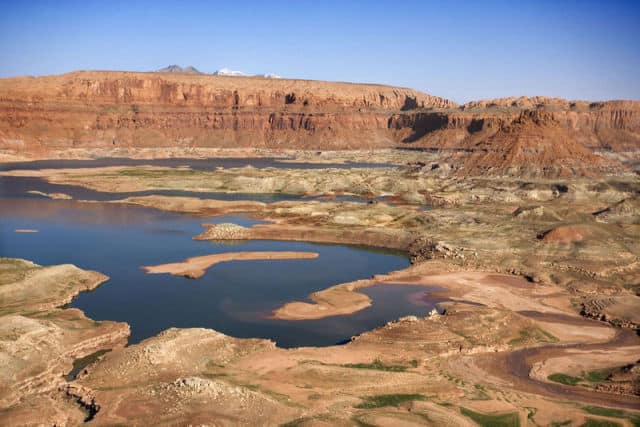 Lake Powell is located in one of Southern Utah's most picturesque red-rock desert areas and in Arizona's Navajo Indian Reservation. It is one of the USA's most scenic reservoirs. At "full pond" (normal water level) it is the second-largest man-made reservoir in the USA by volume – but drought can reduce that. With 1,900 miles of shoreline, a temperate climate and 160,800 acres to explore, Lake Powell is a utopia for 3+ million visitors seeking recreational opportunities each year.
Lake Powell is part of the Glen Canyon National Recreation Area. Boating is the major drawing card. Fishing, diving, water skiing, hiking and camping are just some of the other possibilities. Open year round, many sun-seekers come to escape northern winters and to relax in the warmth, exploring spectacular side canyons and coves.
With two National Forests, Canyonlands National Park, Capitol Reef National Park, Rainbow Bridge National Monument, and Antelope Canyon nearby, Lake Powell is an ideal starting point for a day's sightseeing and play. Lake Powell separates Arizona and Utah, providing a giant playground for both states' residents – and for visitors from all of the USA.
Under the auspices of the U.S. Bureau of Reclamation, Lake Powell was formed by the construction of Glen Canyon Dam, impounding the Colorado River. Construction was completed in 1963. Lake Powell was completely filled 17 years later, in 1980. Lake Powell's primary purpose is as a reservoir for the Upper Colorado Basin. By the Colorado River Compact, it must provide a specified amount of water to the Lower Colorado Basin states. Lake Powell acts as a "sponge" to Lake Mead, enabling Lake Mead to provide power and irrigation water to lower states. Glen Canyon Dam also produces hydropower. Spectacular recreation of all types is a byproduct of the dam and Lake Powell. The U.S. Bureau of Reclamation operates and maintains the dam, power plant and reservoir, while the National Park Service administers Lake Powell.
Boaters revel in the lake's gorgeous waters. Fully stocked marinas dot the lake, some accessible only by boat. Everything from 75-foot houseboats to canoes and kayaks can be rented. Houseboating is common, with over 90 scenic canyons and coves to explore. Houseboats can be launched – or rented. Water sports abound with the warm climate, and at full pond boating can be enjoyed over 95% of Lake Powell. The remaining 5% is not navigable due to fluctuating shallow water levels. Launch ramps in both Arizona and Utah are conveniently accessible. For those without boats, cruises and boat sightseeing tours are plentiful.
Anglers enjoy Lake Powell's striped bass, smallmouth bass, largemouth bass, channel catfish, sunfish and crappie. Fishing is open year round, except in posted areas. Fishing from a houseboat's comfortable lounge is favored by many.
Developed camping is available at many marinas. Some prefer piloting their boat or houseboat to a beautiful side canyon and roughing it. Camping possibilities are endless and memorable. There are no camping restrictions around Lake Powell, but be careful to note that the lake level can go up or down overnight. Follow the park's instructions for tying up in the evening.
Geocachers can find dozens of caches around the lake. Although some require steep rock climbs, many are easy to find, log and add to your total.
Lake Powell provides a spectacular setting for all kinds of outdoor activities – and unforgettable memories.
Things to do at Lake Powell
Vacation Rentals
Fishing
Boating
Canoeing
Kayaking
Water Skiing
Camping
Hiking
National Park
National Forest
Playground
Fish species found at Lake Powell
Bass
Black Bass
Catfish
Channel Catfish
Crappie
Largemouth Bass
Smallmouth Bass
Striped Bass
Sunfish
---
Lake Powell Photo Gallery
Lake Powell Statistics & Helpful Links
Spread the word! Share our Lake Powell article with your fellow Lake Lubbers!