Lake Pleasant, Arizona, USA
Lake Locations:
USA - Southwest - Arizona - North Central -
Also known as:  New Lake Pleasant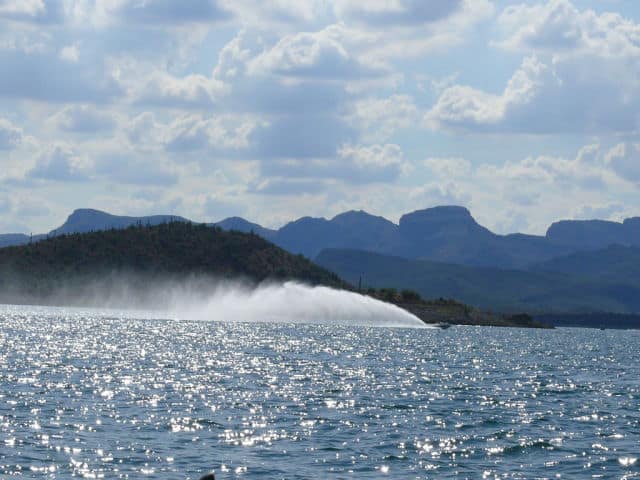 One of the finest water recreation areas in Arizona, Lake Pleasant is true to its name – a pleasant oasis in a desert setting. Lake Pleasant's 9,200 surface acres offer wonderful opportunities for outdoor activities including boating of all types, camping, hiking, and fishing. Although Lake Pleasant is only 20 miles or so outside the Greater Phoenix, Arizona confines, it has a decided aura of remoteness, with the majestic saguaro much in evidence. A visitor has the ability to revel in this outdoor remoteness and still be able to enjoy all the activities found in the City of Phoenix. It's the best of both worlds.
As part of a private irrigation project, the Waddell Dam was built in the mid-1920s, creating the upper portion of Lake Pleasant. This was a 2150 foot long structure damming up the Agua Fria River. Lake Pleasant was named after the dam's designer, Carl Pleasant. The purpose was to impound the River's runoff, plus runoff from the Bradshaw Mountains, for irrigation. The original Lake Pleasant covered some 3000 acres.
The New Waddell Dam was completed in 1992 under the auspices of the U.S. Bureau of Reclamation as a foundation of the Central Arizona Project (CAP). The new dam tripled Lake Pleasant's size, making it the second largest lake (following Lake Roosevelt) within Arizona. The primary purpose of the Dam is to store Colorado River water for CAP. The Dam also stores runoff from the Agua Fria River and provides flood control along the river. As part of CAP, Lake Pleasant is also fed through a canal from Lake Havasu.
The New Waddell Dam is a pump-back system. When demand for water and electricity is high during the summer, water releases from Lake Pleasant produce hydroelectric power that is sold to help repay construction costs. When power rates are lower during the winter, Colorado River water is pumped uphill into Lake Pleasant through the Central Arizona Project aqueduct.
Great boating is a major enjoyment on the gorgeous waters of Lake Pleasant. A fully stocked marina is on the lake, with two large paved public boat launching areas. Everything from ski boats to canoes and kayaks may be rented. Sailboating is the dominant water mode with plenty of scenic canyons and coves to explore. Watersports abound with the warm climate, and boating can be enjoyed over most of Lake Pleasant. Sections of the Lake are unavailable to boating due to the shallows created by fluctuating water levels. For those not having or wanting to rent a boat of their own, there are cruises and boat sightseeing tours offered around Lake Pleasant.
Lake Pleasant Regional Park offers 148 sites for RV and tent camping. Developed sites have electricity, water, a covered picnic table, barbecue grill and fire ring. Semi developed sites have the same except for electricity and water. Restroom and shower facilities are available at both. There are four miles of hiking trails, ranging from .5 mile to 2 miles in length. And for those interested in geocaching, there are over 100 caches in a 10 mile area around the lake.
Fishing is a favorite avocation for many visitors, from shore as well as from a variety of boats. Lake Pleasant is a fine fishing hole. Striped bass, white bass, largemouth bass, bluegill, crappie, channel cats, sunfish and talapia are found in the most likely spots. Fishing is open year round except for posted areas. An Arizona fishing license is required.
Desert wildlife viewing and photography are other favorite activities for visitors. Some mammals possibly seen are: mule deer, coyotes, javelinas, kit foxes, and bobcats. In the insect/reptile area you might see scorpions, two or three types of rattlesnake, a gila monster or a tarantula. Roadrunners, gila woodpeckers, gambrel quail, and hummingbirds are just a few of the avaian possibilities.
Lake Pleasant is a great destination for the outdoors person, and a weekend spent there will be long remembered.
Things to do at Lake Pleasant
Vacation Rentals
Fishing
Boating
Canoeing
Kayaking
Camping
Picnicking
Hiking
Wildlife Viewing
Birding
Fish species found at Lake Pleasant
Bass
Black Bass
Bluegill
Crappie
Largemouth Bass
Striped Bass
Sunfish
White Bass
---
Lake Pleasant Photo Gallery
Lake Pleasant Statistics & Helpful Links
Spread the word! Share our Lake Pleasant article with your fellow Lake Lubbers!