Lake Pichola, Rajasthan, India
Welcome to the ultimate guide for history, statistics, local fun facts and the best things to do at Lake Pichola.
If you're considering Lake Pichola vacation rentals, we've made it super easy to explore accommodations and nearby hotels using the interactive map below. Simply click on a listing to compare similar properties, best rates and availability for your dates. Or keep scrolling to read our Lake Pichola guide!
Lake Pichola visitor and community guide
A watery surprise awaits visitors to Udaipur in India's semi-arid Rajasthan region: beautiful Lake Pichola. The first of a series of man-made lakes, Lake Pichola is the foundation on which the city itself was founded. Udaipur is now surrounded by man-made lakes connected by rivers and canals spanned by multiple decorative arches, giving it the title Venice of The East. The beauty of the 1,700-acre shallow lake encouraged the building of multiple palaces along its shore in the six-and-a-half centuries since its creation. The lake has also been enlarged by further damming at least once, drowning the village of Pichola from which it takes its name. The plentiful water resources encouraged settlement and further efforts to build artificial lakes surrounded by ever-blooming gardens, multiple palaces and an eventual tourism industry based on these romantic views. Udaipur is now a cultural delight and one of the most often visited locations in the Rajasthan region.
The Sisarma, a tributary of the Kotra River, was dammed first in 1362 by a gyspy Banjahara tribesman to provide a pathway for transporting grain across the Sisarma. Two centuries later, Maharana Udai Singh II founded the city of Udaipur on the banks of the lake and also enlarged the lake by constructing a stone masonry dam in the Badipol region. Although large, the lake is quite shallow, with an average depth of only 14 feet. During periods of prolonged drought, the inflow from the Sisarma and the drainage from the surrounding hills is inadequate to keep the lake filled. The lake has been known to dry up completely on occasion.
Two large islands grace the surface of Lake Pichola. Jag Niwas Island is better known as the Lake Palace Hotel. The four-acre island is completely covered by a palace converted to a luxury hotel which plays host to India's Bollywood stars and elite visitors. This famous structure is often recognized as a shooting location in the James Bond movie, Octopussy. Jag Mandir holds the Lake Garden Palace. Several smaller islands also serve various purposes, with Arsi Vilas a haven for birds; a platform, Natni-Ka-Chabutra, has its own legend involving a drowned tightrope walker and a curse she placed on the descendants of Maharana Jawan Singh.
A second small lake was constructed on the southeast side of Lake Pichola. Although named Doodh Talai, the small lake is more of an inlet for an incoming stream and contributes its water to the larger Lake Pichola. Two parks grace the shore near Doodh Talai. Marble temples, palaces, family mansions, bathing ghats and nature reserves have built up around Lake Pichola. Sitamata Game Sanctuary graces its western shore. And Udaipur itself is home to a number of museums depicting the extravagant lifestyles of the royal families of the Rajput era. Some of these are City Palace museum, Bhartiya Lok Kala Museum, Shilpgram Museum, Ahar Museum and a vintage car museum.
The City Palace of Udaipur graces the eastern shore of Lake Pichola, an imposing and somewhat eclectic structure with additions built by a succession of rulers. Boats plying the lake carrying tourists and sightseers depart from here. Jagdish Temple built in the Indo-Aryan architectural style is located in the City Palace complex. Its architecture includes beautifully carved pillars, decorated ceilings, painted walls and beautiful halls; it is one of the major tourist attractions in Udaipur. South of the palace is the hill known as Machhala Magra where part of the old city wall and the small fort of Eklinggarh can still be seen. Beyond this the former Khasi Odi, or hunting lodge of the Maharanas, is now a hotel.
Udaipur is a renowned tourism destination where visitors tour the waterways by boat, visit the lush gardens watered by the lakes, and schedule exclusive palaces-turned-hotels for weddings and celebrations. All types of lodgings are available in a wide range of prices. Some of the more elaborate are quite highly-priced, but there are other smaller hotels and guest houses that will suit most visitors' needs and budgets. The city is well-endowed with restaurants and nightlife. Excursions can be taken to other unique locations in the surrounding area or to visit small villages along the lakeshore for festivals and fireworks.
Lake Pichola has suffered from declining water quality due to a combination of growing population with poor sanitary systems, irrigation run-off and the generally saline soil of the shallow lakebed. Most fishing is no longer viable, and many native species of fish no longer can live here. Increased focus on improving water quality has led to major improvements in sewer systems and pollution prevention from run-off. Irrigation from the lake has been halted and water quality is improving rapidly. Invasive aquatic plants have been removed, and new sewer projects are quickly being implemented. Udaipur knows that both its past and its future depend on the viability of Lake Pichola, and the citizens are determined not to let their famous 'liquid assets' be degraded. As much of the population still depends on Lake Pichola for bathing and laundry, they are most conscious of any negative change in the water's quality. Improved scientific monitoring and more money for remediation projects are producing rapid results. The Venice of The East intends to maintain its proud reputation as the most popular destination in Rajasthan. They hope you will visit soon so they can introduce you to their beautiful lakes.
Custom Lake Pichola house decor
Read our full review of these personalized lake house signs.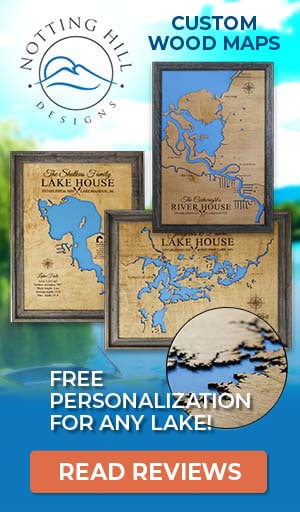 Things to do at Lake Pichola
Vacation Rentals
Fishing
Boating
Hunting
Birding
Museum
---
Best hotels and vacation rentals at Lake Pichola
The Lake Pichola map shown above is a simple and stress-free way to search for trip accommodations. But if you want to take a deeper dive to find the ideal waterfront home, cabin, condo, hotel or resort, visit our favorite lodging partners by clicking the buttons below.
Note: These are affiliate links so we may earn a small commission if you book through them. While there is no extra cost to you, it helps provide resources to keep our site running (thank you)! You can read our full disclosure policy here.
---
Lake Pichola photo gallery
New photos coming soon!
Lake Pichola statistics & helpful links
We strive to keep the information on LakeLubbers as accurate as possible. However, if you've found something in this article that needs updating, we'd certainly love to hear from you! Please fill out our Content Correction form.
Advertise your Lake Pichola vacation rental
LakeLubbers will soon offer homeowners and property managers the opportunity to to showcase their vacation rentals to the thousands of lake lovers searching our site daily for accommodations. If you'd like additional details, please contact our advertising team here.
Looking for the Lake Pichola forum?
LakeLubbers previously offered visitors the ability to create accounts and participate in lake forums. When we overhauled the site's content management system in 2021 we had to disable those features. We're evaluating options and welcome your comments and feedback here.
We also encourage you to join our lake-lovin' community on Facebook and Instagram!
Spread the word! Share our Lake Pichola article with your fellow Lake Lubbers!