Lake Pauline, Vermont, USA
Lake Locations:
USA - New England - Vermont - Southern Windsor County -
Also known as:  Reservoir Pond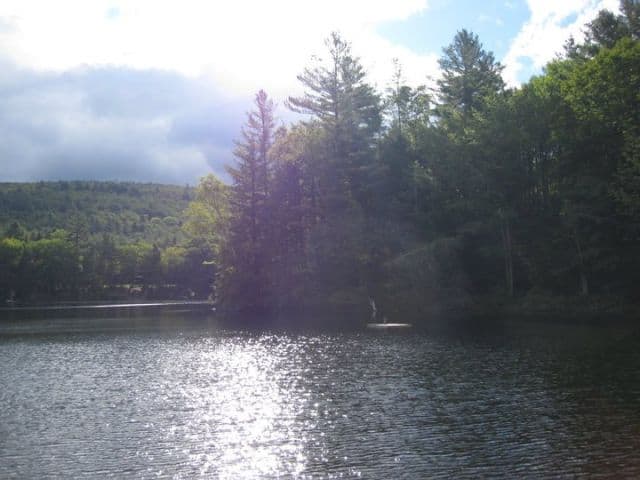 Lake Pauline is a great example of creating an asset out of a by-product of technology. This small lake in Vermont's Southern Windsor County region was created as a reservoir pond when the Black River was dammed. Although the larger part of the pond is located near the Lake Rescue dam, the narrow southern reach of the reservoir is the part usually referred to as Lake Pauline. Early histories don't mention this lake, or the reservoir pond at all, but records show there was a dam at Lake Rescue by 1835. That dam is under the control of the Lake Rescue Association. At the south end of the lake, Reservoir Pond Dam is owned and maintained by the Town of Ludlow and was originally built for hydro-power. The lake now serves as a recreational lake.
The Ludlow area contains four lakes in a chain of lakes: Lake Pauline, Lake Rescue, Echo Lake, and Amherst Lake. The area was famous for abundant water-power with which to operate woolen, grain and saw mills soon after the town's founding in 1761. At the time, this part of Vermont was still a part of New Hampshire. The State of Vermont officially says Lake Pauline has 32 acres. Boaters can traverse the entire length from dam to dam.
Vermont water regulations do not permit motorized craft on Lake Pauline. This prevents Lake Pauline from becoming a haven for water skiing and jet skiing along the long stretch downriver from the dam. This makes it highly attractive for small sailboats, paddle-boats, canoes and kayaks. Residents and visitors to Lake Pauline enjoy swimming and bird-watching along the wooded shore. Lake Pauline is close enough to the business district that all services are quickly reached. Most of the eastern lakefront holds homes, many of them year-round residences. Highway 100 forms most of the western shoreline behind a tree buffer zone. New condos with shared lake rights have opened up Lake Pauline to more residents and visitors in this highly-desirable area.
There is no true public access on Lake Pauline. A state boat launch on Lake Rescue forces visiting water craft to portage the road at the dam to reach Lake Pauline. That doesn't stop anglers from fishing from small rowboats, canoes and kayaks on the narrow pond. Lake Pauline holds brown trout, rainbow trout, perch, pickerel and a variety of sunfish, making it a favorite fishing hole for children. A variety of waterfowl visit the lake seasonally, and a few ducks and geese call it home the majority of the year, paddling happily along with the kayakers and canoeists.
The Ludlow area is famous as a recreation wonderland. Nearby Okemo Mountain holds one of Vermont's premier ski resorts, drawing thousands of visitors each year. The area along the Black River holds a variety of craft shops, art galleries, farm markets and antique shops. There is an operational sugaring house right on Lake Pauline next to the highway. The town of Ludlow houses a complex of shops and restaurants in a historic mill downtown. Several public golf courses serve the area. The Calvin Coolidge State Historic Site containing several restored period building is less than ten miles up Route 100.
Outdoor adventures abound near Lake Pauline. In the immediate area, one can find horseback riding stables, hiking on public lands, sledding and cross-country skiing. The VAST snow trails can be accessed less than a mile from Lake Pauline for snowmobile trekking. Okemo State Forest, Plymsbury Wildlife Management Area, Coolidge State Park, Coolidge State Forest and Camp Plymouth State Park can all be accessed within ten miles. All have a variety of hiking, cycling and nature trails to explore. Both kayaks and mountain bikes can be rented nearby. The two state parks offer camping and picnicking. Camp Plymouth on Echo Lake offers boat rentals, swimming and fishing on the lake.
Lake Pauline is the perfect spot for a convenient lake vacation. Vacation rentals can be found both directly on the lakefront and farther afield. Private cottage rentals are common on all of the lakes in the Black River chain. The area holds a number of bed-and-breakfasts, inns and hotels along Route 100. It's all a matter of deciding which amenities you choose to enjoy. Real estate is available, both as single residences and condos in newer developments. Lake Pauline offers the best of both historic and contemporary attractions and is a great way to spend a weekend or longer. Won't you come to explore little Lake Pauline? It'll soon play a big part in your vacation plans!
Things to do at Lake Pauline
Vacation Rentals
Fishing
Boating
Sailing
Swimming
Canoeing
Kayaking
Water Skiing
Golf
Picnicking
Hiking
Biking
Cross-Country Skiing
Snowmobiling
Horseback Riding
Wildlife Viewing
Birding
State Park
State Forest
Antiquing
Fish species found at Lake Pauline
Brown Trout
Perch
Pickerel
Pike
Rainbow Trout
Sunfish
Trout
---
Lake Pauline Photo Gallery
Lake Pauline Statistics & Helpful Links
Spread the word! Share our Lake Pauline article with your fellow Lake Lubbers!