Lowell Lake, Vermont, USA
Also known as:  Great Pond
Welcome to the ultimate guide for history, statistics, local fun facts and the best things to do at Lowell Lake.
If you're considering Lowell Lake vacation rentals, we've made it super easy to explore accommodations and nearby hotels using the interactive map below. Simply click on a listing to compare similar properties, best rates and availability for your dates. Or keep scrolling to read our Lowell Lake guide!
Lowell Lake visitor and community guide
One of Vermont's newest state parks is the home of Lowell Lake. The small 102-acre lake has been a silent observer to the entire history of the town of Londonderry and the Southern Vermont region. Although dammed at some point, apparently to power a sawmill, it is suspected that a smaller natural lake existed here prior to European settlement. When the first recorded settlers arrived here, a small community named Kent was formed; the first town meeting was held at Great Pond, as Lowell Lake was then called. Londonderry's first cemetery, dating to the Revolutionary War, is located near the dam. Although little development occurred at the lake itself, the former Great Pond was a quiet oasis for fishing, boating and swimming among the townspeople. At one time in its history, two resort camps owned property along the western shoreline and welcomed hundreds of visitors.
The State of Vermont was lucky enough to be gifted a portion of the southern shore, including the dam, in the late 1970s. Recently, the shoreline at the northern end of the pond was purchased, giving the new state park an expanded area in which to plan. A small car-top boat launch area with a picnic table or two already exists near the dam. The additional property adds nearly the entire shoreline to the park, along with four of the five small islands on the lake. Along with that property comes the two unused camps, which will be refurbished and re-purposed. One main building is slated to become a community meeting room with kitchen. Several of the old campers' cabins that are in reasonable shape may be refurbished as rentals for visitors to use overnight. A three-and-a-half mile path has already been blazed around the lake, skirting wetlands and fragile bogs. Plans call for additional walking trails, a park ranger in residence, and possibly nature seminars and guided tours. Already locals find the gravel access roads ideal for bicycling and nature observation. The local area supports deer, bear, bobcat, moose, turkey, ducks, geese, rugged grouse, woodcock, otter and beaver, although not all of them will be regularly seen.
The clean waters of Lowell Lake hold largemouth bass, yellow perch and pickerel. More species may be stocked in the future once studies determine what kinds of fish would thrive in the lake. The lake contains no invasive species, and concerted efforts are planned to keep it from being infested. Native clams and crustaceans attest to its purity. Local anglers have been coming to Lowell Lake to fish for many years and enjoy the solitude and uncrowded lake, whether they catch anything or not. The State has designated Lowell Lake a 'quiet' lake; only electric motors are allowed. Most visitors show up with a canoe or kayak to paddle the serene shoreline and commune with nature. Since the Londonderry area is already a well-known outdoor sports destination, it is expected that the young park will receive plenty of visitors. Parking areas and access are being carefully planned to assure the park remains an uncongested refuge.
The area around Lowell Lake developed a reputation for outdoor fun early. Besides the two resort properties that once graced its shores, nearby Bromley Ski Area opened for business in 1936, with Magic Mountain and Stratton Mountain ski areas following in the early 1960s. A number of outdoor activities became popular in the area, and services to the tourism trade now contribute a large portion of the area business revenue. The vast Vermont snowmobile trail network passes very close to Lowell Lake, and the growing networks of trails and hiking paths in the area already draw cross-country skiers, snowshoe hikers and hunters. Less than ten miles from Lowell Lake, the Hapgood State Forest offers myriad camping, fly fishing and hiking opportunities. Part of the Green Mountain National Forest, the famed Appalachian Trail crosses the Hapgood area. It is only fitting that the Trail cross near Londonderry, as the original 'Long Trail' was first envisioned at nearby Stratton Mountain. Numerous small hiking groups access the Trail regularly for a short distance. Lowell Lake State Park is yet another destination they can add to their itinerary.
The region near Lowell Lake isn't just for active outdoor lovers; a number of country inns, craft shops, art galleries and farmers markets will delight those who would prefer shopping to bird-watching. The Londonderry area has a number of summer residents, and there are a variety of resorts and rental cottages to suit every taste. Day trips around the area often include a visit to the world-famous Vermont Country Store in nearby Weston. Other visitors enjoy attending the 75-year old Weston Playhouse where performances are produced several nights a week in summer. As the area is a popular location for children's summer camps, many parents drop children off at camp and then enjoy an adults-only couple's retreat at one of the local bed-and-breakfasts or even one of the luxury resorts. The several historical societies in the area welcome many visitors to tour historic homes, research early colonial family records, and marvel at antique tools and household items. There are plenty of golf courses, unusual restaurants and eclectic music venues to suit every taste, making the area popular with all age groups.
Finding vacation lodgings is as simple as a call to the local Chamber of Commerce. A large number of private cottages and guest cabins join the hotels and campgrounds in the area. Real estate is available in the neighborhood of Lowell Lake, although not on the lakefront itself. Only a couple of hours from Springfield, Massachusetts and even closer to Albany, New York, Lowell Lake State Park is convenient for a weekend spent hiking and kayaking. Come visit the little park that's been hiding in plain sight for all of these years. You'll never forget the experience.
Custom Lowell Lake house decor
Read our full review of these personalized lake house signs.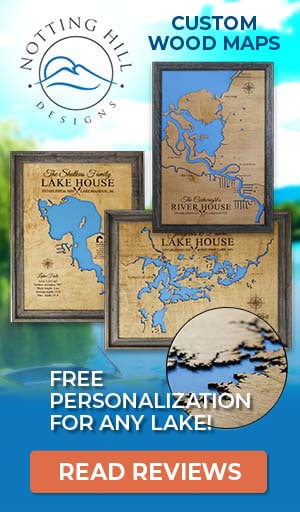 Things to do at Lowell Lake
Vacation Rentals
Fishing
Boating
Swimming
Canoeing
Kayaking
Golf
Camping
Campground
Picnicking
Cabin Rentals
Hiking
Biking
Cross-Country Skiing
Snowmobiling
Hunting
Wildlife Viewing
Birding
State Park
State Forest
National Forest
Antiquing
Shopping
Fish species found at Lowell Lake
Bass
Black Bass
Largemouth Bass
Perch
Pickerel
Pike
Yellow Perch
---
Best hotels and vacation rentals at Lowell Lake
The Lowell Lake map shown above is a simple and stress-free way to search for trip accommodations. But if you want to take a deeper dive to find the ideal waterfront home, cabin, condo, hotel or resort, visit our favorite lodging partners by clicking the buttons below.
Note: These are affiliate links so we may earn a small commission if you book through them. While there is no extra cost to you, it helps provide resources to keep our site running (thank you)! You can read our full disclosure policy here.
---
Lowell Lake photo gallery
New photos coming soon!
Lowell Lake statistics & helpful links
We strive to keep the information on LakeLubbers as accurate as possible. However, if you've found something in this article that needs updating, we'd certainly love to hear from you! Please fill out our Content Correction form.
Advertise your Lowell Lake vacation rental
LakeLubbers will soon offer homeowners and property managers the opportunity to to showcase their vacation rentals to the thousands of lake lovers searching our site daily for accommodations. If you'd like additional details, please contact our advertising team here.
Looking for the Lowell Lake forum?
LakeLubbers previously offered visitors the ability to create accounts and participate in lake forums. When we overhauled the site's content management system in 2021 we had to disable those features. We're evaluating options and welcome your comments and feedback here.
We also encourage you to join our lake-lovin' community on Facebook and Instagram!
Spread the word! Share our Lowell Lake article with your fellow Lake Lubbers!