Lake Overholser, Oklahoma, USA
Lake Locations:
USA - Southwest - Oklahoma - Frontier Country -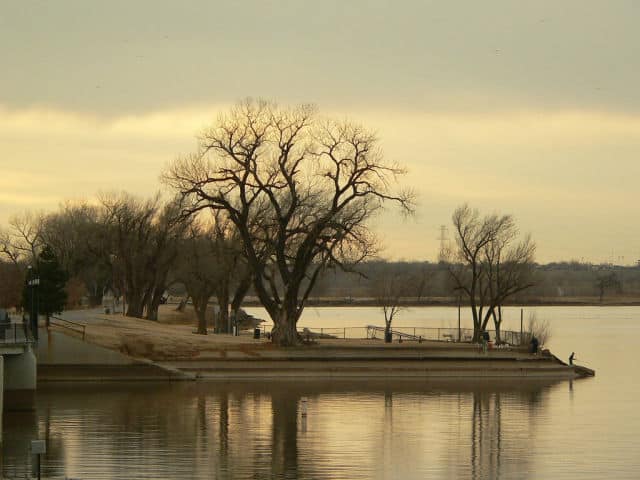 Constructed in 1919, Lake Overholser is the oldest and smallest of three reservoirs that serve Oklahoma City, Oklahoma. Connected to nearby Lake Hefner by a canal, this 1,500 acre lake was built to support a still operating water treatment plant. Named after the city's 16th mayor, Ed Overholser, Lake Overholser has several boat ramps, docks, a covered fishing pier, handicap facilities, picnic areas and more.
Fishing is one of Lake Overholser's primary attractions, and there is a covered fishing pier on the southwest side of the lake. The lake is rather shallow with an average depth of 6 feet and only 13 feet at its deepest point, but the fish don't seem to mind. The lake is home to a large population of black bass, sand bass, striped bass, hybrid striped bass, sunfish, catfish, crappie, walleye, and saugeye.
Boat ramps are located on the east, south and southwest sides of Lake Overholser. Sailing, motor boats and jet skis are all allowed, but "primary contact" is not. Oklahoma City requires additional fishing and boating permits on Lake Overholser along with a state permit.
A paved road around the lake offers easy access to seven miles of shoreline. Lake Overholser differs from neighboring Lake Hefner in having an extensive cattail marsh at its north end which extends north across US 66 for about half a mile. The marsh attracts thousands of birds in late summer and fall. Lake Overholser lies within Oklahoma's Frontier County tourism region, centrally located at the crossroads of I-35, I-40 and I-44, which makes it easily accessible from any direction.
The Overholser Dam on the southeast corner of the lake was added to the National Register of Historic Places in 2007. The dam is open to pedestrians and offers a beautiful view of the lake.
For picnickers, the southeast side of Lake Overholser is the place to go. There is a covered picnic pavilion available with advanced reservations. Picnic tables and grills can also be found in this area. For sports enthusiast, there are soccer fields and tennis courts. A multi-use trail is located on the east side of the lake.
Lake Overholser is located just southwest of Lake Hefner, a major recreational destination in Oklahoma City known for its excellent sailing, picnic facilities, and fishing. The lake hosts weekend sailboat races and is also known for its incredible jogging and biking trails which circle the entire lake. On the southwest side of Lake Hefner is the Lake Hefner Golf Course which features a north and a south course. If you're thinking of paying a visit to Lake Hefner, be sure to check out the East Wharf Lighthouse, probably the most well known feature on the lake.
The Stinchcomb Wildlife Refuge lies north of Lake Overholser and follows the North Canadian River past Morgan Road into the city of Yukon. This untouched area stretches north for almost 1,000 acres and it has changed little in the last 200 years. Hundreds of birds, small mammals and deer make their homes in the refuge. The best way to enjoy the refuge is by foot, mountain bike, kayak or canoe. Several trails suitable for hiking meander through the refuge linking four small lakes to the river. There are also several geocaches hidden in the refuge for those seeking a different kind of outdoor entertainment.
East of Lake Overholser, a seven mile portion of the North Canadian River flowing through Oklahoma City was renamed the Oklahoma River in 2004.This portion has several locks that have created a series of small lakes in which rowing, kayaking, and canoeing regattas take place. 13 miles of multiuse, asphalt trails line the north and south banks of the river. Cruises take passengers the entire length of the river, one way or round trip.
If fishing Lake Overholser isn't your pleasure, nearby Oklahoma City, the state capital, has a number of museums, theaters, a zoo, a water park, a baseball park, and several golf courses. There is also shopping, fine dining and plenty of entertainment. You can even take a water taxi along the Bricktown Canal. The boats can be boarded to go in either direction every 10 to 15 minutes. The water taxi works like a regular taxi and will stop at any of the shops or restaurants on the canal. The most popular stop is the front door of Bass Pro Shops Outdoor World, one of the world's largest suppliers of hunting and fishing gear.
For anyone seeking an outdoor adventure, or perhaps just a rendezvous with nature, vacation rentals in and around Oklahoma City will allow you some quality time with Lake Overholser and its nearby attractions.
Things to do at Lake Overholser
Vacation Rentals
Fishing
Boating
Sailing
Canoeing
Kayaking
Jet Skiing
Golf
Tennis
Picnicking
Hiking
Biking
Hunting
Wildlife Viewing
Birding
Museum
Shopping
Fish species found at Lake Overholser
Bass
Black Bass
Catfish
Crappie
Perch
Saugeye Perch
Striped Bass
Sunfish
Walleye
---
Lake Overholser Photo Gallery
Lake Overholser Statistics & Helpful Links
Spread the word! Share our Lake Overholser article with your fellow Lake Lubbers!