Lake Ouderkerk, North Holland, Netherlands
Lake Locations:
Also known as:  Ouderkerkerplas, Ouderkerk Lake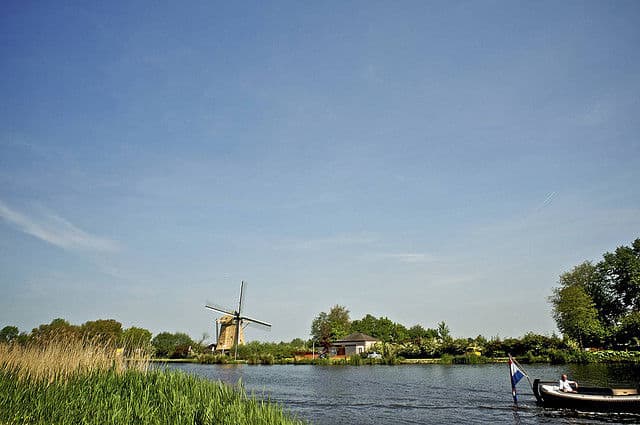 Lake Ouderkerk graces the Amsterdam 'Green Belt' of Amstelland like a shimmering mirage. This lovely man-made lake was dug during sand extraction for highway building on one of the famed polders of North Holland and soon developed into the perfect family swimming spot near the city. The surrounding area is below sea level, and the 140-foot deep sand pit quickly created one of the deepest lakes in the Netherlands. Although considered a freshwater lake, seepage of sea water from the nearby North Sea makes the water briny enough that it seldom freezes. Nearly all of its fresh water comes from precipitation.
The northern part of Lake Ouderkerk, properly named Ouderkerkerplas, was partially filled with concrete rubble. This shallower portion now sports two swimming beaches complete with sandy sunbathing areas and playgrounds. Located about three miles from Amsterdam, Lake Ouderkerk is a popular after-work destination for city residents. A day camping area offers shelter, shade and convenience for visitors. A water sports club caters to those who enjoy sailing, wind surfing and other activities. One boat ramp allows for the launch of small sailboats, row boats, canoes and kayaks. A spot along the shore is open for diving, and many areas along the shore are very deep or drop off quickly. Most boating and windsurfing take place on the southern, deeper parts of the lake.
Walleye, pike, perch and zander live in Lake Ouderkerk. However, many areas in the Netherlands are open only to 'fishing clubs', so visitors should check local regulations before attempting to fish. Fishing licenses are required. Local fishermen often use float tubes rather than boats to get to their favorite fishing holes. Although the lake does not freeze, it is closed from October 1st to April 1st to provide privacy and solitude to the large numbers of waterfowl that winter and nest here. Many of the birds stay year-round, and birding is a major attraction at Lake Ouderkerk.
A large number of walking, cycling, and equestrian trails circle Lake Ouderkerk and connect to other trails in the area. North Holland's unique system of dikes and polders (low-lying, drained lands) creates easy foot paths and pedal paths along the tops of many dikes. One of the most enjoyable pathways encircles the nearby De Ronde Hoep nature area. Used for generations as a grazing and flood control area, De Ronde Hoep has been redeveloped as a 400+-acre meadow bird sanctuary. Managed by the Landscape North Holland Foundation, water levels have been adjusted to provide the best habitat for grassland birds. With the addition of the tens of thousands of water birds wintering and nesting at adjacent Lake Ouderkerk, no birding fan can pass up a trip to the Amstelland bird sanctuaries. Ronde Hoep was nominated in 2010 to the Tentative List at World Heritage, a first step for inclusion on the World Heritage List of UNESCO. The first attempt was not successful, but plans are in the works for a second attempt.
The old village of Ouderkerk aam de Amstel is the only settlement on the shore of Ouderkerkerplas. First recorded in the 12th century, the old village section is historic and scenic, with several architecturally-significant churches, a 16th century ferry manned by volunteers, and the lovely Amstel River flowing through the town. The oldest Jewish cemetery in North Holland is located here. A nearby tourist farm with petting zoo is always a hit with children. The oft-photographed Rieker windmill, built in 1636, is now a private home but can be admired from the outside. Ouderkerk aam de Amstel has become a noted location for a wide variety of restaurants and cafes offering fine dining, small shops and guest accommodations. Several hotels, guest stays and holiday apartments are available. A popular mode of arrival is a boat cruise down the Amstel River. Amsterdam residents often walk or run the dike-top paths to Ouderkerk aam de Amstel for a special brunch or lunch before heading back to the city. The walking and cycling paths around Ouderkerkerplas are regularly the scene of marathons and races.
The large city of Amsterdam is a cosmopolitan location for many scientific and academic retreats and meetings. The city holds several excellent museums, many hotels and spa-style accommodations. The Van Gogh Museum holds many of the artist's works and artifacts from his life. A second art museum stop is nearly mandatory at the Rijksmuseum which holds a large collection of Dutch art. The Anne Frank House is open for tours. Boat cruises along the canals are always a great way to see the city and nearby countryside. Regular tours by bus take sightseers to several historic windmills, and walking tours cover the most interesting areas of this old city. Although better known for its abundant nightlife, the beaches along the North Sea are filled with swimmers and sunbathers every sunny summer day.
As a land reclaimed from the sea, most of North Holland is surrounded by dikes, polders and the remnants of old peat bogs. Controlling water and maintaining a delicate balance between nature, civilization, and the always-encroaching saltwater are a never-ending marvel of human ingenuity and adaptation to local conditions. Places like Lake Ouderkerk and De Ronde Hoep give visitors the opportunity to view the systems of canals, dikes, pumps and channels that allow the Dutch to enjoy this man-made paradise for generation after generation.
Things to do at Lake Ouderkerk
Vacation Rentals
Fishing
Boating
Sailing
Swimming
Beach
Canoeing
Kayaking
Wind Surfing
Tubing
Camping
Hiking
Biking
Horseback Riding
Birding
Museum
Playground
Fish species found at Lake Ouderkerk
---
Lake Ouderkerk Photo Gallery
Lake Ouderkerk Statistics & Helpful Links
Spread the word! Share our Lake Ouderkerk article with your fellow Lake Lubbers!