Frisian Lakes, Friesland, Netherlands
Lake Locations:
Netherlands - Friesland -
Also known as:  Sneekermeer, Tjeukemeer, Heegermeer, Fluessen, Groote Brekken, Slotermeer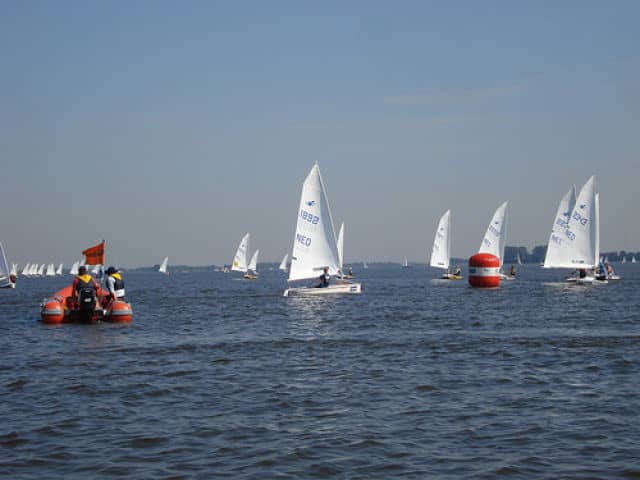 Sailors the world over have heard of the Frisian Lakes. The most famous of these is the Sneekermeer. This group of about 30 lakes are man-made, the result of peat harvesting in the lowlands of Friesland (now officially named Fryslan) in the northwestern corner of the Netherlands. Much of the land has been below sea level or near sea level since the last glacier disappeared. Originally a land of wooded swamps and bogs, early Frisians built their homes and villages on man-made mounds which quickly became islands during flooding.
When peat harvesting became profitable in the Middle Ages, huge areas of boggy peat were dug for sale, with the remaining land below the level of the ground water. Eventually much of central Fryslan was filled with shallow lakes, some of considerable size. These shallow lakes average less than six feet in depth and are about ten feet below sea level. Surrounding land is kept dry by pumping out excess water, and the lakes themselves are a necessary feature making Fryslan habitable.
The largest and most important Frisian lakes are the Groote Brekken, the Sneekermeer, the Tjeukemeer, the Heegermeer, the Fluessen and Slotermeer. All are popular locations for holidays and water sports, particularly the popular sport of sailing. The surrounding countryside is mostly agricultural, and the area around and between the lakes dotted with small villages, mostly inhabited by people speaking the Frisian language. The largest city in the vicinity is the City of Sneek, connected to the Sneekermeer by canal. The Sneekermeer is so important as a water recreational area that at least 13 marinas are located near Sneek alone. The city is home to about 130 water-sports businesses. The Sneekermeer is home to several waterparks, which are NOT water amusements parks but instead colonies of waterfront vacation rentals, often with a deck above the water and a dock for the vacationer's boat.
Some areas are set aside for sports such as windsurfing, kite-surfing, and water-skiing. Sailing is usually the sport of choice, and local marinas rent all types of sailboats from the smallest to much larger boats with cabins and sleeping facilities. Kayaks and dinghies are popular methods of water transportation, and several areas offer great swimming. These boats can be rented for the entire season. The marinas also rent small motorized boats, motor launches seating up to eight people, and offer captained cruise tours. Ferries transport cars and people from shore to shore in several areas. Many of the lakes are connected via navigable canal, some with locks or drawbridges. The Sneekermeer is often the site of regattas and sailboat races. The biggest event is Sneekweek, where sailors from all over Europe arrive to take part in one of the most popular races on the Continent. The entire week is a series of exciting events and pastimes geared toward water-loving visitors. In winter, ice skating and ice boating draw winter sports fans, often to engage in competitions.
Not all adventures in the Frisian Lakes area are based on water, however. The flat, pastured landscape is great for bicycles, which can be rented in many places. Many parks and nature trails in the area offer opportunities to observe nature in a landscape often ablaze in meadow flowers. The rushes and pond weeds in the ditches and around the lakes offer excellent habitat for waterfowl and wading birds. Over 11,000 acres are set aside near the Sneekermeer as a Natura 2000 site. The mixed wetland and grassland reserve provides migration feeding grounds for the pink-footed goose, little bean goose, white-fronted goose and barnacle goose. During migrations, huge numbers of such waterfowl, marsh and meadow birds as garganey, the black-tailed godwit and yellow wagtail, ruff, bittern, marsh harrier, bluethroat and sedge warbler all stop to feed in the marshes, grasslands and ditches. The City of Sneek operates a museum of ships and sea-faring and a museum of model trains to fill the occasional rainy afternoon.
The many villages around the Frisian Lakes are of interest to photographers and those with an interest in history. Many are hundreds of years old, and many of the villagers speak a Frisian dialect based on 'Old' Dutch from before the 16th century, resembling Low German. Fryslan was for most of its history a separate, independent country and didn't come under the rule of first Germany and later Spain until 1498. Used to their independence, the Frisian peoples never surrendered to a feudal system of land ownership and still proudly raise their particular breeds of Frisian cattle and Friesian black horses known the world over. Many old churches and municipal features are photo-worthy and the landscape picturesque and serene.
Old customs are proudly practiced in many of the villages, with activities such as ditch-vaulting competitions, a form of pole-vaulting across ditches, a handy skill in a land filled with watery canals. Other competitions include pillow-fights on a horizontal ship's mast across water until one participant falls in, and ceremonial parades in which couples in traditional finery riding elaborately-decorated two-wheel carts pulled by beautiful black Friesian horses attempt to snare a ring dangling above the course at a brisk trot. A less staid version of grabbing the ring is performed mostly by young men who attempt to grasp a ring attached to a board holding a large tub of water while riding along a narrow track. If they miss the ring but dislodge the board, they are doused with the water. These and other charming and hilarious events are a real treat to the lucky visitor who arrives in time to watch. Many holiday visitors schedule their Frisian Lakes vacation to catch a few of their favorite events. The villages are geared toward tourists and assure a variety of both attractive goods and quaint cafes to feed the most voracious shopping appetite.
Visiting the Frisian Lakes and Sneekermeer couldn't be easier. Besides the large numbers of holiday villas located in the waterparks, many private guest houses and apartments can be rented through travel agents, local municipalities and private owners. Campgrounds, bed-and-breakfasts, inns and hotels all provide lodgings to meet every need. No need to bring your own boat; you can rent exactly what you want. Start planning your Frisian Lakes holiday.
Things to do at Frisian Lakes
Vacation Rentals
Boating
Sailing
Swimming
Kayaking
Water Skiing
Kite Surfing
Camping
Campground
Cabin Rentals
Hiking
Ice Skating
Biking
Horseback Riding
Birding
Museum
Shopping
---
Frisian Lakes Photo Gallery
Frisian Lakes Statistics & Helpful Links
Spread the word! Share our Frisian Lakes article with your fellow Lake Lubbers!