Lake Markermeer, Flevoland & North Holland, Netherlands
Also known as:  Markermeer
Welcome to the ultimate guide for history, statistics, local fun facts and the best things to do at Lake Markermeer. If you're considering Lake Markermeer vacation rentals and hotels, we've made it super easy to compare and book using the interactive map below. Or keep scrolling to read our Lake Markermeer Guide!
Lake Markermeer Visitor and Community Guide
Markermeer is a lake that was not meant to stay; however, it is now a popular vacation getaway and nature reserve. The nearly 173,000 acre lake was once known as the Zuiderzee, a saltwater inlet of the North Sea. Construction of the Afsluitdijk dike and causeway in 1932 formed the freshwater Lake IJsselmeer. Later, Lake IJsselmeer was split with completion of the Houtribdijk dam and causeway in 1975, forming what is now known as Markermeer and connecting the cities of Enkhuizen in North Holland province and Lelystad in Flevoland province. Today, Lake Markermeer is a freshwater playground in the north central region of the Netherlands, bordering the provinces of North Holland and Flevoland.
In 2004, Lake Markermeer became a protected nature reserve due to its bird habitat. Birds are not the only creatures that benefit from this body of water; nature lovers of all kinds flock to Lake Markemeer to partake in many recreational activities. Markermeer, along with Lake Ijsselmeer, offers many sailing routes for yachtsmen and sailboat enthusiasts. The unpredictability of the water will provide an adventurous challenge and offer different sailing conditions each time boaters venture out. Waves are generally short on Lake Markemeer, and there are days when the water is calm and makes a peaceful day for sailing.
With the waters of Lake Markemeer and Lake IJsselmeer cut off from the sea, fishing which was once a huge industry in many towns along the shores of the Zuiderzee is no longer prosperous. However, the quaint old fishing towns are now tourist attractions and are great places to sightsee. Cobblestone lanes and giant windmills greet visitors as they travel through the towns. Bicycling is very popular and is a wonderful way to see beautiful landscapes and views of Lake Markermeer. A stop in Volendam will provide tourists many restaurants where they can enjoy some Danish cuisine. Afterwards, sightseers can take a ferry from Volendam to Marken, an island on Lake Markermeer. The island is quaint with lush green pastures where it is common to find sheep grazing. Visitors to Marken enjoy the unique island ambience and views of the 1839 lighthouse, the Paard van Marken.
Lake Markemeer visitors who crave city life will find what they are looking for in Amsterdam, at the south end of the lake. Cafes, museums and a canals that run throughout the city will leave tourists eager to see more. Visitors can see the house where Anne Frank hid during WWII, or take a peek at the art hanging in the Van Gogh Museum or the Rijksmuseum. Then they may dine at one of the many fine restaurants that can be found along the canals.
With a city like Amsterdam, it is not hard to find the perfect vacation rental. However, for a more rustic vacation getaway from the hustle and bustle of the city, visitors will find many campgrounds around Lake Markemeer. Campers can enjoy the peaceful atmosphere with close proximity to the beautiful lake.
Cold weather should not discourage people from traveling to the Netherlands or to Lake Markemeer. The cold temperature freezes over many of the canals and rivers that run throughout the countryside, providing miles of ice skating surface. The winter months also provides opportunities for snow sledding, cross country skiing and snow shoeing.
In recent years Lake Markemeer has become a buffer against floodwaters and droughts. When drought hits, the surrounding area of Amsterdam relies on water from Lake Markermeer. Since 1975, silt build-up on the bottom of the lake reduced water quality and wildlife habitat. The government of the Netherlands has tackled this ongoing problem by creating an archipelago of artificial islands from the silt. The islands are called the Marker Wadden for the Wadden Islands off the country's northern coast.
Visitors from all over the world enjoy Lake Markemeer's beauty and recreational activities. Friends, families and honeymoon sweethearts can walk along cobblestone lanes, ride bicycles across the dikes, and enjoy the sights and sounds of Amsterdam, nicknamed the Venice of the North.
Custom Lake Markermeer House Decor
Read our full review of these personalized lake house signs.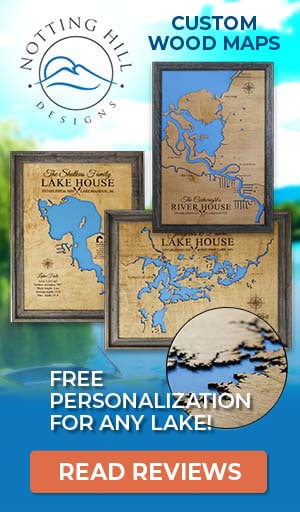 Things to Do at Lake Markermeer
Fishing
Boating
Sailing
Camping
Campground
Ice Skating
Biking
Cross-Country Skiing
Wildlife Viewing
Birding
Museum
Playground
---
Best Hotels and Vacation Rentals at Lake Markermeer
The Lake Markermeer map shown above is a simple and stress-free way to search for trip accommodations. But if you want to take a deeper dive to find the ideal waterfront home, cabin, cottage, condo, hotel or resort, visit our favorite lodging partners by clicking the buttons below.
Note: These are affiliate links so we may earn a small commission if you book through them. While there is no extra cost to you, it helps provide resources to keep our site running (thank you)! You can read our full disclosure policy here.
---
Lake Markermeer Statistics & Helpful Links
We strive to keep the information on LakeLubbers as accurate as possible. However, if you've found something in this article that needs updating, we'd certainly love to hear from you! Please fill out our Content Correction form.
Advertise Your Lake Markermeer Vacation Rental
LakeLubbers will soon offer homeowners and property managers the opportunity to to showcase their vacation rentals to the thousands of lake lovers searching our site daily for accommodations. If you'd like additional details, please contact our advertising team here.
Looking for the Lake Markermeer Forum?
LakeLubbers previously offered visitors the ability to create accounts and participate in lake forums. When we overhauled the site's content management system in 2021 we had to disable those features. We're evaluating options and welcome your comments and feedback here. We also encourage you to join our lake-lovin' community on Facebook, Instagram and Pinterest!
Lake Markermeer Photo Gallery
New photos coming soon!
Spread the word! Share our Lake Markermeer article with your fellow Lake Lubbers!