Lake Osakis, Minnesota, USA
Lake Locations:
USA - Midwest - Minnesota - Central -
Also known as:  Osakis Lake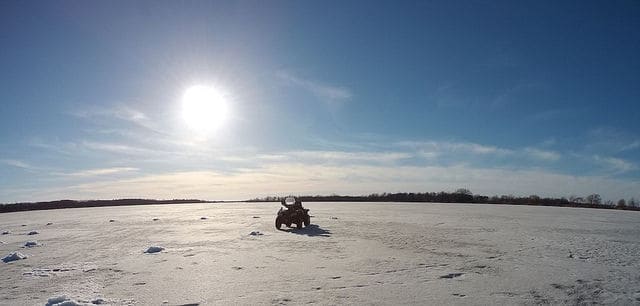 Lake Osakis, stretched across the prairie in the Central Region of Minnesota, has been a vacation destination for several generations of 'lake lubbers'. Located just two hours northwest of Minneapolis-St Paul, Lake Osakis is easily reached from Interstate 94. Lake Osakis is the primary source of the Sauk River, having a naturally occurring but now human-controlled outflow on the east side of the lake. With 52 miles of shoreline, the lake features many points, sunken islands, bays and bars. One of the larger of what is known as the Alexandria Lakes, Lake Osakis is one of many lakes locally that were gouged into the earth by the last glaciers covering Minnesota. Its name evolved from the Ojibway term, 'Asagi Sagaiiun' or 'The Sauk's Lake'. Long before the arrival of European settlers, at least three different Native American tribes lay claim to the lake and its adjacent hunting lands. When settlers arrived in the 1800s, local tribes still spoke of battles fought along its shores.
In truth, European explorers may have arrived in the area much earlier than is generally believed. The infamous Kensington Runestone was unearthed less than 10 miles from the shores of Lake Osakis. Discovered in 1898 on a local farm, archaeologists and linguists are still at odds over whether the stone with its carved runes is authentic or an elaborate forgery and hoax. Other artifacts pointing to Viking presence have been discovered in the general vicinity, and there is one historical reference to Viking explorers coming south from the Hudson Bay area in the mid-1300s. The stone may tell a true tale of the death of part of their group at the hands of local residents. Whatever the truth, the stone can be seen in Alexandria at the Runestone Museum, 10 miles to the west.
Minnesota is known for fishing. And no lake bases its popularity on fishing quite as much as Lake Osakis. In fact, Lake Osakis is known as a 'mother lake'; the Minnesota Department of Natural Resources harvests walleye eggs here yearly to stock its hatcheries for planting in other lakes. Naturally, fishermen flock to Lake Osakis to fish for walleye but also for northern pike, bluegill, crappie, rock bass, largemouth bass, yellow perch, carp, pumpkinseed, yellow bullhead and cisco. Several resorts dot the shores to cater to both fishermen and family visitors. In winter, ice skating and ice sailing join ice fishing to keep the lake in use all year round.
Lake Osakis has much to offer vacationers: sailing, windsurfing, jet skiing, water skiing, pontooning, canoeing and kayaking. The natural sandy shoreline makes for some excellent swimming beaches. Battle Point County Park is located along the eastern shore of Lake Osakis. The park is approximately 10 acres in size and forms a peninsula into Lake Osakis. Amenities include a fishing pier, boat launches, picnic tables, picnic shelter, upgraded restrooms and running water.
The small town of Osakis on the southern shore welcomes visitors, offering lakeside resorts and a variety of eating establishments. Many activities and festivals offer fun to visitors, including fishing tournaments, ice fishing tournaments, snowmobile racing, bike tour events, kids fishing tournaments, festivals, rodeos, runners' events and car shows. Near Alexandria, a summer theater offers comedies and musicals. Also near Alexandria, Lake Carlos State Park is a reserve of woods and meadows, with a sandy beach on the lake and camping facilities for tents, RVs and camping cabins.
Lake Osakis is located at the hub of two excellent Minnesota trail systems, with the Central Lakes Trail meandering 55 miles through scenic lands to Fergus Falls. This non-motorized trail for walking, biking and rollerblading becomes a groomed snowmobile trail in winter. At Lake Osakis, the trail joins the Lake Wobegon walking and biking trail which heads south to St Joseph. The combined trails cover a distance of 120 miles and form one of the longest paved trails in the country. The entire trail system is heavily used for snowmobiling and cross-country skiing in winter.
Nature lovers come to Lake Osakis to view the birds and waterfowl that frequent the area. Among the winged denizens of the lake are western and red-necked grebes, the hard-to-find Clark's grebe, pelicans, black and Forster's terns, Franklin's gulls and a variety of herons, egrets and waterfowl. In the fall, hunters arrive to hunt deer, rabbit, squirrel, pheasant and ducks. The appeal of Lake Osakis spans all seasons.
Vacation rentals are plentiful at Lake Osakis. Lodgings include resort cottages and cabins, private home rentals, bed-and-breakfast establishments and motels. Real estate around the lake is sometimes available – both as buildable lots and existing homes. So, check the runes; your future fortune could include a visit of a week or a summer at Lake Osakis.
Things to do at Lake Osakis
Vacation Rentals
Fishing
Fishing Tournaments
Ice Fishing
Boating
Sailing
Swimming
Beach
Canoeing
Kayaking
Jet Skiing
Water Skiing
Camping
Picnicking
Cabin Rentals
Hiking
Ice Skating
Biking
Cross-Country Skiing
Snowmobiling
Hunting
Wildlife Viewing
Birding
State Park
Museum
Fish species found at Lake Osakis
Bass
Black Bass
Bluegill
Carp
Cisco
Crappie
Largemouth Bass
Northern Pike
Perch
Pike
Pumpkinseed
Sunfish
Walleye
Yellow Bullhead
Yellow Perch
---
Lake Osakis Photo Gallery
Lake Osakis Statistics & Helpful Links
At LakeLubbers.com, we strive to keep our information as accurate and up-to-date as possible, but if you've found something in this article that needs updating, we'd certainly love to hear from you!
Please let us know about it on our Content Correction form.
Spread the word! Share our Lake Osakis article with your fellow Lake Lubbers!