Lake Ohau, South Island, New Zealand
Welcome to the ultimate guide for history, statistics, local fun facts and the best things to do at Lake Ohau.
If you're considering Lake Ohau vacation rentals, we've made it super easy to explore accommodations and nearby hotels using the interactive map below. Simply click on a listing to compare similar properties, best rates and availability for your dates. Or keep scrolling to read our Lake Ohau guide!
Lake Ohau visitor and community guide
Lake Ohau, in the Mackenzie Basin of the Waitaki District, South Island is an often overlooked lake and mountain paradise. The smallest of three parallel glacial lakes serving as water storage for the Waitaki hydroelectric system, Lake Ohau is connected by artificial canal to Lake Pukaki and Lake Tekapu. All three lakes are extremely clear and maintain an unusual turquoise color due to glacial 'flour' or rock dust carried from the mountains along their supplying rivers. Of the three, Lake Ohau is often considered the most scenic, nestled as it is along the base of the Ohau Range of the Southern Alps. With the Ohau Ski Fields at its back, and beautiful Lake Ohau before it, the tiny town of Ohau Alpine Village soon becomes a favorite destination of those lucky enough to stumble on it.
Fed by the braided Hopkins River, which originates on the slopes of Mount Hopkins, snow melt water travels to Lake Ohau. Eons ago, glacial gravel blocked the valley of the Hopkins River allowing Lake Ohau to form. The naturally dammed water body gains water from the Hopkins River and its main tributary, the Dobson River, along with many small un-named tributaries – all mountain-fed. The relatively short distance these rivers travel allows for extremely clear waters to enter the lake. The result is a lake with few native fish or water plants. A canal and dam system on the Ohau River outlet a short distance downstream from the lake provides water exchange between the three lakes. Power is generated at the dam. Water then flows downstream into Lake Ruataniwha and on to Lake Benmore, eventually forming the Waitaki River. The Waitaki system, powered by waters stored in these and downstream lakes, provides nearly half of all electricity for the South Island.
Around the turn of the 19th century, European settlers attempted to establish breeding populations of game fish in the region's lakes. Brown and rainbow trout were successfully introduced in to the three lakes. After many years of effort, a breeding population of sockeye salmon was induced to breed in Lake Ohau. Since that time, the salmon have been found in several other lakes and the entire river system. Due to the sparse natural feed in Lake Ohau, the salmon here tend to be smaller than those in other more productive lakes. Both salmon and trout are fished for in the lakes and the connecting canals by those familiar with the lake system. New Zealand Fisheries believe that Lake Ohau is likely under-fished as the fish population is relatively unknown to most anglers. Anglers are wising up however, and Lake Ohau is increasingly a fishing destination.
The lucky traveler that shows up at Lake Ohau usually comes to enjoy the many fine trekking trails in the area. All three lakes offer camping locations along the shores and trails, often with overnight shelters. Serious trekkers use Lake Ohau as the starting point for the many excellent tracks such as the Tekapo Walkway, the trails along the connecting canals and the many natural areas to explore within both the Ruataniwha Conservation Park and Ahuriri Conservation Park. Here walkers, hikers and mountain bikers can select from a wealth of trails according to their abilities and interests. Naturalists and birdwatchers find Lake Ohau the ideal base from which to head toward the braided river valleys and the variety of wildlife thriving in the shallow rills.
The lake is a fine headquarters from which to explore both the Southern Alps and central areas of the South Island. In winter, the adjoining Ohau ski fields provide skiing and snowboarding facilities and slopes for every level of expertise. Famed Mount Cook is located due north of Lake Pukaki and many visitors come to see this highest peal on the South Island. There are a wealth of activities available at Mount Cook, including visits to glaciers and boating on glacier lakes in summer. Helicopter rides to the top of Mount Cook can be arranged at nearby Twizel. Many visitors have themselves helicopter lifted to the top with their mountain bikes and enjoy the easier scenic downhill ride. Glider rides are available locally and prove an excellent way to view remote areas of the mountains and glaciers from above.
Nearby Lakes Ruataniwha is home to power boat racing and the small town of Twizel acts as home base for these nearby water sport events. Many of the regular attendees head to lodgings at Lake Ohau to enjoy the highly photogenic lake. The lake has become a favorite of photographers and artists who can never get their fill of the stunning vistas of the mountains reflected in the clear blue lake.
The visitor lucky enough to land one of the many vacation rentals around Lake Ohau Village soon seeks out favored kayaking and canoeing routes along the shoreline. Swimming, windsurfing and sailing are favorites on Lake Ohau, but sailors must be aware of winds coming off the mountains that can make the water quite choppy in a hurry. All sorts of watercraft are enjoyed including power boating and jet skiing. Many vacation rentals in the area are of the traditional New Zealand 'bach' or sparse lake cottage-type but others are delightful, fully-appointed quality homes with everything furnished including wireless broadband on the deck. Most are heated and available for winter lodgings for skiing enthusiasts. Real estate is available in the area for those wishing to build and existing homes can be found for very reasonable prices.
If you're trying to decide between a lake or a mountain vacation, give Lake Ohau a try. Here, you can have the best of both worlds. Mountains or lake today? You decide. At Lake Ohau, you can have both!
Custom Lake Ohau house decor
Read our full review of these personalized lake house signs.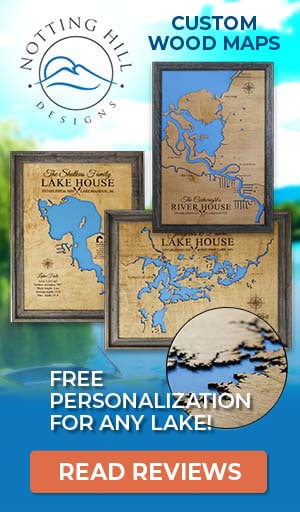 Things to do at Lake Ohau
Vacation Rentals
Fishing
Boating
Sailing
Swimming
Canoeing
Kayaking
Jet Skiing
Camping
Hiking
Snowboarding
Wildlife Viewing
Fish species found at Lake Ohau
Rainbow Trout
Salmon
Sockeye Salmon
Trout
---
Best hotels and vacation rentals at Lake Ohau
The Lake Ohau map shown above is a simple and stress-free way to search for trip accommodations. But if you want to take a deeper dive to find the ideal waterfront home, cabin, condo, hotel or resort, visit our favorite lodging partners by clicking the buttons below.
Note: These are affiliate links so we may earn a small commission if you book through them. While there is no extra cost to you, it helps provide resources to keep our site running (thank you)! You can read our full disclosure policy here.
---
Lake Ohau photo gallery
New photos coming soon!
Lake Ohau statistics & helpful links
We strive to keep the information on LakeLubbers as accurate as possible. However, if you've found something in this article that needs updating, we'd certainly love to hear from you! Please fill out our Content Correction form.
Advertise your Lake Ohau vacation rental
LakeLubbers will soon offer homeowners and property managers the opportunity to to showcase their vacation rentals to the thousands of lake lovers searching our site daily for accommodations. If you'd like additional details, please contact our advertising team here.
Looking for the Lake Ohau forum?
LakeLubbers previously offered visitors the ability to create accounts and participate in lake forums. When we overhauled the site's content management system in 2021 we had to disable those features. We're evaluating options and welcome your comments and feedback here.
We also encourage you to join our lake-lovin' community on Facebook and Instagram!
Spread the word! Share our Lake Ohau article with your fellow Lake Lubbers!