Lake Nokomis, Minnesota, USA
Lake Locations:
USA - Midwest - Minnesota - Minneapolis-St. Paul Metro -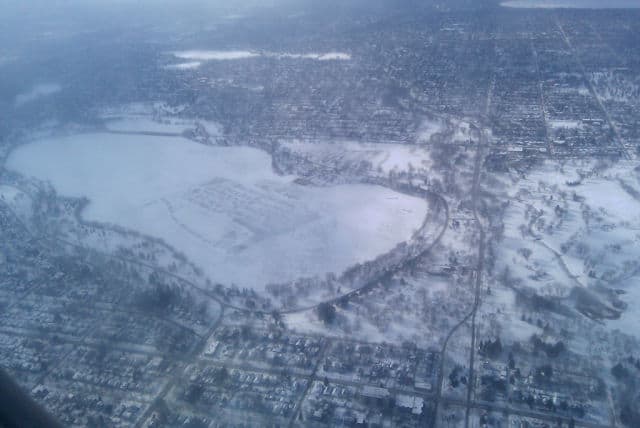 Tucked away in the heart of Minneapolis, 204-acre Lake Nokomis is settled snugly between two conjoining rivers and a number of quiet neighborhoods. Located in Hennepin County, Lake Nokomis has an average depth of 15 feet and a maximum depth of 33 feet. The lake is encompassed by quaint, quiet Lake Nokomis Park, peppered with blooming flowers in the summer and vibrantly-colored leaves during the fall. Recreational activities are popular all year long, such as sailboat races in the summer or pond hockey tournaments and cross country skiing during the winter. Staying busy while the stresses of everyday life melt away is a simple feat at Lake Nokomis.
During the warmer months, anglers set out their gear along Lake Nokomis's 2.8-mile shoreline. The majority of fish species managed in the lake are walleye and hybrid muskellunge, with walleye sizes averaging 23 inches and 4.2 pounds. Anglers have been known to catch a wide variety of other species throughout the year, including bluegill, black crappie, yellow perch, golden shiner and yellow bullhead. Ice fishing is popular during winter months.
Lake Nokomis touts itself as a family-oriented getaway, a small section of serenity in the big city. A paved 2.7-mile trail circles the lake under a vibrant array of trees during the fall, allowing joggers, bikers, skaters and walkers to enjoy the lake scenery. Picnic areas crop up along the shore, as grills are heated up in the summertime while children splash about in the water at the lake's beach areas. Lake Nokomis Park, which surrounds the lake, offers basketball, soccer and tennis courts to those who wish to work up a sweat.
Going above and beyond the normal lake offerings, Lake Nokomis reveals a large and entertaining playground system for children. A community center gives children and adults opportunities to learn about fine art, music, dance and environmental programs. Those with quieter moods in mind have the ability to stroll around the Nokomis Naturescape Gardens, which host a plethora of native wildflowers and grasses.
Bright summer days bring canoes and colorful sailboats to Lake Nokomis, where the northern wind will pick up the sails as they quietly move through the water. Pack a lunch into the canoe and soak up the sun as it glints off the water, bring a book and close your eyes as the canoe floats wherever it chooses, or settle down to watch the weekend's sailboat races. Lake visitors need not worry about running into fast-moving boats, as there are no motored boats allowed on the lake.
Grabbing a bite to eat or catching an evening show after spending the day at Lake Nokomis is simple with the city of Minneapolis nearby. The city has everything from upscale dining to casual cuisine, museums for the children, or an evening at opera with that special someone. Making a date with the city doesn't mean emptying the pocketbook, either, as free events are scattered here and there throughout the year.
Close to Lake Nokomis rests Fort Snelling State Park, where the Mississippi and Minnesota Rivers converge. Hop on a bike for the 10 miles of mountain biking terrain, or lace up the old hiking boots to wind along the 18 miles of easy to moderate hiking trails. Watch for white-tailed deer, fox, woodchucks, turkeys and coyotes while out scouring the scenery.
It's easy to make visiting Lake Nokomis a fulfilled experience, with picnicking along the shore, jogging the outer trail, or canoeing across the surface. Those hoping to make the area home need not look too far. Beyond the lake's shores are numerous real estate and vacation rental opportunities, making the decision to visit or settle down near Lake Nokomis an easy one.
Things to do at Lake Nokomis MN
Vacation Rentals
Fishing
Ice Fishing
Boating
Sailing
Swimming
Beach
Canoeing
Tennis
Picnicking
Hiking
Biking
Cross-Country Skiing
Wildlife Viewing
Birding
State Park
Museum
Playground
Fish species found at Lake Nokomis MN
Black Crappie
Bluegill
Carp
Crappie
Muskellunge
Perch
Pike
Sunfish
Walleye
Yellow Bullhead
Yellow Perch
---
Lake Nokomis MN Photo Gallery
Lake Nokomis MN Statistics & Helpful Links
At LakeLubbers.com, we strive to keep our information as accurate and up-to-date as possible, but if you've found something in this article that needs updating, we'd certainly love to hear from you!
Please let us know about it on our Content Correction form.
Spread the word! Share our Lake Nokomis MN article with your fellow Lake Lubbers!