Lake Mweru, Congo (DRC) & Zambia
Lake Locations:
Congo (DRC) - Zambia -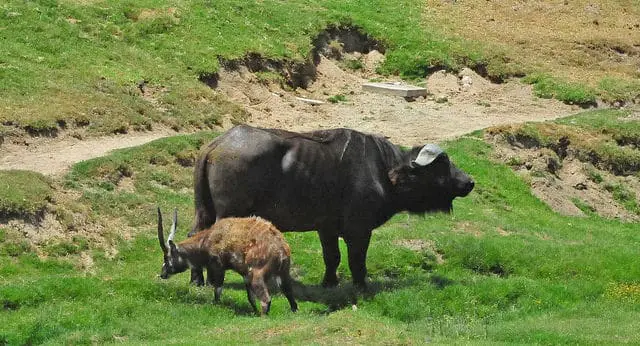 Beautiful but remote describes Lake Mweru, located on the border of Zambia and the Democratic Republic of Congo (CRC). Mweru means lake in the local language. Covering 1,265,178 acres, Lake Mweru is the Congo drainage basin's second largest lake, eclipsed only by Lake Tanganyika 93 miles to the east. Although its significance to the local economy is enormous, the lake does not yet receive much tourism. Only in the past few years has a paved road made the lake accessible by car.
Lake Mweru is home to several thousand native fishermen who make most of their income providing fish to markets. Years of civil war on the Congo side have brought many displaced people here to try to eke out a living at Lake Mweru. A small, but thriving economy supports many families. Some work at the copper mine 15 miles west of the lake or own small shops which provide supplies to local people. Although organized tourism has not yet developed, a number of small guesthouses provide somewhat rudimentary lodgings to those visiting the larger towns. The nearest modern hotel lodgings are located in Lubumbashi, DRC, a full 200 miles to the south of the village of Kilwa along the western shore. Currently, only determined adventurers come to Lake Mweru.
Lying on a branch of the East African Rift valley, Lake Mweru's southern shore includes a large wetland fed by the Luapula River. This large wetland area is one of the main reasons that Lake Mweru doesn't expand to huge proportions during the annual wet season as do most area lakes. The wetland floods to take extra water, and the fast-flowing Luvua River outlet flows faster and deeper to accept any excess. Several large islands dot the surface of the lake, the largest being Kilwa, opposite the village of Kilwa on the western shore. Some of the larger islands are inhabited, and travel between them and the main shore keeps several boatmen busy. Although in the past a paddle-wheeler used to run a regular route across the lake from village to village, scheduled boats are now somewhat erratic. Boat service can still be found from Kasenga on the Luapula River to Kilwa and on to Pweto at the Luvua River outlet-a distance of 187 miles. Visiting many of the islands can be accomplished by negotiating with a local boat owner to be ferried across.
The waters of Lake Mweru hold a species of tilapia (called pale), tiger fish, catfish, carp, elephant fish and a small sardine-sized fish. Because the lake area population has increased, overfishing has resulted in fewer large fish and far more pale being caught in nets. These fish are dried, smoked or salted for sale both locally and in villages a distance from the lake. Many fishermen are seasonal residents, setting up camp in temporary villages at the times of best catches. Some government efforts at controlling the fishing situation are underway but have not yet been too successful. Only when peace allows recent residents to return to their traditional homes will there be any real solution to overfishing.
Large numbers of typical African mammals used to roam near the shores of Lake Mweru. Elephants were particularly plentiful. Poaching and increased cultivation have significantly reduced their numbers. The black rhino is gone. A short distance east of the lake, the Mweru Wantipa National Park offers some protection to grysbok, blue and yellow backed duikers, warthog, bushbuck, buffalo, sable, eland, roan hartebeest, waterbuck, puku and small numbers of elephant, hyena, lion and leopard. Lake Mweru Wantipa is entirely within the 774,428-acre park, and swampy areas near the lake hold a rare ecological feature called Itigi-Sumbu thicket. The thicket is made up of over 100 species of plants and so thick that it is nearly impenetrable by humans. Even elephants couldn't be tracked through these thickets. Shy and seldom seen, it is known that sitatunga antelope inhabit the marshes around the lake. Getting into the marshes is possible if visitors hire a local to take them through the swamp in a traditional dugout canoe called a mokoro. There are no visitor facilities for the park, and all supplies must be brought in. Visiting the park is not advised during the rainy season from December to March, and one should hire a local guide before venturing too deeply into the park's interior.
In many ways Lake Mweru and its environs still closely resemble the lake David Livingston 'discovered' in 1867-1868 (he called the lake 'Moero'). At the time of his exploration, the region was suffering heavily under the raids of Arabic slave traders. His reports led to the slave trade being legally outlawed before 1880, but the trade itself didn't actually stop until around 1890. Livingston suffered the ravages of several tropical diseases and didn't survive to get back to England. Although his body was returned to England, his heart was buried in Zambia, and several memorials to his memory are located throughout the country.
Lake Mweru doesn't appear on most tour itineraries. Only a few adventure tour agencies will be able to guide tourists to Lake Mweru and the nearby park. Fishing is still possible, but regulatory permission to do so is unclear. The primary 'catch' for most visitors will be spectacular photographs of this beautiful lake, some of the waterfalls along the edges of the rift valley, and smiling local people who live simply. It is advised that those planning to camp near Lake Mweru contact Zambia tourism offices to be directed to places considered safe to camp. So, if your bucket-list includes exploring like David Livingston, Lake Mweru should be at the top of that list. It's a once-in-a-lifetime adventure.
* Statistical data comes from "Update on the bathymetry of Lake Mweru (Zambia), with notes on water level fluctuations". African Journal of Aquatic Science, 2006. This publication is not available for linking but appears to be the most recent statistics published.
Things to do at Lake Mweru
Vacation Rentals
Fishing
Boating
Canoeing
Camping
Waterfall
National Park
Fish species found at Lake Mweru
Carp
Catfish
Tiger Fish
Tilapia
---
Lake Mweru Statistics & Helpful Links
Spread the word! Share our Lake Mweru article with your fellow Lake Lubbers!