Lake Kashiba, Zambia
Lake Locations:
Zambia -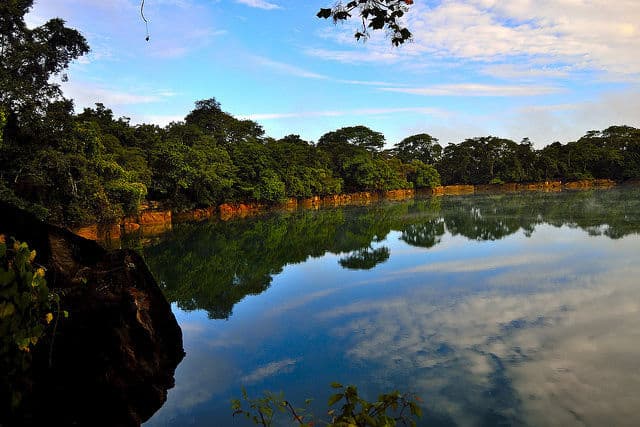 One of the most unusual lakes in Zambia is Lake Kashiba. This mysterious, 8.5-acre lake is a 'sunken lake'-a sinkhole that lies about 30 feet below the surface of the surrounding land. The little lake is very deep; no true measurements of its depth have been reported as yet. Most publications report the depth as 100 meters or about 330 feet. However, because none of the scuba teams that dive at the lake can descend below about 180 feet, the true depth is unknown and suspected to be more than formerly reported. The Zambia Tourism officials hope that a professional dive team will eventually be able to map its floor.
Many reports call Lake Kashiba 'one of the deepest lakes in the world', but there is little evidence for that claim; lakes over a thousand feet in depth are unusual but not unknown around the world. Sinkhole lakes are created when the limestone roof of a subsurface cavern collapses and fills with water. These lakes are quite common in areas with an underlying karst-or limestone-subsurface. Much of Florida and areas of Central America are similar. When local populations encounter these rare lakes in their region, they attach legends and myths to the unusual bodies of water.
Such is true of Lake Kashiba. The lake is purported to contain a lake monster. "lsoka lkulu" or "Ichitapa" captures the shadows of persons standing next to the lake, paralyzing them so they fall into the water where they are devoured by the monster. Another bit of folklore related to Lake Kashiba is that fish caught from the lake cannot be cooked because they jump out of the pot. A third local legend is that of an entire clan which, because of a feud, tied themselves together and jumped into the lake to drown. One pregnant woman cut the rope and did not drown, and she went on to become the mother of another clan.
No incoming streams bring water into Lake Kashiba, nor are there any outflowing streams. The water level varies very little with only a slight increase in height after heavy rains. It is likely that the lake receives water percolating through the porous limestone, which filters it. There is a possibility of springs deep underwater contributing to the lake's volume, but that can't be known until a more complete mapping can be performed.
Lake Kashiba's water is extremely clear. Fish can be seen swimming from the banks above. Visitors fish in the lake, which holds both breem and carp. There don't seem to be any contemporary stories of the fish refusing to be cooked at the little primitive campsite near the lake, however. In one area, a sloping bank allows visitors to get down to the level of the water where they may wade on an outcropping of rock. The sides of the pool drop off rapidly to great depths, so anyone entering the water needs to be capable of swimming. So far there are no reports of the lake monster devouring a tourist.
Other than the nearby rustic campground, there is little in the immediate area to provide lodgings. The closest locator appears to be St Anthony's Mission where visitors leave the main road. Although parts of the road are modern, the road soon turns to dirt-or mud in the rainy season. A 4-wheel drive vehicle is highly recommended. Some tour groups come to Lake Kashiba, primarily bird watching safaris. The bush near the lake holds a wide variety of birds. A number of lizards, snakes and small mammals can be see in the area around the lake, so the area is a favorite of nature lovers.
The closest city with tourism facilities is Ndola, two hours away and the third-largest city in Zambia. Known as Zambia's 'copper belt', Ndola has grown rapidly as an industrial and commercial city. The Dar-es-Salaam oil pipeline from Tanzania ends at Ndola. Several hotels serve both business guests and tourists. One interesting place to visit in Ndola is the Copperbelt Museum. Here are displays of the many minerals mined in the area as well as arts and crafts representative of the local culture. Copper items and local curios can be purchased here. About an hour north of Ndola, Kitwe holds several copper mining facilities, Copperbelt University and Agricultural Showgrounds. The Kafue River flows through Kitwe and meanders very near Lake Kashiba before finally flowing through Kafue National Park, second-largest national park in Africa. The national park holds a large number of safari camps and tourist lodgings for the many who arrive to observe the plentiful and diverse wildlife.
Many group tours will permit a side trip to Lake Kashiba, particularly those focused on bird watching. If visiting Ndola for business, one can rent a car and drive there quite easily. The lake is a great place for a picnic and a refreshing swim. Camping nearby in the rustic campgrounds for a weekend will allow visitors to enjoy the tiny lake and explore the nearby surroundings at their leisure. Adventurous scuba divers can likely find a group in online forums who are planning to dive Lake Kashiba. Diving with a group is probably best for a first dive on this deep lake. An established group can also assure all permits and permissions are in order before entering the country.
If you find your way to Zambia, don't miss little Lake Kashiba. Its small size simply adds to its beauty, and the countryside is worth exploring. Just to be safe, don't let your shadow fall on the lake's surface!
*Almost no reliable statistics are available for Lake Kashiba.
Things to do at Lake Kashiba
Vacation Rentals
Fishing
Swimming
Scuba Diving
Camping
Campground
Picnicking
Wildlife Viewing
Birding
National Park
Museum
Fish species found at Lake Kashiba
---
Lake Kashiba Photo Gallery
Lake Kashiba Statistics & Helpful Links
Spread the word! Share our Lake Kashiba article with your fellow Lake Lubbers!