Lake Mattoon, Illinois, USA
Lake Locations:
USA - Midwest - Illinois - Central -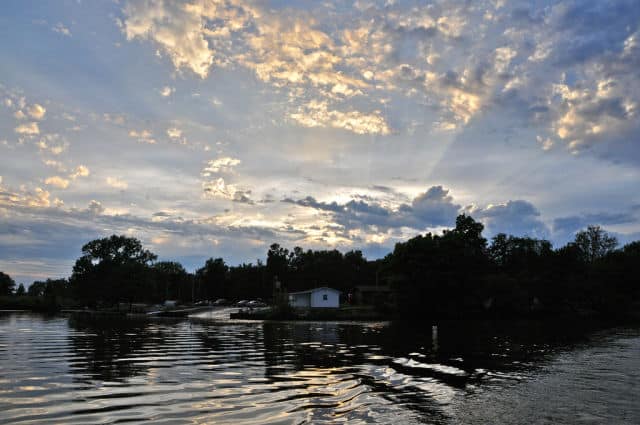 Surrounded by farmlands in the Central region of Illinois is Lake Mattoon. A quiet and tranquil retreat for many Illinoisans and out-of-towners, the lake is also a dynamic and lively location for the bustles of summer. Fishing tournaments, waterfowl hunting and sailboat races are some of the faster-paced events taking place at Lake Mattoon. But visitors just as equally enjoy viewing wildlife or a blissful picnic under hickory, oak and walnut trees that in the fall adorn the lake with vibrant beauty.
Popular for such a bounty of activity as boating, fishing, camping, sailing, and water skiing, Lake Mattoon lays 1,065 surface acres across three counties. Coles, Shelby and Cumberland counties all share a portion of this resourceful lake with almost three quarters of the lake in Shelby alone. Mattoon Lake occupies the Central region of Illinois; a region characterized by its historical marks and popular recreational amusements such as Abraham Lincoln's Home, Tomb and Presidential Museum, the intriguing Amish Country and the Allerton Park and Retreat Center, considered a National Natural Landmark. Nearby, Lake Shelbyville is a nature wonderland. The lake and the Eagle Creek State Park on its shores offers hiking trails, camping, beaches, horseback riding, hunting and more. Lake Shelbyville is 11,000 acres and has 23,000 acres of surrounding land.
Anglers will be thrilled with Lake Mattoon's abundance of bass, bluegill, catfish, crappie and striped bass. The average depth of the lake is not too deep, just 10 and a half feet. The Little Wabash River feeds into the lake and a little further away on the river is another artificial reservoir, Lake Paradise. The water level of Lake Mattoon is maintained by its dam, the construction of which was completed in 1957. Although the City of Mattoon owns the lake, a little more than half of the shoreline and 349 acres of lake property, visitors and lake residents alike have adopted this playground as their very own. What is more, the lake serves as a source of water supply to the cities of Mattoon and Neoga.
Lake Mattoon is a wonderful place to be in the summer time. The thick of trees encircling the 55.5 mile shoreline are a refreshing green. The Lake Mattoon Public Beach is alive with the movements of all shapes and sizes. The pavilion is a gathering place for family reunions and other special events. The second week of June is the Annual Y-Flyer Fleet 39 Regatta and July is the month of Bagel Fest. Summer is not the only season the matters though. Lake Mattoon is beautiful in the winter too, with the bright snow layered on the ice and the bare trees standing like naked testaments. A day or two will not be sufficient time to fully experience all Lake Mattoon has to offer. Look for one of the vacation rentals available on the lake or in the area. Or feast your eyes on some samples of gorgeous real estate. Imagine having your own home on the lake with your front lawn touching the water. Become part of a thriving community and join the Friends of Lake Mattoon in their efforts to keep the lake beautiful.
Among the many things to do in the Mattoon area, the Douglas Hart Nature Center has hiking trails, a captivating bird observation area, interpretive exhibitions and guided walks. Golf courses provide another class of enjoyment and a visit to an apple orchard will get your lips smacking. Come with the children in tow and the intention to have an outstanding vacation. Or settle on the lake marvelling each day on such things as the sublime sun rise on the water and the joyous wonder of baby ducks as they swim in line behind their mother. You will love it at Lake Mattoon.
Things to do at Lake Mattoon
Vacation Rentals
Fishing
Fishing Tournaments
Boating
Sailing
Swimming
Beach
Water Skiing
Golf
Camping
Picnicking
Hiking
Horseback Riding
Hunting
Wildlife Viewing
Birding
State Park
Museum
Playground
Fish species found at Lake Mattoon
Bass
Bluegill
Catfish
Crappie
Striped Bass
Sunfish
---
Lake Mattoon Photo Gallery
Lake Mattoon Statistics & Helpful Links
At LakeLubbers.com, we strive to keep our information as accurate and up-to-date as possible, but if you've found something in this article that needs updating, we'd certainly love to hear from you!
Please let us know about it on our Content Correction form.
Spread the word! Share our Lake Mattoon article with your fellow Lake Lubbers!