Lake IJssel, Netherlands
Also known as:  IJsselmeer Lake, Lake Yssel
Welcome to the ultimate guide for history, statistics, local fun facts and the best things to do at Lake IJssel.
If you're considering Lake IJssel vacation rentals, we've made it super easy to explore accommodations and nearby hotels using the interactive map below. Simply click on a listing to compare similar properties, best rates and availability for your dates. Or keep scrolling to read our Lake IJssel guide!
Lake IJssel visitor and community guide
Lake IJssel, also known as Lake Yssel and Lake IJsselmeer, stretches approximately 296,500 acres across the north central region of the Netherlands. Lake IJssel borders several provinces including Flevoland, North Holland, and Friesland. The name of the lake comes from the IJssel River, which drains into the lake through a smaller lake called Ketelmeer or Lake Ketel. Lake IJssel was created in 1932 when an inland sea, the Zuiderzee was closed off by a 19-mile long barrier dike called the Afsluitdijk which separated Lake IJssel from both the Waddenzee (the northern part of the former Zuiderzee) and the North Sea. The average depth of the lake is rather shallow, only 16 to 19 feet, but due to its size, Lake IJssel provides fresh water for agriculture and drinking, and also offers plenty of opportunities for various recreational activities.
The Afsluitdijk dam that formed Lake IJssel sits 25 feet above sea level and stretches between the provinces of North Holland and Friesland. There is a highway and bicycle path along the top of the dam. Locks provide passage for barges and small boats. Regulated by sluices, the formerly brackish water has been replaced by fresh water, partly by inflow from the IJssel River, a branch of the Rhine River. Originally much larger than its current 296,500 acres, in 1975 Lake IJssel was split in half by the completion of the Houtribdijk causeway dike, also called Markerwaarddijk, which runs from Enkhuizen southeast to Lelystad. This former southern part of Lake IJssel is now a separate body of water called Markermeer Lake.
Once a home for herring, anchovies, and flounder, Lake IJssel is now known for freshwater fish specifically perch, pike perch and glass eel. Carp, whiting, bream and roach also inhabit the lake. Fishing on the lake is a popular sport, and many historic and modern fishing villages and seaports line the lake. Fishing licenses are required and are available at local post offices. You can fish from shore in designated areas, rent a boat, or launch your own boat from a number of public ramps located along the shoreline.
Boats of all sizes and kinds are available to rent or charter. Sailing is more popular than motor boating on Lake IJssel, and there are a number of yacht clubs on the lake that offer tours and just a relaxing time on the water. Access to the lake can be found at most campgrounds, and many cities and villages on the lake have public boat launches. Swimming is allowed and there are a number of sandy beaches along the shoreline. Waves can be strong on the lake, so it is best to stay near the beaches when swimming.
Camping is a popular pastime for vacationers and locals, and there are a large number of campgrounds on and near Lake IJssel. Most campsites open in the spring and close at the end of October, but some stay open year round. For those who prefer a bit more comfort, there are plenty of lodges and vacation rentals on the lake as well.
The countryside around Lake IJssel is perfect for hiking, cycling or just relaxing. There are many footpaths and cycle routes which cross over canals and bridges and wind around windmills and tulip dotted fields. You will also see a number of beautiful water birds, specifically the Great Cormorant known for its diving and swimming under water for fish.
The Netherlands is famous for bicycles. The popularity of cycling is due to the country's geography. The distance between most cities is short and the countryside is mainly flat, except for a few rolling hills in the east and south. Cycling trails and facilities are well maintained, and detailed cycling maps can be obtained from local tourist information offices. Cycling lanes are marked by a round blue circle with a white bicycle in the middle. Most routes are circular, starting and ending at the same place. The landscape around Lake IJssel varies from spectacular dunes to wilderness and forests, and many cycle routes encompass this beautiful lake.
In the winter months, sections of Lake IJssel freeze and ice skaters replace sailboaters. Cross country skiing, snow shoeing, and sledding become the popular pastimes. The region doesn't slow down just because it's cold. There is still much to see and do.
There are many interesting towns and cities on and near Lake IJssel, but probably the most well know is Amsterdam located on the IJ, an inlet of Markermeer Lake. If you like museums, this city has plenty. The Rijksmuseum, the Van Gogh Museum, the Stedelijk Museum of Modern Art, the Amsterdam Historisch Museum, and Nemo, a fascinating science museum are only a few. A canal cruise is also a great way to see the sights of this culturally diverse city.
If you're planning on doing some traveling, the bordering provinces of South Holland and Utrecht offer a number of fascinating destinations for guests of Lake IJssel, including the cosmopolitan cities of The Hague and Rotterdam; the museums and old medieval town center of Utrecht; and Delft, famous for its blue and white pottery. The Hoge Veluwe Park combines nature, art and history, with beautiful forests and museums to explore.
For those who like flowers, a visit to one of the famous Dutch flower markets is essential. Some of the best flower markets are located in the cities of Amsterdam, Delft and Utrecht. Dutch flower bulbs are available for sale, but make sure the vendor sells them with an official export certificate or you will not be able to take them out of the country. The most popular Dutch flowers are tulips and daffodils. As you wander around Lake Lake IJssel, you will soon notice colorful flowers growing everywhere.
If planning a vacation to the Netherlands, make sure you pay a visit to Lake Lake IJssel. The idyllic countryside of windmills and tulips combined with splendor of sparkling water and fine beaches is a relaxing way to take in the culture and beauty of the area.
Custom Lake IJssel house decor
Read our full review of these personalized lake house signs.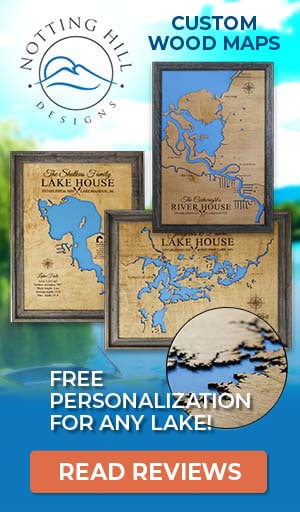 Things to do at Lake IJssel
Vacation Rentals
Fishing
Boating
Sailing
Swimming
Beach
Camping
Campground
Hiking
Ice Skating
Biking
Cross-Country Skiing
Birding
Museum
Fish species found at Lake IJssel
Carp
Eel
Flounder
Perch
Pike
Pike Perch
Roach
---
Best hotels and vacation rentals at Lake IJssel
The Lake IJssel map shown above is a simple and stress-free way to search for trip accommodations. But if you want to take a deeper dive to find the ideal waterfront home, cabin, condo, hotel or resort, visit our favorite lodging partners by clicking the buttons below.
Note: These are affiliate links so we may earn a small commission if you book through them. While there is no extra cost to you, it helps provide resources to keep our site running (thank you)! You can read our full disclosure policy here.
---
Lake IJssel photo gallery
New photos coming soon!
Lake IJssel statistics & helpful links
We strive to keep the information on LakeLubbers as accurate as possible. However, if you've found something in this article that needs updating, we'd certainly love to hear from you! Please fill out our Content Correction form.
Advertise your Lake IJssel vacation rental
LakeLubbers will soon offer homeowners and property managers the opportunity to to showcase their vacation rentals to the thousands of lake lovers searching our site daily for accommodations. If you'd like additional details, please contact our advertising team here.
Looking for the Lake IJssel forum?
LakeLubbers previously offered visitors the ability to create accounts and participate in lake forums. When we overhauled the site's content management system in 2021 we had to disable those features. We're evaluating options and welcome your comments and feedback here.
We also encourage you to join our lake-lovin' community on Facebook and Instagram!
Spread the word! Share our Lake IJssel article with your fellow Lake Lubbers!